LoveReading Expert Review of Six Stories
This is startling, clever, and quite, quite different. 'Six Stories' isn't that long, but it packs a mighty wallop. In 1997 teenager Tom Jeffries was found dead at an outward bound centre, in 2017 investigative journalist Scott King releases podcasts relating to the death, six interviews, six different perspectives on what happened. The moment I started to read, the descriptions landed like a lightening strike on my awareness, setting the scene completely. This feels so original, Matt Wesolowski places Simon King's voice in italics, the other voices are introduced, clearly individual and distinctive, so that I could hear them talking in my mind. I was aware of the tension building, aware that something was coming towards me at a rate of knots. I was constantly listening, judging, thinking. 'Six Stories' is a skilfully written tale, it prods, provokes, and also thoroughly entertains. ~ Liz Robinson
A 'Piece of Passion' from the publisher...
'Two years ago, I was on the Pitch Perfect Panel at Bloody Scotland, which offers and opportunity for aspiring crime writers to pitch to a panel of experts. Matt Wesolowski was one of these writers, and his proposal for Six Stories was my pick of the lot. Not only was I intrigued by the concept of a book written in the form of Serial-style podcasts, but the setting, in the Northumbrian fells, rich with myth and legend, transfixed me. Several months later, Matt sent me the manuscript for consideration, and let's just say that an offer was made within hours. Six Stories is a fresh, original, compelling, utterly terrifying and beautifully written thriller, with extraordinarily vivid characters who not only leap from the page, but are startlingly authentic in voice and manner. Both an up-to-the-minute concept and an excellent – almost old-fashioned murder mystery – Six Stories is exquisitely described and perfectly wrought. So which of the six witnesses' stories is true? The answer will astonish you. Absolutely mesmerising. ~ Karen Sullivan, Orenda Books

Books in The Six Stories Series:
1. Six Stories
2. Hydra
3. Changeling
4. Beast
Serial Reader? Check out our 'Fall in Love With a Book Series' collection to find amazing book series to dive in to.
Six Stories Synopsis
1997. Scarclaw Fell. The body of teenager Tom Jeffries is found at an outward bound centre. Verdict? Misadventure. But not everyone is convinced. And the truth of what happened in the beautiful but eerie fell is locked in the memories of the tight-knit group of friends who embarked on that fateful trip, and the flimsy testimony of those living nearby. 2017. Enter elusive investigative journalist Scott King, whose podcast examinations of complicated cases have rivalled the success of Serial, with his concealed identity making him a cult internet figure.
In a series of six interviews, King attempts to work out how the dynamics of a group of idle teenagers conspired with the sinister legends surrounding the fell to result in Jeffries' mysterious death. And who's to blame...
As every interview unveils a new revelation, you'll be forced to work out for yourself how Tom Jeffries died, and who is telling the truth. A chilling, unpredictable and startling thriller, Six Stories is also a classic murder mystery with a modern twist, and a devastating ending.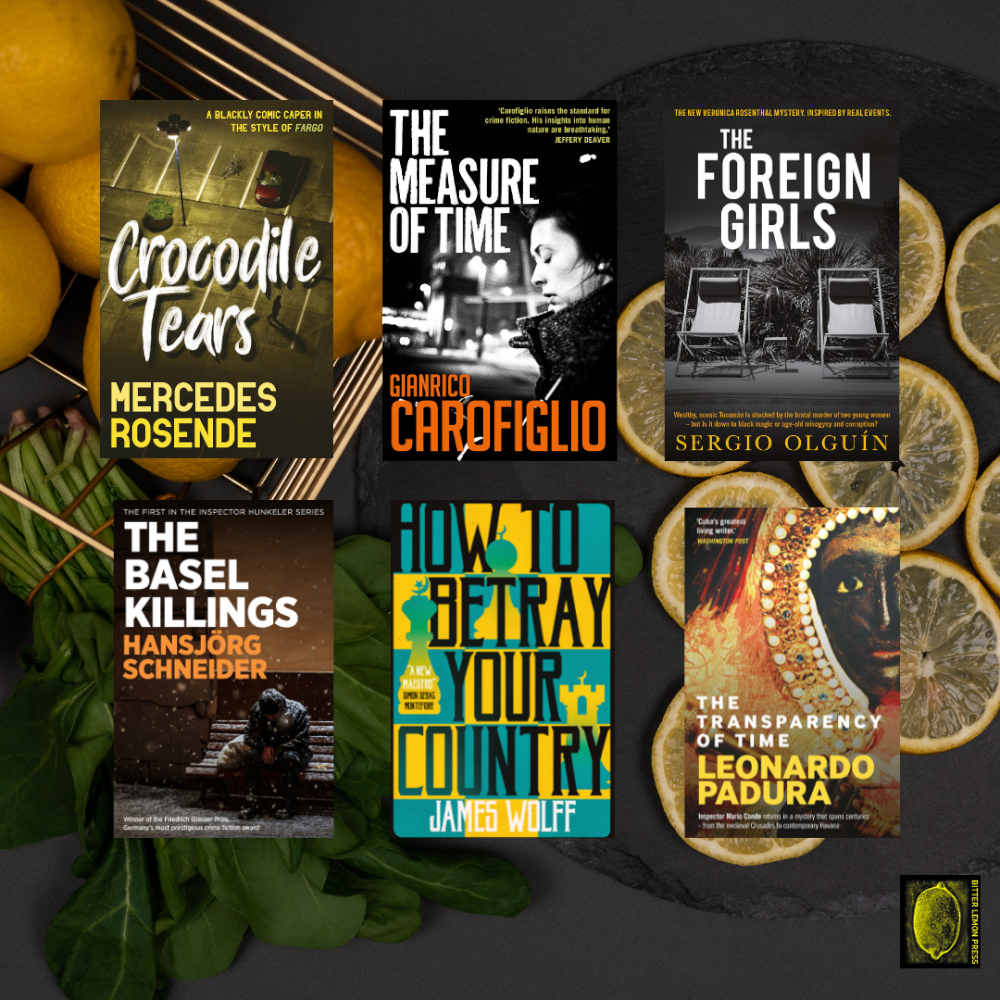 We are teaming up with translated crime fiction aficionados Bitter Lemon Press to offer a brilliant book giveaway! This book bundle will include a copy of all six 2021 releases. The titles up for grabs are: Crocodile Tears by Mercedes Rosende The Measure of Time by Gianrico Carofiglio How To Betray Your Country by James Wolff The Basel Killings by Hansjo?rg Schneider The Transparency of Time by Leonardo Padura The Foreign Girls by Sergio Olguín This draw is open only for UK residents currently in the UK and is free to enter, multiple entries from the same email address will only be counted once. The draw closes on 7th November 2021. Please ensure that the details you use to enter the competition will be correct at the time the competition ends. The winners will be notified as soon as possible.
What To Read After Six Stories
Matt Wesolowski Press Reviews
'A complex and subtle mystery, unfolding like dark origami to reveal the black heart inside' Michael Marshall Smith
'Wonderfully horrifying … the suspense crackles' James Oswald
'Original, inventive and brilliantly clever' Fiona Cummins
'The literary equivalent of dark metal – gritty, dark, often shocking, and always exciting. A masterful debut' Kati Hiekkapelto
'Wonderfully atmospheric. Matt Wesolowski is a skilled storyteller with a unique voice. Definitely one to watch' Mari Hannah
'A tight, claustrophobic mystery' David F. Ross
'A remarkable debut from a fine new fictional voice. Written as a series of six podcasts, which attempt to uncover the truth about the death of young Tom Jeffries, this compelling narrative pulls you in from the start and keeps you in its grip to the bitter twisted end. A great book!' Shelley Day
'A stunning piece of writing – chock full of atmosphere, human insight and beautiful writing. Take a note of this guy's name. He's going to be huge!' Michael J. Malone