LoveReading Expert Review of Good Me, Bad Me
Shortlisted for the CWA John Creasey (New Blood) Dagger 2017.
Ooh, this truly is a fabulously captivating and unpredictable tale, and it kept me clinging to the very edge of my seat. Annie's mother is a serial killer, Annie informs on her mother and we hear her story as she attempts to deal with her new foster family and the approaching trial. Immediately from the start this feels different, my mind flashed onto high alert setting and remained there for the entire story. Annie's name is changed to Milly and she tells her own tale, speaking in short, sharp, powerful sentences. I felt her confusion, loneliness, and wanted to hug her as her thoughts tumbled in limbo. Her feelings wormed their way into my mind, making me think, making me question. Ali Land doesn't hold back, 'Good Me, Bad Me' is uncomfortable, powerful, provocative, and an absolute knockout. ~ Liz Robinson
February 2017 Debut of the Month.
Good Me, Bad Me Synopsis
'NEW NAME . NEW FAMILY. SHINY. NEW. ME.' Annie's mother is a serial killer. The only way she can make it stop is to hand her in to the police. But out of sight is not out of mind. As her mother's trial looms, the secrets of her past won't let Annie sleep, even with a new foster family and name - Milly. A fresh start. Now, surely, she can be whoever she wants to be. But Milly's mother is a serial killer. And blood is thicker than water. Good me, bad me. She is, after all, her mother's daughter... Translated into over 20 languages, Good Me Bad Me is a tour de force. In its narrator, Milly Barnes, we have a voice to be reckoned with, and in its author, Ali Land, an extraordinary new talent.
About This Edition
| | |
| --- | --- |
| ISBN: | 9780718182922 |
| Publication date: | 12th January 2017 |
| Author: | Ali Land |
| Publisher: | Michael Joseph Ltd an imprint of Penguin Books Ltd |
| Format: | Hardback |
| Primary Genre | Thriller and Suspense |
| Other Genres: | |
| Recommendations: | |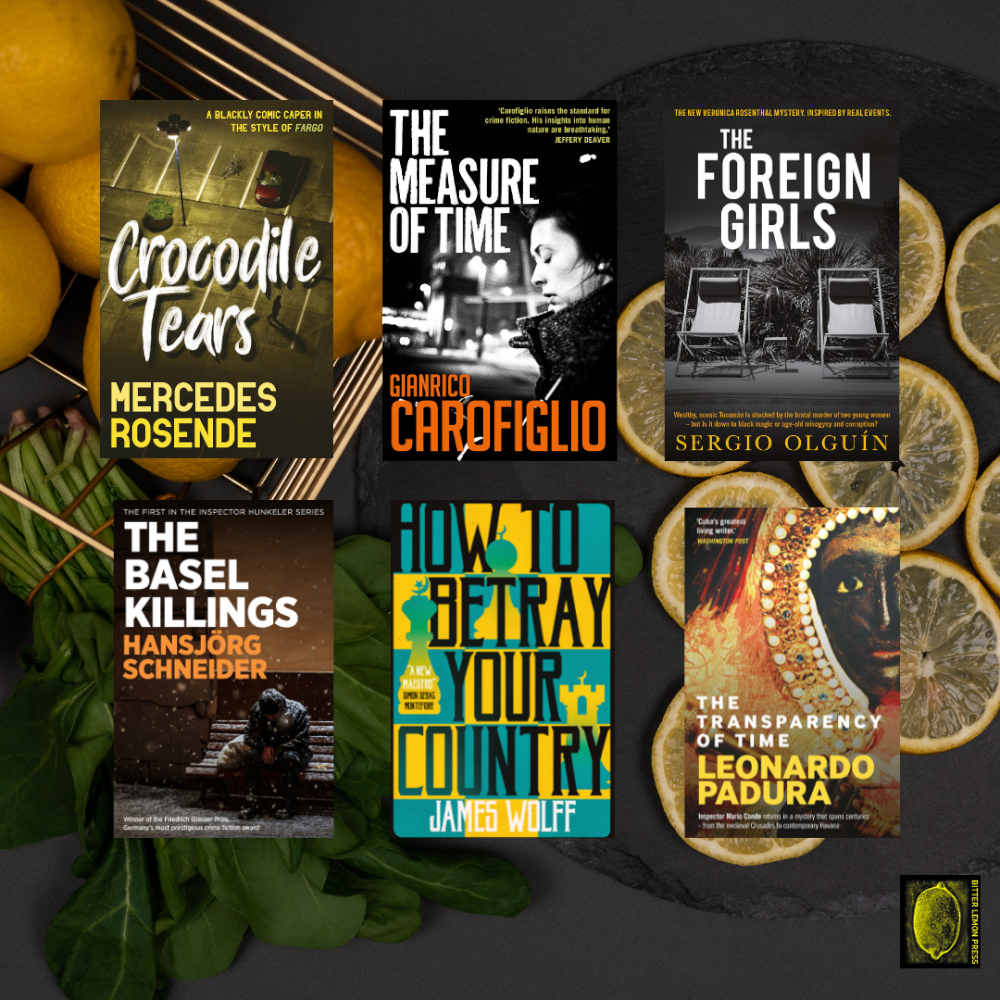 We are teaming up with translated crime fiction aficionados Bitter Lemon Press to offer a brilliant book giveaway! This book bundle will include a copy of all six 2021 releases. The titles up for grabs are: Crocodile Tears by Mercedes Rosende The Measure of Time by Gianrico Carofiglio How To Betray Your Country by James Wolff The Basel Killings by Hansjo?rg Schneider The Transparency of Time by Leonardo Padura The Foreign Girls by Sergio Olguín This draw is open only for UK residents currently in the UK and is free to enter, multiple entries from the same email address will only be counted once. The draw closes on 7th November 2021. Please ensure that the details you use to enter the competition will be correct at the time the competition ends. The winners will be notified as soon as possible.
Like For Like Featured Books
Good Me, Bad Me Reader Reviews
In addition to our Lovereading expert opinion some of our Reader Review Panel were also lucky enough to read and review this title. You can click here to read the full reviews.
Phylippa Smithson - 'Hitchcock has been called the 'Master of suspense' but in the written format, that title goes to Ali Land – a remarkable psychological suspense author.'
Heather Byrne - 'One of the best thrillers I've read in a long time. A difficult subject well executed and totally gripping. This should be the biggest seller next year.'
Laura Delve - 'An incredibly intense, psychological read that has you reeling at so many parts of the book. There is no time to stop and pause whilst reading this; you just have to read on.'
Debbie Patrick - 'A new author this is her first novel. Sometimes the first book can be very hit and miss but this isn't. This is ALL hit.'
Robin Little - 'The book is a tense psychological thriller telling the story of a mass murderer from the perspective of her 15 year old daughter. Good Me, Bad Me gives a great insight into the conflicting emotions.'
Teresa O'Halloran - 'An amazing psychological thriller that will come between you and your night's sleep! Could such evil really exist?'
Lorraine Blencoe - 'Don't think it's a dour story. It's a fast paced, tense and taught psychological thriller and a book that quickly involves the reader. Only afterwards does the impact of it become, well, read it and find out.'
Laura Prior - 'A good psychological thriller, with a gripping and intriguing story line - an author to look out for.'
Trilby Humphryes - 'After overcoming the initial horror of the plot, I whipped through this grotesquely addictive book. A must for lovers of Girl on a Train or Gone Girl.'
Nicola Kingswell - 'Could have been great but wasn't quite which is a shame.'
Carol Attridge - 'Four sittings is all it took to read this book! Gripping!'
Sally Doel - 'It is a very dark and gripping book, which is thoroughly addictive...I loved it and just wish I could read it all again afresh!'
Joan Hill - 'My heart went out to tortured Milly and I was unable to predict the direction of the novel at all, as there were so many red herrings and twisty turns in the story.'
Catherine Jenkins - 'This book is without a doubt one of the darkest and most chillingly acute psychological portraits I have ever read.'
Sarah Foyle - 'Well, this is quite something. Land's debut is explosive, compelling, and intelligent, and is set to be one of the psychological thrillers of 2017.'
Jillian McFrederick - 'Enthralling and engaging, I defy anyone not to finish it.'
Ali Land Press Reviews
'An astoundingly compelling thriller. Beyond tense. You hardly breathe. Best read in ages' -- Matt Haig
'Intelligent and disturbing, Good Me Bad Me had me hooked from the first page' -- Debbie Howells, author of Richard & Judy book club bestseller The Bones of You
'Milly's voice is gripping and shocking. This is a book you will want to discuss with everyone you know' Claire Douglas, author of The Sisters and Local Girl Missing
'I absolutely loved it and read it in less than a day. A proper page turner and brilliantly written' -- Edith Bowman
'A triumph of tension. I doubt I'll ever sleep again' -- Cathy Rentzenbrink, author of R&J bestseller The Last Act of Love
'Ali Land's Good Me Bad Me is an intensely compelling exploration of nature versus nurture wrapped up in a page-turning psychological thriller. Darkly disturbing and beautifully written. What more could any reader want?' -- Sarah Pinborough
'Good Me Bad Me is an astonishing debut - technically sophisticated and emotionally heart wrenching. So many things are done well - the status jungle of girls school, the psychological dissonance of a dysfunctional family, the internal machinery of damaged children. I thought it was wonderful' -- Helen Callaghan, bestselling author of Dear Amy
'One word: Wow. What a brilliant book - believable, shocking, thought-provoking and utterly compelling. The writing, as well as being so pacey, is beautiful. This feels such a current and original book' T R Richmond