LoveReading Expert Review of Deep State
There is a plot to assassinate the president in this fast-moving, full-on, wow of a book.
A booky health warning should be stamped on this cover… once you start you won't want to stop! I read right through to 03:30am, until I had devoured every single and absolutely wonderful last drop. Hayley Chill, ex-military and champion boxer, is a new West Wing intern in the White House. When she finds the body of the Chief of Staff, she also finds a clue that it wasn't the reported heart attack, and everything now points to an assassination plot on the president. The first few pages really sum up Hayley Chill, she is courageous, honourable, and can kick some serious ass. In other words, she is someone you would most definitely want on your side. Chris Hauty has the ability to highlight a life in just a few sentences, adding to the vivid overall picture in my mind. Deep State is a fast-moving, full-on adrenaline hit. Please, please tell me that this is the start of a new series, because I want more! Chosen as a Liz Robinson pick of the month and LoveReading Star Book, because Deep State really is that addictive.
Deep State Synopsis
THE DEEP STATE - noun
A covert state hidden within a government;
a secret organisation of high-level operatives;
exerts control through manipulation and a culture of pain and fear.
It is entrenched.
It is hidden.
It is deadly.
Who can you trust?
***
The White House Chief of Staff is dead, discovered collapsed in his home. Paramedics say it was a heart attack, but something's not right - and only his intern, Hayley Chill, can see it.
After her fears are dismissed by police, Hayley uncovers an organisation buried in the furthest reaches of government. Now she has no way of knowing who she can trust.
Then things get really dangerous.
There is a plot to assassinate the president, one they are ruthless about hiding. They know that someone is on to them, and soon they will know that it's her. So Hayley must work like the Deep State:
Infiltrate.
Trust no one.
Kill - or be killed.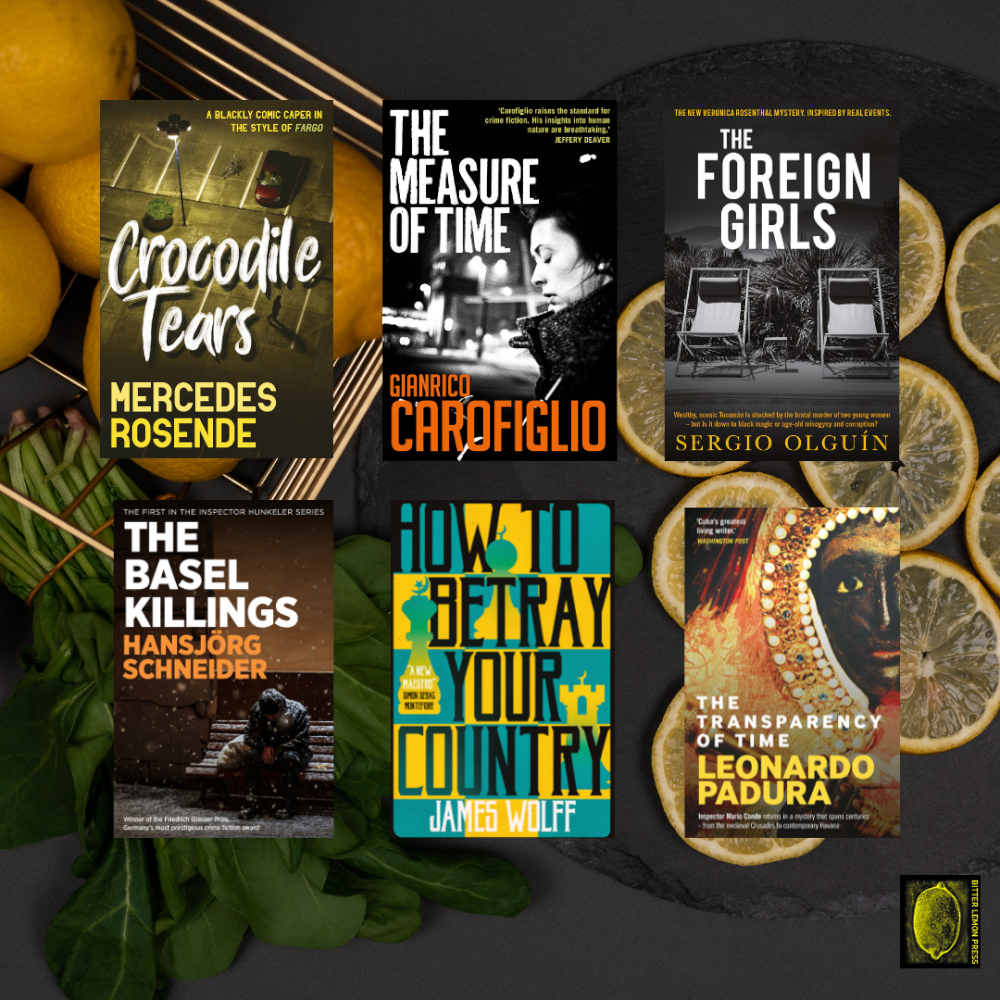 We are teaming up with translated crime fiction aficionados Bitter Lemon Press to offer a brilliant book giveaway! This book bundle will include a copy of all six 2021 releases. The titles up for grabs are: Crocodile Tears by Mercedes Rosende The Measure of Time by Gianrico Carofiglio How To Betray Your Country by James Wolff The Basel Killings by Hansjo?rg Schneider The Transparency of Time by Leonardo Padura The Foreign Girls by Sergio Olguín This draw is open only for UK residents currently in the UK and is free to enter, multiple entries from the same email address will only be counted once. The draw closes on 7th November 2021. Please ensure that the details you use to enter the competition will be correct at the time the competition ends. The winners will be notified as soon as possible.
What To Read After Deep State
Deep State Reader Reviews
In addition to our Lovereading expert opinion some of our Reader Review Panel were also lucky enough to read and review this title.
Mind stopping, heart racing - you'll love the tension on every page. Brilliantly written, and you're with Hayley every step of the way.
Heart-stopping almost from page one. You're with Haley on every page - talking to her, warning her, worrying for her. You won't want to put this book down until you've finished it. An absolutely brilliant book all the way through. Fast, energetic, amazing - and the twist at the end is something you would never in a million years, guess before it's revealed to you. The sort of book you would recommend to friends who love fast-paced writing.
A gripping political thriller with a feisty female protagonist - don't underestimate Hayley Chill!
Deep State is an engaging political thriller set in the White House. Hayley Chill, a young military veteran, joins the White House as an intern. However, she soon becomes aware of the dangerous undercurrents of subterfuge within the Secret Service and the White House itself. After Hayley discovers the body of the murdered White House Chief of Staff she inadvertently finds herself at the centre of a dangerous power struggle and an even more alarming plot.
I enjoyed reading Deep State, though would say to any reader that you need to continue right to the very end! If this book was made into a film I would definitely see it.
This isn't a genre that I read very often and I felt that Chris Hauty achieved a great balance of tension, intrigue, interesting characters and a good plot with minimal violence.
Well written, with a fast-paced plot, this is a book you will want to stay up to finish.
This book is a rare combination of excellent writing and a cracking story. It's written in the present tense and this, coupled with the concise writing, gives the plot a sense of urgency. What I particularly like is the way the author projects forward, using the future tense, in order to explain what happens to some of the main characters. The heroine, Hayley, is enigmatic, but although she is a woman of few words, her character comes through. If I have any criticism of this book, it is that some of the characters are two dimensional but that did not detract from my enjoyment. The author grabs the reader's attention at the beginning of the book and takes you on a roller coaster journey. It's one of those books you will stay up to finish.
Chris Hauty Press Reviews
'Full of twists and unexpected switchbacks, this one will keep you hooked to the very end' JAMES SWALLOW Sunday Times bestselling author of Nomad
WHY READERS HAVE BEEN FLOORED BY DEEP STATE . . .
'Deep State has just become the first author since Sarah Pinborough to completely floor me with a pitch perfect unexpected resolution. Brilliant'
'This one had great twists and turns. When I thought we were headed in one direction, it would veer off into another and I loved it'
'This is going to be THE book for 2020' 'Somewhere between David Baldacci's Absolute Power and Vince Flynn's Tern Limits. Timely set ups makes this page turner unputdownable . . .'
Other editions of this book
About Chris Hauty
Chris Hauty is a screenwriter who has worked at all the major movie studios, in nearly every genre of film. He currently lives in Venice, California, in the company of a classic Triumph motorcycle and a feral cat. Deep State is his first novel. Photograph by Lauren Ehrenfeld Chris Hauty is also on Instagram @chrishauty Our first Author of the Month for 2020 is Chris Hauty. His debut novel Deep State is an addictive, action-packed, espionage thriller that has not only been selected as a Debut of the Month but has also been a Liz Robinson's Pick of the ...
More About Chris Hauty