LoveReading Expert Review of Not to Disturb
'One of the chief worries besetting any author of an introduction to a novel is that of letting the cat out of the bag… From its opening pages, through the utterances of its protagonist, the butler Lister, Not to Disturb disburdens the introduction-writer of any such worry… Muriel Spark appears to have decided that foreshadowing, or mere adumbration of catastrophe, was not for her… It is for its foregrounding of the spoiler, and for the tension that results, between life's openness and life's plotted-ness, that I place Not to Disturb near the centre of the Spark canon…And there exist other reasons to find the novel central, among which the fact that it may be the funniest of all Spark's novels, the most concentrated, too… And it is, further, the centre of what is almost a trilogy – a triptych, perhaps? – that includes The Driver's Seat (1970) and The Hothouse by the East River (1973); all three are short, concerned with murder and/or suicide, and written principally in the present tense.' From the Introduction by Dan Gunn
This is one novel in the absolutely glorious, must-have, complete collection of all 22 novels by Muriel Spark. This series is a wonderful way to celebrate the 100th anniversary of Muriel Spark's birth. Edited by Alan Taylor, author of Appointment In Arezzo, A Friendship with Muriel Spark, each perfectly sized and beautiful hardback book is introduced by a leading writer. Each introduction, while individually touching on thoughts and feelings, mentions the originality, the wit and humour, the cleverness of the writing. Whether an existing fan, or new to her works, this collection from one of our greatest writers, beckons, and quite simply, just asks to be read and re-read. ~ Lovereading.co.uk
Not to Disturb Synopsis
Not to Disturb, Muriel Spark's eleventh novel, was first published in 1971.
Geneva. As a ferocious thunderstorm rages outside, behind the locked doors of the library the aristocratic Klopstocks are `not to be disturbed'. In the attic, Baron Klopstock's lunatic brother rants and raves. But in the staff quarters, all is under control. The butler and servants are making their own preparations for the long night that follows . . .
This is one of the 22 novels written by Muriel Spark in her lifetime. All are being published by Polygon in hardback Centenary Editions between November 2017 and September 2018.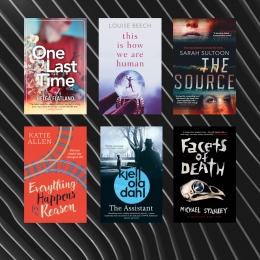 We're teaming up once again with Orenda to offer another brilliant book giveaway! Not only is a bundle of Orenda Books up for grabs, we also have a £15 voucher for the winner to use on Orenda's new look website! This book bundle will include some of their latest releases from April to June. A fantastic opportunity to stock your bookshelves. The titles up for grabs are: The Source be Sarah Sultoon - Published 15th April Facets of Death by Michael Stanley - Published 29th April The Assistant by Kjell Ola Dahl - Published 13th May This is How We Are Human by Louise Beech - Published 10th June Everything Happens for a Reason by Katie Allen - Published 10th June One Last Time by Helga Flatland - Published 24th June This draw is open only for UK residents currently in the UK and is free to enter, multiple entries from the same email address will only be counted once. The draw closes on 30th June 2021. Please ensure that the details you use to enter the competition will be correct at the time the competition ends. The winners will be notified as soon as possible.
Like For Like Featured Books
Muriel Spark, Prof. Dan Gunn Press Reviews
Praise for Muriel Spark;
A profoundly serious comic writer whose wit advances, never undermines or diminishes, her ideas New York Times Book Review
A wholly original presence in modern literature -- Andrew Motion
She has a receptive and wholly distinctive genius -- A N Wilson Spectator
The care with which she uses words is matched by a gloriously carefree attitude. It's all part of her sanity, her breezy authorial self-confidence; and because of this I think that reading a blast of her prose every morning is a far more restorative way to start a day than a shot of espresso Daily Telegraph
I am dazzled by The Bachelors. It is the cleverest and most elegant of all Mrs Spark's clever and elegant books -- Evelyn Waugh
My admiration for Spark's contribution to world literature knows no bounds. She was peerless, sparkling, inventive and intelligent - the creme de la creme -- Ian Rankin
Muriel Spark's novels linger in the mind as brilliant shards, decisive as a smashed glass is decisive -- John Updike New Yorker
Spark is a natural, a paradigm of that rare sort of artist from whom work of the highest quality flows as elementally as current through a circuit New Yorker
Other editions of this book
About Muriel Spark, Prof. Dan Gunn
Muriel Spark was born in Edinburgh in 1918. A poet, essayist, biographer and novelist, she won much international praise, including being twice shortlisted for the Booker Prize. The Times placed her eighth in its list of the Fifty Greatest British Writers Since 1945. She died in Tuscany in 2006. Professor Dan Gunn joined the American University of Paris in 1989 after completing his doctoral work at the University of Sussex and four years of teaching in Paris. He is the founder and director of the AUP's Center for Writers & Translators, and is Editor of the Cahiers Series. He writes, publishes and reviews fiction. He ...
More About Muriel Spark, Prof. Dan Gunn