LoveReading Expert Review of Corpus
1936 and the huge canvas of Europe in chaos is superbly portrayed by this renowned author of historical fiction. Previously writing about the spy world of the Tudor period we know we are in good hands here. If you have not read one of his John Shakespeare thrillers you should. (I understand TV is on the cards.) This new series introduces Tom Wilde, a Cambridge history don, a bit of a recluse who buries himself in his work and period spy novels. His next door neighbour is self-employed publisher Lydia whose best friend, Nancy, dies mysteriously. Lydia enlists Tom's help. Then Nancy's right-wing gentry parents are brutally murdered and a conspiracy seems afoot. Enter a reporter, Eaton, whom Tom believes works for MI5. Now the death toll mounts and so does the danger for Tom and Lydia. But it turns out the real plot is much higher up the international scene. Terrific. An excellent start to what promises to be a cracking series. ~ Sarah Broadhurst
Corpus Synopsis
1936. Europe is in turmoil. The Nazis have marched into the Rhineland. In Russia, Stalin has unleashed his Great Terror. Spain has erupted in civil war. In Berlin, a young Englishwoman evades the Gestapo to deliver vital papers to a Jewish scientist. Within weeks, she is found dead in her Cambridge bedroom, a silver syringe clutched in her fingers. In a London club, three senior members of the British establishment light the touch paper on a conspiracy that will threaten the very heart of government. Even the ancient colleges of Cambridge are not immune to political division. Dons and students must choose a side: right or left, where do you stand? When a renowned member of the county set and his wife are found horribly murdered, a maverick history professor finds himself dragged into a world of espionage which, until now, he has only read about in books. But the deeper Thomas Wilde delves, the more he wonders whether the murders are linked to the death of the girl with the silver syringe - and, just as worryingly, to the scandal surrounding King Edward VIII and his mistress Wallis Simpson...Set against the drumbeat of war and moving from Berlin to Cambridge, from Whitehall to the Kent countryside, and from the Fens to the Aragon Front in Spain, this big canvas international thriller marks the beginning of a major new series from bestselling author Rory Clements.
About This Edition
| | |
| --- | --- |
| ISBN: | 9781785762642 |
| Publication date: | 13th July 2017 |
| Author: | Rory Clements |
| Publisher: | Zaffre Publishing |
| Format: | Paperback |
| Pagination: | 480 pages |
| Primary Genre | Thriller and Suspense |
| Other Genres: | |
| Recommendations: | |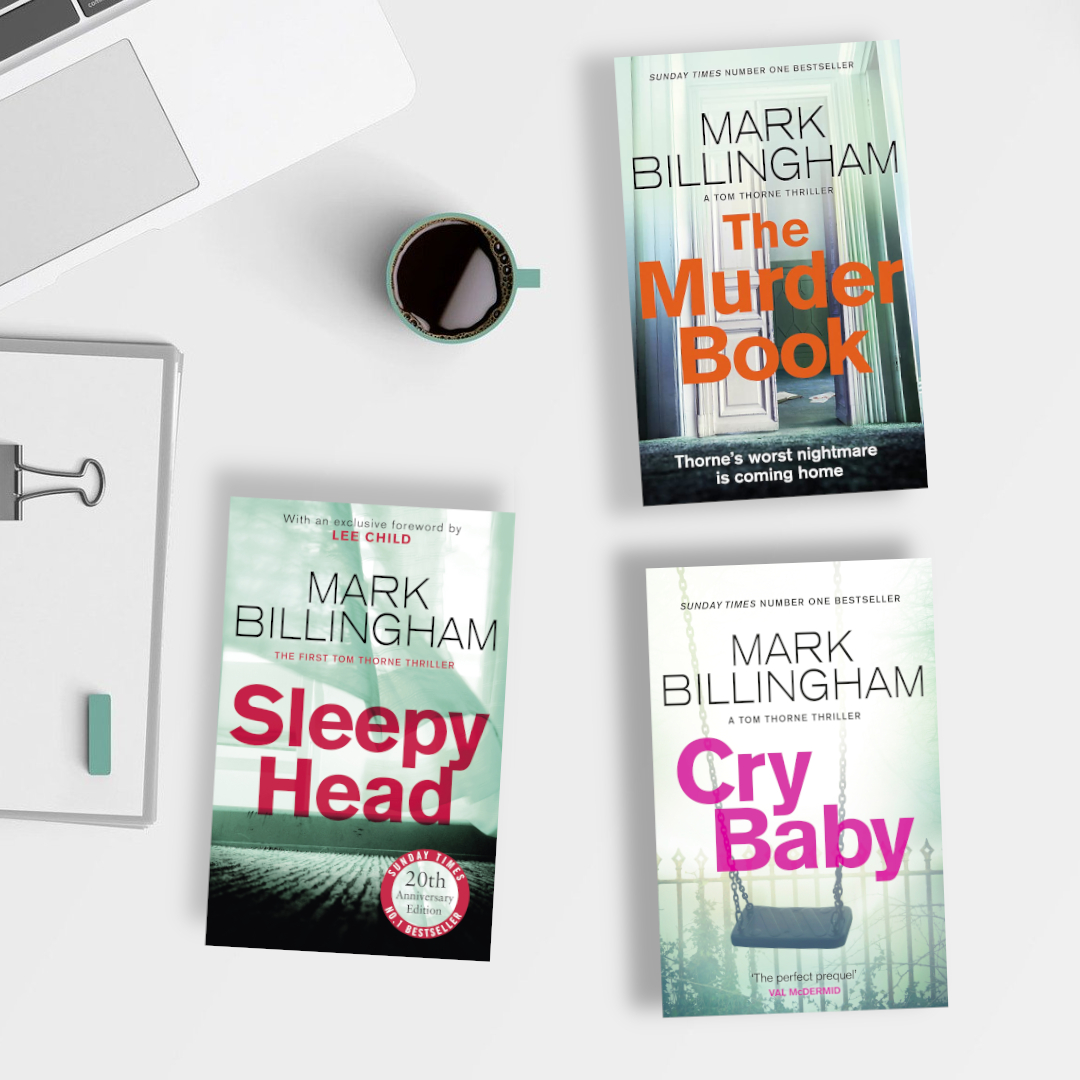 "The past is not just haunting Thorne, it's hunting him in this read-in-one-sitting thrilling crime novel." Liz Robinson, Expert Reviewer The Murder Book, the latest in the Tom Thorne series by Mark Billingham is out now and to celebrate, we working with Little, Brown Book Group to offer you an opportunity to win a book bundle of the complete Tom Thorne backlist. This draw is open only for UK residents currently in the UK and is free to enter, multiple entries from the same email address will only be counted once. The draw closes on 10 July 2022. Please ensure that the details you use to enter the competition will be correct at the time the competition ends. The winners will be notified as soon as possible.
What To Read After Corpus
Corpus Reader Reviews
In addition to our Lovereading expert opinion some of our Reader Review Panel were also lucky enough to read and review this title. You can click here to read the full reviews.
Siobhan McDowell - 'Each chapter was an example of how to write a page-turner.....RIVETING is the only word that comes close to describing how I felt about it.'
Alan Brown - 'Historical fiction, a crime story and an espionage tale all wrapped into one. A book of grappling intrigue which finishes with an exciting denouement. A fascinating read.'
Ann Peet - 'This is an excellent novel for anyone who likes thrillers that are well written, intelligent and with an historical setting.'
Phylippa Smithson - 'I truly could not put Corpus down and I must once again thank the great guys at Lovereading.com for introducing me to a thriller that I predict will command #1 on the international best seller list for much time to come.'
Sarah Musk - 'A must for people who like bloodthirsty, spy thrillers with an interesting mix of characters.'
Ann Alderton - 'A compelling spy thriller set in the politically charged period of the late 1930s, Corpus is a gripping story with an interesting and engaging Cambridge-based hero. A series with great potential.'
Glenda Worth - 'a book of international espionage with many twists and turns... An exciting read with many twists and turns keeping the reader engrossed right until the end.'
Lucy Bunce - 'It's an exciting book, a proper page-turner, that keeps up the suspense until the end.'
Les Wood - 'It's a refreshing change to discover a new novel which pulls you along without any effort and has you guessing the outcome or rather 'whodunit'.'
Jocelyn F Garvey - 'a mixture of murder investigations and historical political thriller.'
Angela Rhodes - 'For anyone who likes a good spy thriller, this is on par with John Le Carre. A great story that will keep you turning the pages late into the night…'
Alfred Nobile - 'A great book that keeps you turning the pages, saying to yourself this could never happen. But when you suspend your disbelief, it could or has it?'
Catherine Bryce - 'A brilliant, exciting, can't put down book!'
Alan Gee - 'If you look up "Rollicking Good Yarn" in the dictionary, the definition is almost certainly Corpus by Rory Clements'
Anne Rhodes - 'Sudden violent deaths, Societies for or against different parts of Russia, Germany, Britain – excitement on every page. What more could you ask?'
Gill Williams - 'Rory Clements has written a spy thriller with as many twists and turns as the Cambridgeshire roads he describes.'
Elisabeth Thomas - 'Corpus was an enjoyable read but I did not take to the characters as much as those in his previous books.'
Rory Clements Press Reviews
'I was a huge fan of the John Shakespeare series and love every single book. Corpus was an enjoyable read...' Lis The Bookworm
'I really enjoyed this book. It was my first experience of this author and I am very glad I picked this one up. The writing was easy to get into and the plot was engaging. I enjoyed the characters, especially the lead - he is well written and intelligent. Overall this was a great book set in an interesting time and I would definitely recommend picking this book up.' The Little Book Owl
'An intelligent thriller ...I loved the characters and especially hero Professor Thomas Wilde. Our heroine, Lydia is well rounded...Wilde is a cool hero.' For the Love of Books
'It simply took my breath away. The amount of research that has gone into this superb book is just phenomenal. Boy does Rory Clements know how to tell a story! It's a tangled web of espionage, murder, intrigue and thrills. I'm so glad I got the chance to review this book. When I have time I will be reading this again. There's so much detail that you might miss!' The Book Guzzler
Other editions of this book
About Rory Clements
Rory Clements is the bestselling author of the John Shakespeare series of Tudor spy thrillers. His six acclaimed novels, Martyr, Revenger, Prince, Traitor, The Heretics and The Queen's Man, follow Elizabeth's Intelligencer, John Shakespeare, brother to the playwright William, through the dark underworld of Tudor England as he unmasks the traitors and conspirators who plot against the Queen. The seventh John Shakespeare novel, Holy Spy, is due to be published in February 2015. Rory Clements won the Crime Writers' Association Ellis Peters Historical Fiction Award in 2010 for Revenger, and has been shortlisted for CWA Awards for Martyr, Prince and The Heretics. ...
More About Rory Clements