When LoveReading was asked to curate a selection of books for the London Mountain Film Festival 2021 we readily accepted the challenge! A chance to source some new, inspiring reads - and it gave us the welcome opportunity to work with specialist independent publishers and imprints.
The London Mountain Film Festival, now in its second year, is a celebration of adventure and the outdoors. Taking place again online, the festival is screening over 40 world-class adventure films, plus interviews with film-makers & authors, all over an exhilarating fortnight this May.
'I'm excited, honoured, and grateful to all the filmmakers, authors, and athletes who have trusted us with their incredible work,' says festival director Greg Hackett. 'LMFF Virtual is an intense two-week online celebration of that wonderful space where the human spirit embraces the challenges of the natural world.'
'We seek out films and books that touch everyone – not just those already familiar with whatever sport or activity is being highlighted. We hope that everyone will get involved in the spirit of the festival, get their friends and family involved, vote for their favourite films, and most importantly get inspired to have their own adventures!'
The last 12 months have seen us all turn to the therapeutic benefits of nature and the outdoors. We've dusted down our bikes, taken up running, tried wild swimming, paddleboarding and kayaking.....and walking has become one of our top social activities! As restrictions relax take some inspiration from our festival reads. A showcase exploring astonishing human endeavour, from ultra-running to high altitude climbing. Books with magnificent photography in a joyous celebration and respect of our world. Inspiring personal stories and guides to explore our own connection with nature. And many of our books include practical tips to plan your own adventure or post-lockdown challenge. You can find a full review for all our books in the links below. We are delighted to bring you our recommended adventure reads for LMFF Bookfest 2021.
I joined our contributing authors for a quick chat at the virtual festival bar...
How to Run a Marathon - the Go-To Guide for Anyone and Everyone by Vassos Alexander : All the essential technical advice and insider knowledge to help you succeed in your marathon quest.
The pandemic has encouraged many of us to become runners. Are we all really capable of running a marathon??! I can pretty much guarantee that everybody has a marathon in them. It's not easy – I'm not saying everyone's got an easy marathon in them – but the fact of it being difficult is sort of the point. It's such a lovely and iconic challenge.
There are almost no exceptions. If you can get yourself round a parkrun – run, jog or walk 3 miles – then you can, with some training, attempt and finish a marathon. Just start slowly - walk-running is fine, it's a thing! - and gradually increase the mileage starting and ending at your own front door.
Training for a marathon takes a lot of time. Are there any shortcuts or is it hours and hours of running? It's really important to celebrate all the training. Don't resent it, revel in it. Elite athletes talk about process over results. The marathon at the end of your 16 week training plan is merely the cherry on the icing on the cake - a 26.2 mile party for the shiny new you! The training is where it's at. Plus it's not that much really, and it's massively worth it.
Good advice! So it must be emotional when you cross that finish line... I'm a father to three terrific children. When each of them came into the world, I experienced a deep sense of contentment that stuck around for weeks. It seemed like everything was going to be ok and nothing could burst my private bubble of joy. When I completed my first marathon, I felt that same elation crossing the finishing line. Even as I mildly convulsed in the car on the way home.
Did lockdown reveal any hidden talents? Erm....
No. Not me either....So now restrictions are lifting, where are you heading for your first adventure? As soon as regulations (and work and family life) permit, you'll find me running gleefully up a muddy fell. A Bob Graham Round (42 Lakeland peaks in 24 hours) is probably top of my very long list...
Good luck with that! Lastly, who's around your campfire? Emil Zatopek (legendary runner and human being, he was my specialised subject on mastermind), Mother Teresa (obvs), William Shakespeare (obvs), Sage Maharishi Patanjal (father of yoga), my wife Caroline (any camp fire is more fun with her around it).
Read a full review of How to Run a Marathon and you can catch hear Vassos in conversation with fellow ultra-runner Damian Hall, recorded for the London Mountain Film Festival.
Grounded by Ruth Allen : Explore your relationship with Nature
Do you think the pandemic has reset our relationship with nature? The optimist in me wants to believe so. I hope that many people will have found a new found love for the outdoors during the pandemic when so many other things were off the agenda, but will this be for the majority of people? And will new habits fall by the wayside? I don't know. I want to believe! But many people will still not have had good access to green spaces this pandemic and may therefore have seen no change in their relationship to nature. And does a new relationship with nature predict pro-environmental and conservation behaviours that benefits all of us including nature? Again, I don't know. I worry not.
We took great comfort in your #OurGroundedWinter initiative - what kept you grounded this winter? Thank you! I think the success to having a grounded winter of any kind (pandemic year or not) is accepting winter for what it is. It is darker, it is colder, it is harder. This is true for many species. We have to find ways to weather it and not compound our own suffering. For me, if I can keep getting outside a bit, keeping seeking daylight, but also surrender to the quietening that winter brings then I find I fare fairly well. Winter is an invitation to take the pressure off goal achievement, to change your schedule around to make the most of the shorter days, to rest.
Tell us how we can 're-wild' ourselves... Pay attention and notice the changes that happen to all of life on this living planet every day.....Seek meaningful connection with the other-than-human world, not just contact measured in hours. Let yourself be moved by the natural world.....Live more intuitively and instinctively – wildly.
Now restrictions are lifting, where are you heading for your first adventure? I had to get to the mountains. I have just got back from a long-weekend in the Lake District walking in the fells, swimming in the lakes. I'm a mountain person and this was imperative. I think the rhythm of my year will be getting into the
hills as much as possible and reconnecting with that part of myself that's been on hold for a year. I long for the Cairngorms.
That sounds bliss! Tell me, who's around your campfire? Nan Shepherd, of course. I would want to talk about our shared love of her mountains. But to be honest, anyone would do! I am sick of hearing my own voice, my own thoughts. I would like to just drift off in a camp chair listening to the excited babble of others. That would feel special. Just to feel the warmth of others sharing their stories. I am not a storyteller, but as a therapist I love listening to other people's.
Read our review of Grounded & you can hear Ruth in interview with Lizzie Carr recorded at the London Mountain Film Festival.
50 Ways to Cycle the World by Belén Castello, Tristan Bogaard : Fifty awesome cycling experiences from across the globe
50 Ways is a gorgeous book, the photographs are stunning and the stories are so entertaining. Did you have great fun creating it? So great! Creating this book throughout the difficult and weird year we've all been through was a huge relief and gave us the motivation we needed to get through. We've had the honor to meet all these wonderful human beings who've gone to great lengths to find meaning in life, and the pleasure of hearing their stories privately. That alone made this book such a special experience. We hope 50 Ways will now lay the motivation for a lot of its readers to try out a journey by bike themselves!
Tell us about your most intrepid cycle. All of our journeys by bike have been intrepid in their own ways, but discovering two of Central Asia's countries–Kyrgyzstan and Tajikistan–really opened our eyes to the differences between the world we grew up in and the one we cycled through there. It humbled us tremendously and we can't wait to return to discover more of that intriguing cluster of countries.
Cycling has been extraordinarily popular through lockdown and many people will now feel more confident in packing up their panniers and hitting the road. Any recommendations for a great cycling route in the UK? How special is that, right? In documentaries about earth and nature it's sometimes said that every now and then a catastrophe is needed to bring way
for new life, and it seems the pandemic has done just that for cycling. For those who can't wait to get on the saddle in the UK, we really recommend cycling from Land's End to John o' Groats. Cyclists we've met and who've cycled the whole route have told us they absolutely loved it. Another highlight is the entire Scottish west coast–watch out for the midges though!
Gosh. I better get in training! So now travel restrictions are lifting, have you plans for your next adventure? We're thrilled to discover the Balkans this summer and hope to cycle Greece and parts of Turkey as well.
And tell us who's around your campfire? No doubt we'd love to cycle and sit around the campfire with Greta Thunberg. She's such a champ!
You can hear Harriet Osborne interview Belén & Tristan for the London Mountain Film Festival, May 2021.
Structured Chaos - The Unusual Life of a Climber by Victor Saunders : An honest and humorous account of a lifetime dedicated to mountaineering.
After almost 50 years a climber, what stands out as your greatest achievement? That is a fairly easy one to answer, being still keen to climb after all this time and having discovered that climbing is about the process and not just the goals. By analogy, if the initial goal at school was to pass exams in English, the big benefit (for some people at least) is the ensuing passion for literature.
Any unconquered peaks on your wish list? Lots, but I have to modify the list continually as I grow older and even more feeble! The local classic climbs in Chamonix are high on my list and some Himalayan summits too (but I am not permitted to divulge those!)
Assuming you even want to leave Chamonix, now travel restrictions
are lifting, where might you head for your next adventure? I hope to get back to the Himalayas later this year. Can't reveal our plans yet. But also, I want to return to Sheffield; I really miss rock climbing in the Peak District.
Who's around your campfire? There are a lot of people who I enjoy spending time with. My (more) regular climbing partners of course, but also my family who I do not see enough of, especially Hugo, my son, and Adam, my half brother. Perhaps the one person I have not shared a rope with and would happily spend many hours listening to is Luca Signorelli, who is more a polymath than a climber. Luca is from Turin and conversation with him is like fencing with sparklers. No subjects are off limits.
Victor is pictured here with his friend and climbing partner, Mick Fowler, on the summit of Sersank in the Indian Himalaya. You can hear them both in conversation at the London Mountain Film Festival here.
Limitless - An Ultrarunner's Story of Pain, Perseverance and the Pursuit of Success by Mimi Anderson : Be inspired by Mimi as she takes on the hurdles and hardships of triathlon.
Ultrarunning sounds exhausting - how do you maintain the mental strength to keep on going? It is exhausting but also fun! My mental strength has become stronger over the years of running around the world. I know that at some point I'm going to feel mentally and physically exhausted so I have a picture in my mind of my family waiting for me at the finish line (they are never there!) cheering me on with me running towards them with my arms open and held high above my head. That image focuses my mind enabling me to continue.
I bet they'll make an effort now! But triathlon is a serious challenge - three quite different disciplines plus transitions and new kit not to mention jelly legs! Give us a quick overview of the skills you need. I love new kit so that wasn't a problem!! I never dreamt that I would ever train for a triathlon as I had a fear of water so my first hurdle was overcoming my fear. I had to learn how to do front crawl - not easy and very technical. My first lesson was literally blowing bubbles in the water, I really was starting from scratch. Secondly I had to get to grips with a road bike, skinny tyres and cycling fast scared me (especially downhill), then I had to learn to cope with clip-in shoes (terrifying). The running should have been my best discipline but unfortunately after America I could only run once or twice a week - short distances so I was never going to be fast! (Not that I'm competitive!) The 4th discipline in Triathlon and definitely a required skill was the transitions. The pros make them look so easy but they would practice and practice - I think I only had one practice run through before my first triathlon which if I'm honest didn't go well but it did make me laugh! A triathlon in my option is way harder and more time consuming to train for than running long distances.
So what did lockdown teach you about yourself? My running adventures taught me a lot of coping strategies that have helped me enormously in lockdown. I have realised that I'm much more adaptable than I thought I was, I can cope with change much better than I thought I could and it's OK to have a bad day, let it go as tomorrow will look different. I have missed hugging my friends and family!
Now restrictions are lifting, where are you heading for your first adventure? I have a list of adventures I would like to do but this year they will all be uk based. I haven't decided which one is going to be first but last
year I was going to cycle the North Coast 500 so that is right up there as a must do! Can't wait.
It's a popular route! And who's lucky enough to be around your campfire? Sitting round the camp fire with Anna McNuff and Jenny Tough would be amazing, I would sit and listen to their fantastic adventure around the world, great story telling and laughter. I would also like to invite my father who sadly passed away in 2007, I can imagine him sitting there with his guitar and we would all be singing - perfect!
You can read a full review of Limitless here & here Mimi and Anna McNuff share their love of long-distance running, at an interview recorded for the London Mountain Film Festival
Scottish Bothy Walks - Scotland's 28 Best Bothy Adventures by Geoff Allan : A beautifully illustrated walking companion to the bothies of Scotland.
Can you tell us what a bothy is? In essence, a bothy is a form of rough and ready accommodation, traditionally a place to house farm labourers or estate workers. However, more recently the term has been used to describe open shelters which are found in the wilderness areas of Scotland (and other remote places in the UK and Ireland). Typically, mountain bothies are shepherd's cottages, estate houses or abandoned crofts that have been saved from ruin and renovated. Freely available for anyone to use, with no booking system or wardens, there is a whole network of bothies just waiting to be discovered in the most far-flung corners of the country.
What should I expect on my first bothy expedition? Bothy accommodation is very basic, and it's important to assume that there will be no facilities. This means no gas, electricity or a tap. You should only expect to find a windproof and water-tight building, with somewhere dry to sleep. If you are staying overnight, you will need to carry in all the equipment you would normally take camping, plus candles, and if there is a fireplace, fuel to burn.
Are bothies only found in Scotland? No the concept of bothies has caught the imagination, and they can now be found in England and Wales, and there are even a couple in Ireland. The biggest concentration outside Scotland is in Northumberland (a total of seven in close proximity within the national park), plus four in the Lake District and nine spread across the wilder regions of Wales.
Scotland is one of the most beautiful, scenic countries on earth...is there one place you think our readers really should visit? There are soooo many fantastic places to visit, it's difficult to choose just one place to recommend. But if you twist my arm and I have to give a definitive answer, I'd recommend going to the island of Jura. It really has a wow factor which takes your breath away.
Now restrictions are lifting, where are you heading for your first adventure? As with everyone who's been pining for the great outdoors, I'm itching to get out in the hills again. Bothies are still closed so I have dusted
down my light-weight tent, and am planning a couple of summit camps. I'm working on a third bothy book, so I have a list of places to visit spread right across the country from Knoydart and the Rough Bounds to the Cairngorms National Park.
Who's around your camp fire? One person I would have loved to chat to is Irvine Butterfield. My copy of his seminal munros guide, The High Mountains of Britain and Ireland, is the most well-thumbed tome on my bookshelf. An outstanding figure in the Scottish outdoor community for over 40 years, he was a founding member of the Mountaineering Council of Scotland (now Scottish Mountaineering), the John Muir Trust, and also an significant voice within the early incarnation of Mountain Bothies Association.
Read a full review of Scottish Bothy Walks & download an extract here & you can read Geoff's answers in full on his author page. And not to be missed, join Geoff on a virtual bothy tour with the London Mountain Film Festival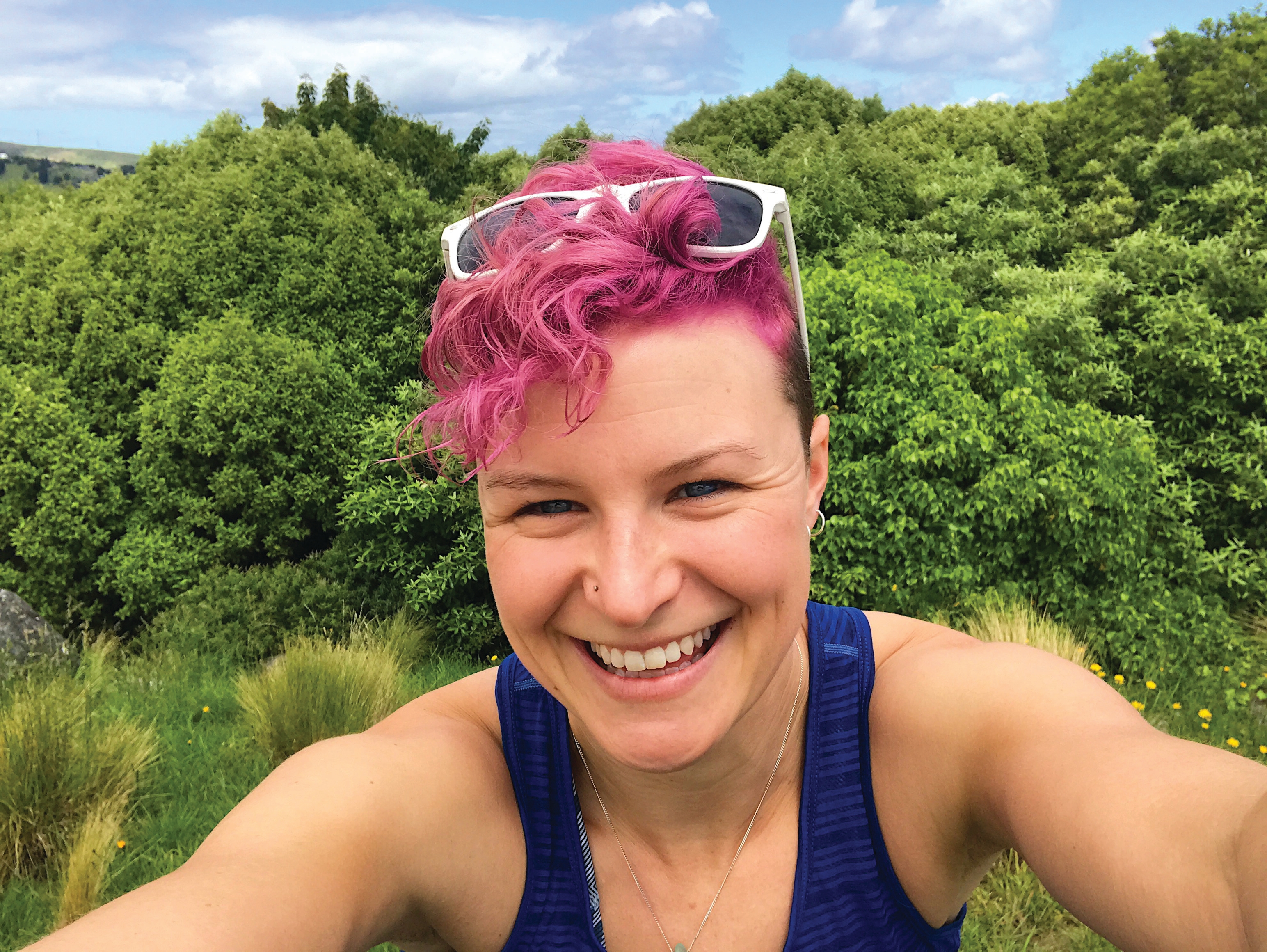 Bedtime Adventure Stories for Grown Ups by Anna McNuff : Escape into a world of adventure with this collection of life-affirming short stories
Do adults need bedtime stories too? They absolutely do! Especially after the year we've just had. We've come through a time of monumental change and a lot of stress and pressure, so getting a good night of kip is much needed, but de-stressing at bedtime (or in fact at any time during the day) is tough. I'm hoping these short stories give adults a chance to lift the weight of the world off their shoulders for a while and relax.
As an ambassador, what has been your greatest contribution to Girlguiding? That would have to be doing the 'Barefoot Britain' adventure. I ran 2,352 miles from Shetland to London, with no shoes on (as you do) and gave talks about adventure and resilience to over 1700 young girls along the way. There's no substitute for standing in front of a group of girls in your running kit, with grubby feet and saying 'I have no idea if I can do this... but I'm going to try.'
Now restrictions are beginning to lift, have you any excting travel plans? Oh my... I'm not letting myself think too far ahead yet but ABSOLUTELY. We're planning a few summer European adventures when we can (I love The Alps), and a visit to New Zealand for next UK winter. In between that I'm equally excited to do some more travelling around the UK. The Lake District, Scotland, Cornwall, Devon - all of those are getting me just as excited as going abroad.
What advice can you give to would-be adventurers? Just start. Wherever you are in life. however much money you have. Whatever your skill level for outdoorsy things. Just make a plan, no matter how small, tell three friends, put some money aside, mark it in your diary and commit. Everything else will take care of itself.
Who's around your campfire? Tina Turner (so she can sing and dance for us), Elizabeth Gilbert (so she can tell stories and inspire me to let me creativity out) and my Grandpa (sadly no longer with us) so he can tell me stories about the war.
Hear Anna McNuff chat about her new book with Ben Sheppard, recoreded for the London Mountain Film Festival 2021
Wild Nights Out - The Magic of Exploring the Outdoors After Dark by Chris Salisbury : An exciting and illuminating guide to night-time adventures.
Wild Nights Out is full of brilliant activities and ideas for nocturnal explorers, from bat detecting, barefoot walking to a full moon viewing party. How do we benefit from exposure to a darkened world? We are all somewhere on the spectrum of nature-deficit disorder, and when it comes to the night time, we have dismissed its invitation so completely as a modern culture that any time spent in the dark will feel exciting, as it's become such an unfamiliar experience. Wildlife encounters can be manifested quite easily in the dark, with a few tricks of the trade, which are always a big thrill, and we should not underestimate the impact of seeing real wild creatures in their habitat. The darkness somehow intensifies the experience, and lends itself well to the 'wow' factor. I'd also say there are aspects to the outdoors at night time that feel qualitatively different, quieter and more reflective. Dare I say it feels a more soulful place, and to use an old-fashioned word there is more enchantment in the interplay between the shadows and mystery of what we cannot see. If there are stars and/or a moon to observe, then we are given a perspective of our place in space, which again feels a lovely 'otherness' to the busy daytime routines.
Tell us a bit about WildWise and what you offer. WildWise offer a broad menu of enticing invitations to spend time in nature. Over the last 21 years we have learned to offer a diverse range of events to suit all tastes, from the delightful short excursions to the longer more immersive experiences. We are known for the creative and soulful quality of our provision and whether you are a teenager wanting to come on our epic Hunger Games camps, or a family that wants to spend quality time in our beautiful Devon locations, or you're a wild child in need of some wild times we are pretty sure you will be able to meet your needs and interests. Check out our acclaimed year-programmes and professional training courses too
Now restrictions are lifting, where are you heading for your first adventure? My love affair with the wildest valley in England continues - I'm
lucky to live and work in the beautiful Dart Valley, where there are endless mysteries to sustain my interest. Our first wider excursion is to take our students up to wild Scotland for a 5-day canoeing adventure....needless to say, we can't wait!
I bet! And other than those lucky students, who's around your campfire? I have a lengthy list of champions and heroes relating to my work, and I'd love to invite them all of course. For now though, I'd like to re-connect with one of my inspirations in my career, who very kindly offered a foreword for my book, Ray Mears. He's got such good stories to share, and I remember firesides filled with his laughter and good humour.
We have a full review of Wild Nights Out and a peek at the book, plus Chris shares his passion for nature & night-time adventures with the London Mountain Film Festival.
In it for the Long Run - Breaking Records and getting FKT by Damian Hall : the truth behind this awesome record-breaking Pennine Run
Your record-holding Pennine Way run is an incredible achievement... will you be seriously fkt off when your record is broken? Heehee. Yes! And John Kelly, who broke the 31-year-old record but only held it for eight days, is going again, to try and beat my record, very soon. There's nothing wrong with me switching some of the waymarkers round, is there?
You've set another, perhaps even more important, record - In It for the Long Run is Vertebrate's first carbon negative book (and the future for publishing). Can you tell us a bit about Trees Not Tees, another sustainability initiative you
support. They're co-founded by a friend, record-breaking fell-runner Jim Mann. The idea is brilliantly simple. Race organisers can sign up to offer runners the choice between having a t-shirt or planting a tree. The clothing industry is worse for the planet than aviation and shipping combined and running has a t-shirt problem. Plus the world needs a lot more trees and urgently.
Now restrictions are beginning to lift, where are you heading for your first adventure? I dashed to Snowdonia, Wales as soon as it was allowed. And I have a little record-bothering bimble planned for late May in the north of England...
Best of luck! And who's around your campfire? Oh cripes. Er, Scott of the Robert Falcon Scott, Arsene Wenger, Hunter S Thompson, Dale Vince...
Damian discusses running, records and classic routes with Vassos Alexander at the London Mountain Festival and you can read a full review of In it for the Long Run and download an extract here.
100 Great Walks with Kids - Fantastic stomps around Great Britain by Jen & Sim Benson : Brilliant walks, practical tips and ideas for family adventures
100 Great Walks with Kids is a must-have guide for families, especially useful at the moment with walking near the top of most weekend activities. Give us your top tip to encourage a reluctant young walker! Our kids love being outside, and they almost always tackle a walk with lots of enthusiasm and energy - once they're through the door. It's that first step that's often the hardest. We find talking to them about something they'll find exciting along the way helps - perhaps there's a cafe, a playground or even a castle to explore. This gives them something to aim for, and to look forward to, and kids will always view an adventure with far more enthusiasm than a walk.
The pandemic has encouraged us to get out and explore our neighbourhoods...have you stumbled across a new and exciting place you'd never before noticed? We usually travel quite a bit for work so, in many ways, it has been really nice to have the time to explore closer to home. It's been fun to rediscover places we had previously only been to alone - usually out running, or walking the dog - with the kids for company. It's fascinating to watch and listen as our familiar local places change with the seasons and the weather, too. Even the same walk never feels the same two days in a row.
Do you have a favourite area of the UK to walk? That would be an impossible choice! We've been lucky enough to spend the past few years exploring the length and breadth of Britain for our job, visiting so many incredible places along the way. Although it's relatively small, this country is packed with so much variety in its landscapes, wildlife, cultures and stories. It feels like there's always something new and unexpected to discover.
Now restrictions are lifting, where are you and the family heading for your first adventure? We both spent many years living and adventuring in Devon before we moved away, 10 years ago. We usually go back regularly, catching up with family and friends and making the most of the incredible diversity of landscapes, from Dartmoor to the sea. We've really missed it over the past year, so a return to Devon is definitely top of the list.
Who's around your campfire? Ray Mears - he's a campfire cooking genius!
Nice choice! Read a full review and download an extract from 100 Great Walks with Kids here & you can get some top tips for family ambles and adventures with Jen & Sim, recorded for the London Mountain Film Festival
If you have a question for any of our authors please post in the comment box below & we'll do our best to get you an answer....and if you haven't got a question then we'd love to hear who's around your fantasy camp fire!
We look forward to seeing our authors in interview over the festival fortnight. And scroll down for more inspirational books with an outdoor, adventure theme.
With thanks to Geoff Allan for the feature photo, taken from Scottish Bothy Walks.
The London Mountain Film Festival runs online for 2 weeks, from May 15 to 31, 2021.
Find out more www.londonmountainfestival.com
And follow on -
twitter @londonmountain1
instagram londonmountainfilm
facebook London Mountain Film Festival