LoveReading Expert Review of Baggage
A rewarding and fascinating journey to some of the most remote corners of the world with an environmental journalist who has anxiety and OCD.
Take one articulate, impassioned environmental journalist with anxiety and obsessive-compulsive disorder, add honesty, humour, and some fascinating travels stories and you have an inspirational book in your hands. Jeremy Hance is an award-winning journalist with a job that means he has to travel to some of the most remote countries in the world. Each time he begins a journey he is joined by OCD (Jeremy has named Steve), and depression (Malachi) which makes for an interesting trip. We first join Jeremy in 2017 en route to Jakarta as he struggles to cope with the journey, we then travel back to 2006 when his love for travel and the environment really began. His honesty is refreshing and uplifting, I smiled, laughed, and winced on occasion as I travelled to some truly wonderful places. And then he invited me to feel his sorrow at the loss of nature across this world that we are a part of: "There are things in the world we've take advantage of for our ten thousands years of civilisation: a stable climate, a rich biodiverse white of wildlife, healthy oceans, and a deep connection to other forms of life. We're risking all of these now." He also sees the good, the possibilities: "… in reality, we're all just human. And every day we can choose kindness or cruelty. We can choose to be brave or ambivalent". And then he introduces hope: "Leave nature alone and it will flourish. Help it along a little, and it will come back all the faster and richer. Life is tenacious. Life will find a way, but we first have to leave it a path." And so I travelled the world with Jeremy as he faced his fear every single day, and I found it inspiring, and fascinating in equal measure. Baggage: Confessions of a Globe-Trotting Hypochondriac is a wonderfully readable, engaging, and rewarding read, that I have chosen as a Liz Pick of the Month.
Baggage Synopsis
An award-winning journalist's eco-adventures across the globe with his three traveling companions: his fiancee, his OCD, and his chronic anxiety-a hilarious, wild jaunt that will inspire travelers, environmentalists, and anyone with mental illness.
Most travel narratives are written by superb travelers: people who crave adventure, laugh in the face of danger, and rapidly integrate into foreign cultures. But what about someone who is paranoid about traveler's diarrhea, incapable of speaking a foreign tongue, and hates not only flying but driving, cycling, motor-biking, and sometimes walking in the full sun?
In Baggage: Confessions of a Globe-Trotting Hypochondriac, award-winning writer Jeremy Hance chronicles his hilarious and inspiring adventures as he reconciles his traveling career as an environmental journalist with his severe OCD and anxiety.
At the age of twenty-six-after months of visiting doctors, convinced he was dying from whatever disease his brain dreamed up the night before-Hance was diagnosed with OCD. The good news was that he wasn't dying; the bad news was that OCD made him a really bad traveler-sometimes just making it to baggage claim was a win.
Yet Hance hauls his baggage from the airport and beyond. He takes readers on an armchair trek to some of the most remote corners of the world, from Kenya, where hippos clip the grass and baboons steal film, to Borneo, where macaques raid balconies and the last male Bornean rhino sings, to Guyana, where bats dive-bomb his head as he eats dinner with his partner and flesh-eating ants hide in their pants and their drunk guide leaves them stranded in the rainforest canopy.
As he and his partner soldier through the highs and the lows-of altitudes and their relationship-Hance discovers the importance of resilience, the many ways to manage (or not!) mental illness when in stressful situations, how nature can improve your mental health, and why it is so important to push yourself to live a life packed with experiences, even if you struggle daily with a mental health issue.
With mental illness impacting the lives of millions of people, this timely book will inspire people to step out of their comfort zones and take the road meant to be traveled. Hance proves that we all have baggage--the question is, do we leave it dusty in a closet or do we take it out in full view for others to see?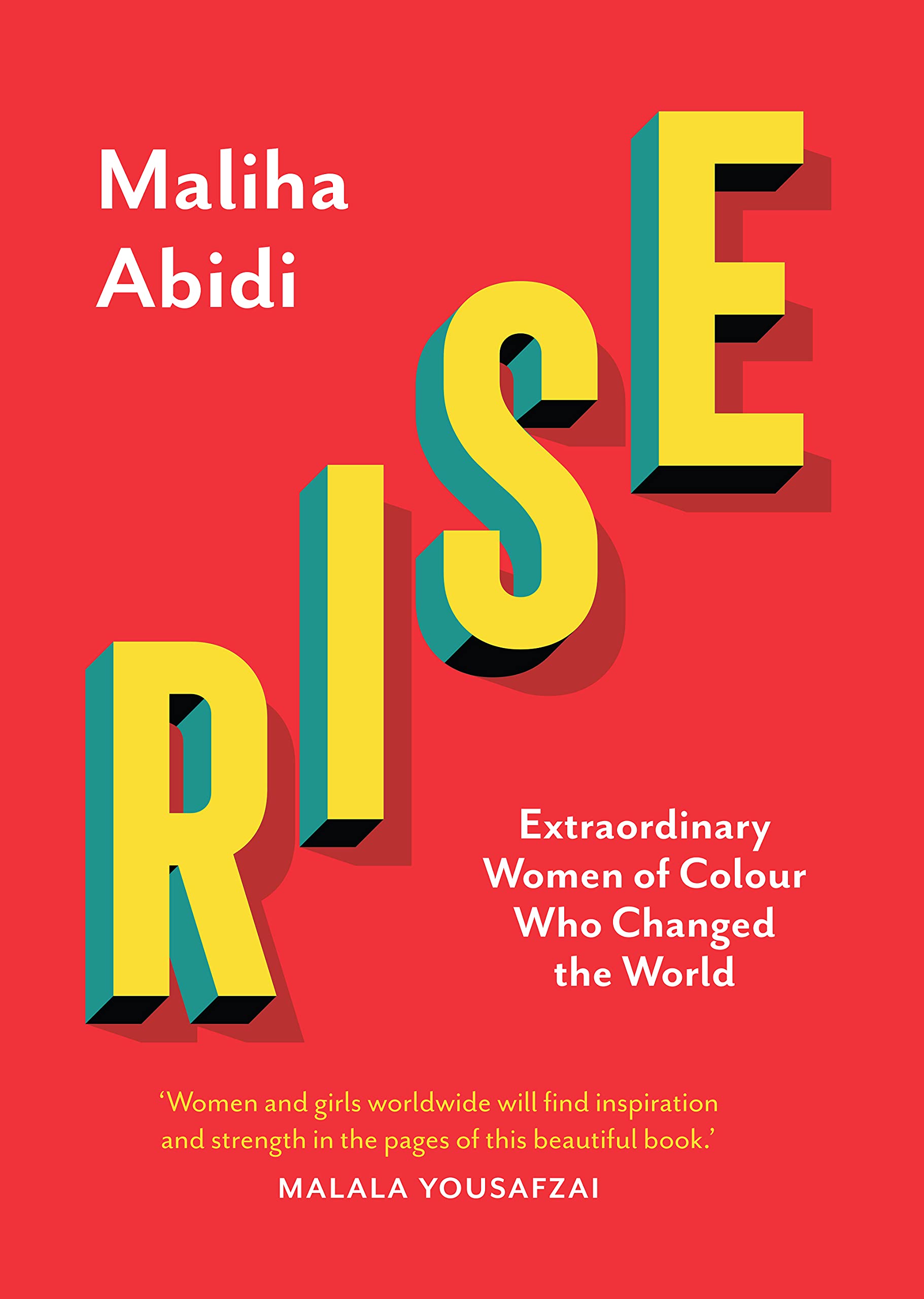 Rise by Maliha Abidi is an "Inspirational illustrated anthology of 100 women of colour who've blazed a trail to rise to the top of their respective fields, with world-changing impact." Joanne Owen, Expert Reviewer To celebrate the release of this book, we are working with Saqi Books to offer a copy of the book along with a signed postcard from Maliha Abidi and a bookmark. This draw is open only for UK residents currently in the UK and is free to enter, multiple entries from the same email address will only be counted once. The draw closes on 25th November 2021. Please ensure that the details you use to enter the competition will be correct at the time the competition ends. The winners will be notified as soon as possible.
Like For Like Featured Books
Jeremy Hance Press Reviews
Few writers can crack Sumatra-most don't even dare. But Hance strolls right into the steaming hot island of rainforests, volcanoes, tigers and tapirs, and nails it.
--Greg McCann, Author of Called Away by a Mountain Spirit
Everyone who travels has the jitters about things that could go wrong. The world-hopping writer Jeremy Hance has written this perfect book to show you that you're not alone in your travel fears, that there are ways to get over it before it gets over you--and that, in the end, a lot of what we fear is pretty damn funny. Read. Laugh. Breathe.
--Carl Safina, Author of Becoming Wild: How Animal Cultures Raise Families, Create Beauty, and Achieve Peace
Jeremy Hance writes with an exhilarating honesty that will make you wipe your brow after reading. He is a man on a mission to save the world-reporting on conservation's front lines-all the while surviving an unseen inner battle that is nothing short of eye opening.
--Paul Rosolie, Conservationist, author of Mother of God, host of Eaten Alive
Jeremy Hance has written a deeply personal and very funny travelogue. This is an eloquent account of the conflicts that arise when one's two strongest desires are to go absolutely nowhere but also go absolutely everywhere. Thank goodness the latter wins out more often than not.
--Jonathan C. Slaght, Coordinator for the Wildlife Conservation Society, author of Owls of the Eastern Ice
Insightful, hilarious, and inspiring, Jeremy Hance makes a fabulous guide both to the famously wild places he travels--and the even more exotic lands of a mind gripped by mental illness. The travel stories are wonderfully vivid, and the humor kept me laughing. But at its heart, this is a book about facing fear. That's what makes it important and unforgettable. I loved it.
--Sy Montgomery, New York Times Bestselling Author of The Good Good Pig and The Soul of an Octopus