LoveReading Expert Review of Quicksand of memory
This thought-provoking novel delves into obsession, revenge, and forgiveness as it slides through lives affected by one past event.
Darkly compelling, and provocative, yet with bright pockets highlighting the power of self-awareness and love, Quicksand of Memory walks into thoughts and shakes up feelings. Revenge means everything and when Jenna and Luke fall head over heels for each other, not everyone is happy for them. Author Michael J Malone is a trained therapist, this book explores the affects of traumatic events, how the past can alter the future with devastating results, and the emotions raised feel authentic, feel real. From the outset whiplike tendrils of disquiet creep their way into the story. The connections between the characters simmer just below boiling point, and as the flames built, I sat in fear for what was to come. While the plot succeeds in maintaining tension and suspense, it is the characters who really come to the fore. Luke and Nathan's relationship in particular nurtures and protects a necessary balance that ensures the focal point remains sharply in focus through to the end. Thoroughly rattling and provoking emotions, Quicksand of Memory is an intense and absorbing novel.
Quicksand of memory Synopsis
Scarred by their pasts, Jenna and Luke fall in love, brimming with hope for a rosy future. But someone has been watching, with chilling plans for revenge ... An emotive, twisty, disturbing new psychological thriller by the critically acclaimed author of A Suitable Lie and In the Absence of Miracles.
Jenna is trying to rebuild her life after a series of disastrous relationships.
Luke is struggling to provide a safe, loving home for his deceased partner's young son, following a devastating tragedy.
When Jenna and Luke meet and fall in love, they are certain they can achieve the stability and happiness they both desperately need.
And yet, someone is watching.
Someone who has been scarred by past events.
Someone who will stop at nothing to get revenge...
Dark, unsettling and immensely moving, Quicksand of Memory is a chilling reminder that we are not only punished for our sins, but by them, and that memories left to blacken and sharpen over time are the perfect breeding ground for obsession, and murder...
About This Edition
| | |
| --- | --- |
| ISBN: | 9781913193966 |
| Publication date: | 14th April 2022 |
| Author: | Michael J. Malone |
| Publisher: | Orenda Books |
| Format: | Paperback |
| Pagination: | 300 pages |
| Primary Genre | Crime and Mystery |
| Other Genres: | |
| Recommendations: | |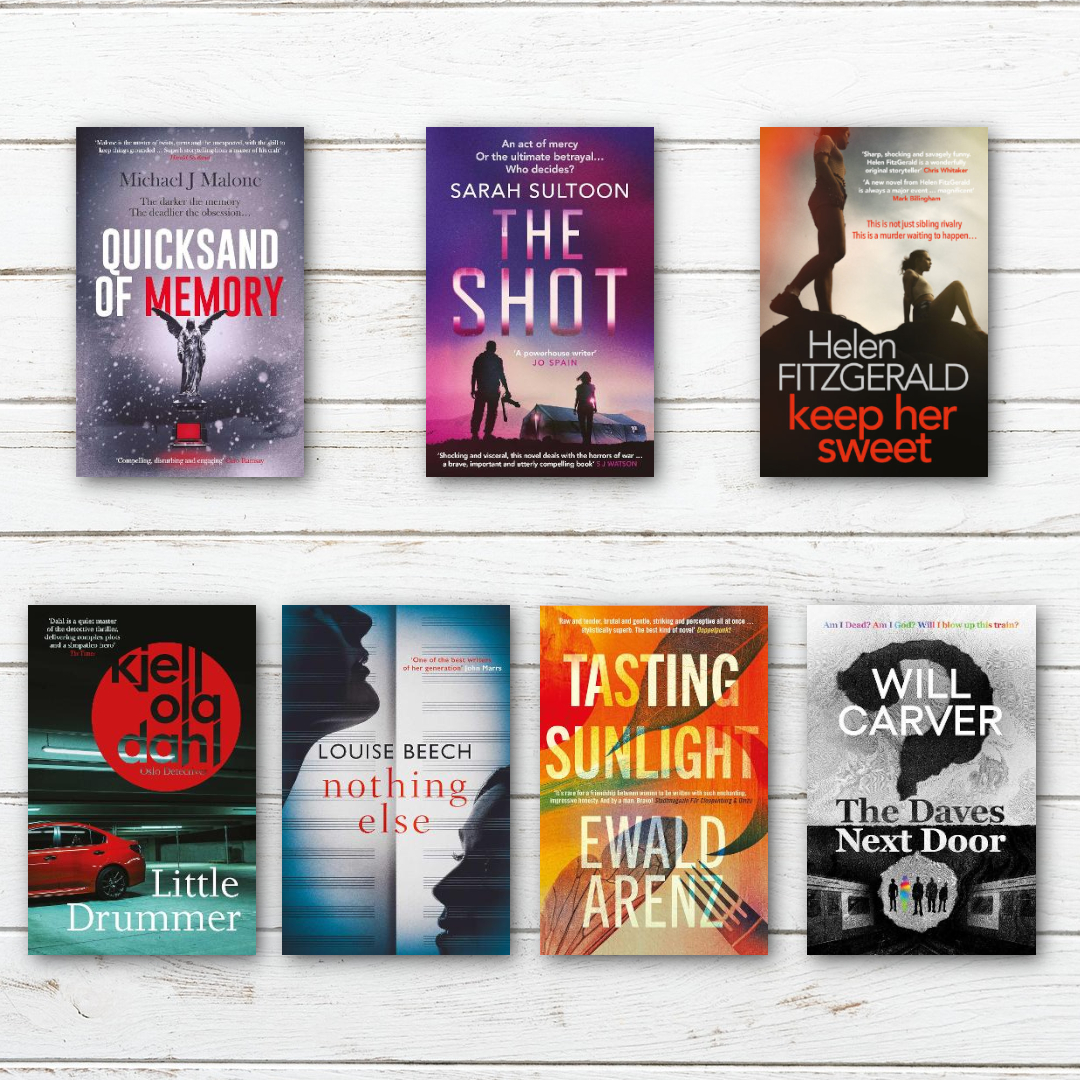 We're teaming up once again with Orenda to offer another brilliant book giveaway! This book bundle will include some of their latest releases from April to July. A perfect opportunity to stock up on some brilliant reads to enjoy this summer. The titles up for grabs are: Quicksand of Memory by Michael J. Malone - Published 14th April The Shot by Sarah Sultoon - Published 28th April Keep Her Sweet by Helen Fitzgerald - Published 26th May Little Drummer by Kjell Ola Dahl - Published 26th May Nothing Else by Louise Beech - Published 23rd June Tasting Sunlight by Ewald Arenz - Published 23rd June The Daves Next Door by Will Carver - Published 21st July This draw is open only for UK residents currently in the UK and is free to enter, multiple entries from the same email address will only be counted once. The draw closes on 31st July 2022. Please ensure that the details you use to enter the competition will be correct at the time the competition ends. The winners will be notified as soon as possible.
What To Read After Quicksand of memory
Michael J. Malone Press Reviews
'Malone is the master of twists, turns and the unexpected, with the skill to keep things grounded. So much so, that the reader can picture themselves in the very circumstances described. Superb storytelling from a master of his craft' Herald Scotland
'Malone is a poet; there are wonderful lyrical passages here and very skilful storytelling' NB Magazine
Praise for Michael J. Malone
'A beautifully written tale, original, engrossing and scary ... a dark joy' The Times 'A complex and multilayered story - perfect for a wintry night' Sunday Express
'Vivid, visceral and compulsive' Ian Rankin
'A terrific read ... I read it in one sitting' Martina Cole
'A deeply satisfying read' Sunday Times 'A fine, page-turning thriller' Daily Mail
'With each turn of the page, a more shocking detail is revealed and some of the people John thought might help him are not who they seem ... The domestic noir tale is one that many families will be able to relate to ... There is barely enough time to catch your' Scotsman
'Challenging and emotional ... enthrals as it corkscrews to a shocking, yet ultimately rewarding end' LoveReading
'Malone's latest is an unsettling, multi-layered and expertly paced domestic noir drama that delves into one family's dark secrets, shame and lies' CultureFly
'Engrossing, hard-hitting - even shocking - with a light poetic frosting. Another superb read!' Douglas Skelton
'A dark and unnerving psychological thriller that draws you deep into the lives of the characters and refuses to let go. This is a brilliantly written book; I could not put it down' Caroline Mitchell
'A chilling tale of the unexpected that journeys right into the dark heart of domesticity' Marnie Riches