LoveReading Expert Review of Hinton Hollow Death Trip
A provocative, twisty, hugely entertaining high-concept thriller, but be prepared to flinch!
Twisty-turny and oh-so provocative, this is the type of book that will stick a sneaky foot out to trip you up. Spend five days in Hinton Hollow as it welcomes home Detective Sergeant Pace, who is being followed by Evil (yes, that's right, Evil). Wait until you can give Hinton Hollow your full attention, because it deserves it. The town starts with a population of 5,120, what will it be by the end? Narrated by Evil, you are warned right at the very beginning that you can walk away and not read further. If you continue you may feel uncomfortable, start to self-reflect, even flinch, but remember, you were warned! Is this part of a series - well, there are now three books featuring Detective Sergeant Pace, but each reads equally well as a standalone. Having said that, I recommend starting with Good Samaritans and following it with Nothing Important Happened Today before starting here. As always with Will Carver, I couldn't begin to guess how it would end, so didn't even try, I just enjoyed the ride. If you like something just a little different then Hinton Hollow Death Trip is an original, thought-provoking and hugely entertaining read.
Hinton Hollow Death Trip Synopsis
Five days in the history of a small rural town, visited and infected by darkness, are recounted by Evil itself. A stunning high-concept thriller from the bestselling author of Good Samaritansand Nothing Important Happened Today.
It's a small story. A small town with small lives that you would never have heard about if none of this had happened.
Hinton Hollow. Population 5,120.
Little Henry Wallace was eight years old and one hundred miles from home before anyone talked to him. His mother placed him on a train with a label around his neck, asking for him to be kept safe for a week, kept away from Hinton Hollow. Because something was coming. Narrated by Evil itself, Hinton Hollow Death Trip recounts five days in the history of this small rural town, when darkness paid a visit and infected its residents. A visit that made them act in unnatural ways. Prodding at their insecurities. Nudging at their secrets and desires. Coaxing out the malevolence suppressed within them. Showing their true selves.
Making them cheat.
Making them steal.
Making them kill.
Detective Sergeant Pace had returned to his childhood home. To escape the things he had done in the city. To go back to something simple. But he was not alone. Evil had a plan.
About This Edition
| | |
| --- | --- |
| ISBN: | 9781913193300 |
| Publication date: | 13th August 2020 |
| Author: | Will Carver |
| Publisher: | Orenda Books |
| Format: | Paperback |
| Pagination: | 320 pages |
| Primary Genre | Crime and Mystery |
| Other Genres: | |
| Recommendations: | |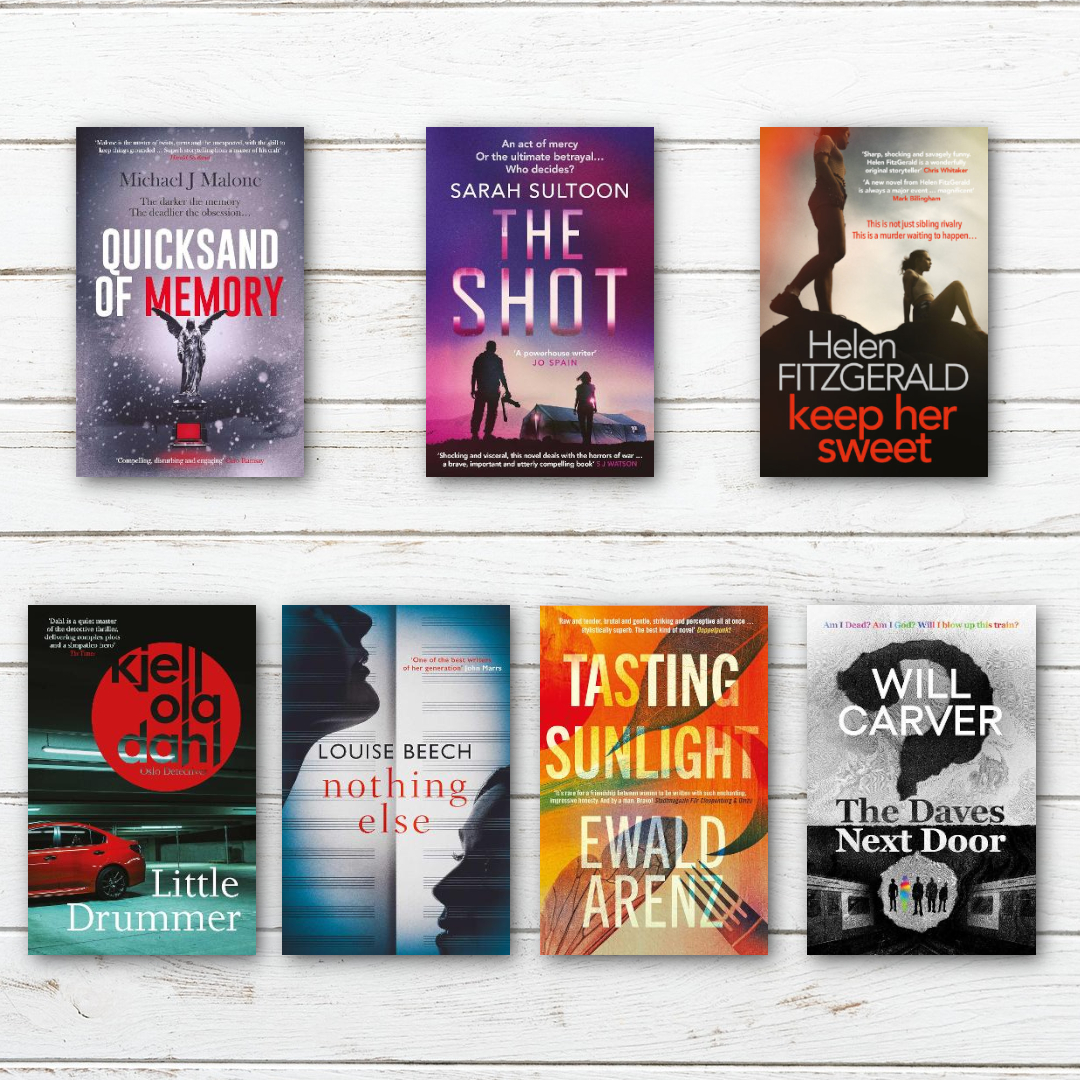 We're teaming up once again with Orenda to offer another brilliant book giveaway! This book bundle will include some of their latest releases from April to July. A perfect opportunity to stock up on some brilliant reads to enjoy this summer. The titles up for grabs are: Quicksand of Memory by Michael J. Malone - Published 14th April The Shot by Sarah Sultoon - Published 28th April Keep Her Sweet by Helen Fitzgerald - Published 26th May Little Drummer by Kjell Ola Dahl - Published 26th May Nothing Else by Louise Beech - Published 23rd June Tasting Sunlight by Ewald Arenz - Published 23rd June The Daves Next Door by Will Carver - Published 21st July This draw is open only for UK residents currently in the UK and is free to enter, multiple entries from the same email address will only be counted once. The draw closes on 31st July 2022. Please ensure that the details you use to enter the competition will be correct at the time the competition ends. The winners will be notified as soon as possible.
What To Read After Hinton Hollow Death Trip
Hinton Hollow Death Trip Reader Reviews
In addition to our Lovereading expert opinion some of our Reader Review Panel were also lucky enough to read and review this title.
Chilling, sinister, dark and festering, I only hope that Evil and his plans won't pay a to visit our towns and cities anytime soon!
Will Carver always guarantees to deliver a high-concept, dark, and twisted literary thriller and the third in the unique Detective Sergeant Pace series, Hinton Hollow Death Trip is no exception.
With a distinctive and eye catching layout, the story is instantly addictive and with interesting little snippets on most of the pages, these fitted in perfectly with the chapter you are reading and are often thought provoking on the human condition.
Uniquely recountered and narrated by Evil itself, this provided a remarkable voice to an already chilling story. Very chilling but I did find I endeared to Evil even though they are everything it's name suggests! There's a lot of uncomfortable reading but in a surreal, entertaining way - however, I like my stories to be as dark as dark can be.
Detective Pace is a bit of an enigma but if you've been following him through the previous two books you'll understand his character. I loved old Mrs Beaufort, the stalwart and matriarch of the town but once Evil gets it's hands on many of the characters with an invisible push, it changes their personality but only to what's deep inside them to begin with.
Will Carver is well known for his inventive, sadistic, crude and often cruel imagination, so if like Evil suggests this is not for you, turn back straight away but for me, it was a highly entertaining, thought provoking read that I thoroughly enjoyed. Chilling, sinister, dark and festering, I only hope that Evil and his plans won't pay a to visit our towns and cities anytime soon!
Will Carver Press Reviews
'Cements Carver as one of the most exciting authors in Britain. After this, he'll have his own cult following' Daily Express
Praise for Will Carver
'Weirdly page-turning' Sunday Times
'Laying bare our 21st-century weaknesses and dilemmas, Carver has created a highly original state-of-the-nation novel' Literary Review
'Arguably the most original crime novel published this year' Independent
'At once fantastical and appallingly plausible ... this mesmeric novel paints a thought-provoking if depressing picture of modern life' Guardian
'This book is most memorable for its unrepentant darkness...' Telegraph
'Unlike anything else you'll read this year' Heat
'Utterly mesmerising...' Crime Monthly
Other editions of this book
About Will Carver
Will Carver is the international bestselling author of the January David series. He spent his early years in Germany, but returned to the UK at age eleven, when his sporting career took off. He turned down a professional rugby contract to study theatre and television at King Alfred's, Winchester, where he set up a successful theatre company. He currently runs his own fitness and nutrition company, and lives in Reading with his two children. Will's latest title published by Orenda Books, Hinton Hollow Death Trip was longlisted for the Not ...
More About Will Carver