LoveReading Expert Review of Greatest Hits
A powerfully lyrical day-in-the-life portrait of a successful singer-songwriter reflecting on the ebbs and flows of her life as she prepares her Greatest Hits release after long absence from the industry. Cass Wheeler has been a massive music star since the seventies, but withdrew from public life following personal tragedy. She's now back in the studio to select songs for a profoundly personal compilation album. Each song she selects unleashes a swelling wave of memories, and so her life is laid bare, from childhood abandonment, to teen rebellion, and finding love and freedom with her bohemian aunt and uncle. And then comes the highs and lows of her music career, marriage and motherhood. At one point Cass is criticised for "her solipsism, her accursed tendency to look inside herself, rather than outwards to the world", but it's this tendency that underpins both the appeal of her songs, and that of the novel itself. The sentences hover and drift, for this is the nature of memory; this is how Cass's restless mind reflects on the life she's lived – successes, regrets, mistakes, and all – while she tries to make peace with herself, and to renew her life. The music culture of the seventies and eighties – the thrills, freedom, hedonism, and sexism - is vividly evoked, and the novel resounds with a mesmerising melody that is at once meditative and intense. ~ Joanne Owen
In what is quite possibly a first the author Laura Barnett and folk singer song writer and mercury prize nominee Kathryn Williams have jointly written the lyrics to a new 16-song album. Each of the novel's chapters begins with the words from a track on the album, 'Songs from the Novel Greatest Hits'. Click here to find out more and to find out how you can buy a copy of 'Songs from the Novel Greatest Hits'.

A message from Laura Barnett:
'With my second novel, I really wanted to do something different by bringing music and fiction together... I was excited about expanding the reading experience beyond the page, and of bringing my character and her musical output to life.'
July 2017 Book of the Month.
Greatest Hits Synopsis
Cass Wheeler - a British singer-songwriter, hugely successful since the early 70s, whose sudden disappearance from the music has been the subject of intense speculation among her fans - is in the studio that adjoins her home, taking a journey back into her past. Her task is to choose sixteen songs from among the hundreds she has written since her early teens, for a uniquely personal Greatest Hits record, describing the arc of her life through song. It has been over a decade since Cass last put out an album; ten years since a tragedy catapulted her into a breakdown. In the course of this one day - both ordinary and extraordinary - each song Cass plays sets off a chain of memories, leading us deep into her past, and into the creative impulse that has underpinned her work. This is the story of a life - of highs and lows, love and separation, success and failure. Of what it is to live a fulfilled life, and how to make peace with our mistakes.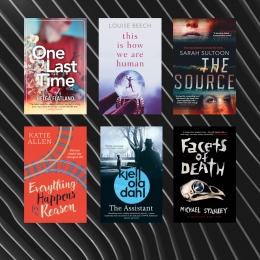 We're teaming up once again with Orenda to offer another brilliant book giveaway! Not only is a bundle of Orenda Books up for grabs, we also have a £15 voucher for the winner to use on Orenda's new look website! This book bundle will include some of their latest releases from April to June. A fantastic opportunity to stock your bookshelves. The titles up for grabs are: The Source be Sarah Sultoon - Published 15th April Facets of Death by Michael Stanley - Published 29th April The Assistant by Kjell Ola Dahl - Published 13th May This is How We Are Human by Louise Beech - Published 10th June Everything Happens for a Reason by Katie Allen - Published 10th June One Last Time by Helga Flatland - Published 24th June This draw is open only for UK residents currently in the UK and is free to enter, multiple entries from the same email address will only be counted once. The draw closes on 30th June 2021. Please ensure that the details you use to enter the competition will be correct at the time the competition ends. The winners will be notified as soon as possible.
Like For Like Featured Books
Greatest Hits Reader Reviews
In addition to our Lovereading expert opinion some of our Reader Review Panel were also lucky enough to read and review this title. You can click here to read the full reviews.
Jo-anne Atkinson - 'An outstanding novel about life, love, friendship and the power of music...one of the most emotionally charged books I have read recently.'
Jane Pepler - 'A beautifully structured fictional biography and an examination of the British music scene from the Seventies to the present day.'
Dana Captainino - 'The structure of this book is fascinating from the start...I loved this unusual book and could have read far beyond the sixteen tracks covered.'
Alex Hetherington - 'This is a lyrically soulful novel, full of warmth, passion and kinetic energy that rocked to the core of my heart.'
Sue Broom - 'It is certainly well written and I enjoyed it - she has created a particularly strong and endearing character in Cass Wheeler.'
Ann Quintilla - ' An emotional story of the triumphs and tribulations of a singer and song-writer.'
Jillian McFrederick - 'A great read for those of us who grew up during this era and can identify with the historical and musical references.'
Angie Rhodes - 'A wonderful tender and thought provoking story that will have the reader musing over songs that bring back memories for them.'
Judith Waring - 'This is a very unique angle for a storyline, a reflection of a life lived, and a novel which so truly reflects what it must've been like on the road trying to make it as a 'folk' singer/band back in the early 70's...'
Nicola Kingswell - 'The prose is beautifully descriptive, the cast of characters flamboyant and the story a delight to read.'
Sabine Little - 'Everybody who ever made a mix tape (or play list?) will have enjoyed curating the soundtrack to their life, and the musical collaboration between Laura Barnett and Kathryn Williams is inspired.'
Kathryn Whitfield - 'A wonderful autobiographical novel, beautifully written. I loved everything about this story the characters and music. Another great hit for Laura Barnett, my new favourite author.'
Fiona Rothery - 'I really enjoyed this novel and the wonderful, very real portrayal of life in the 70's through the music, the fashions and the social culture and attitudes of that time.'
Ann Alderton - 'an extremely skilfully crafted and painfully authentic story. Punctuating the narrative with song lyrics creates an intrigue in the reader's mind as to what was the story behind the song and makes it particularly compelling.'
Edel Waugh - 'A touching and heart-breaking story of one woman's journey through life.'
Laura Barnett Press Reviews
'In June look out for the second novel by Laura Barnett, the author of the bestselling debut The Versions of Us. Greatest Hits is the tale of legendary singer-songwriter Cass Wheeler who chooses 16 songs for her Greatest Hits compilation, the songs telling the story of her tumultuous life.' Daily Express
'Barnett's debut, The Versions of Us, was one of the hits of 2015. Her second novel tells the story of singer-songwriter Cass Wheeler, whose withdrawal from the music industry years ago was the cause of endless speculation. Now she's surfaced again, and over the course of one day she looks back over her life as she compiles her greatest hits album.' Mail on Sunday
'The Versions of Us was a bestseller with rights sold in 25 countries. Her follow-up, Greatest Hits, is about a singer-songwriter who tells her tumultuous life story through her personal greatest hits compilation.' Sunday Express
'Laura Barnett will follow up her bestselling debut, The Versions of Us. Greatest Hits tells the story of a hugely successful singer-songwriter who has disappeared from the music scene and selects 16 songs for her personal greatest hits compilation.' BBC News 2017
Other editions of this book
About Laura Barnett
Laura Barnett is a writer, journalist and theatre critic. She has been on staff at the Guardian and the Daily Telegraph, and writes for a number of national newspapers and magazines. Laura was born in 1982 in south London, where she now lives with her husband. She studied Spanish and Italian at Cambridge University, and newspaper journalism at City University, London. Her first non-fiction book, Advice from the Players - a compendium of advice for actors - is published by Nick Hern Books. Laura has previously published short stories, for which she has won several awards. The Versions of Us is ...
More About Laura Barnett