LoveReading Expert Review of Nothing Else
Slide into an inspirational, satisfying and rewarding novel highlighting the power of music, family and love.
Beautifully emotional writing expanded to fill my heart and soul as I sank into and explored this meaningful family drama. Heather steps outside of her comfort zone and begins to search for clues about the sister she hasn't seen since their parents died when they were children. Before I talk about Nothing Else, can I just say that I absolute adore the way that Louise Beech writes. If you've not yet read her books, then step inside and discover a fabulous writer who understands what it is to be human. Louise Beech has the talent of being able to reach inside my mind and make me feel as though she's writing especially for me. Nothing Else is just so wonderfully easy to read, and by that I refer to the reach of the words, I had the luxury of just letting the story loose, allowing it to slip past any defences to affect my emotions. A tension is created as a mystery is probed, loss and grief are considered as the past opens up. I have zero musical ability, yet found myself understanding the language of music. I don't have siblings, yet ached with the heartbreak of loss that Heather was feeling. The words connect, haunt, influence. As I finished I felt a wash of feelings sing through my body, and that is the wonder of reading isn't it! Perceptive, penetrating, and gorgeously emotional, Nothing Else declares just how powerful love, perseverance, and music can be.
Nothing Else Synopsis
A professional pianist searches for her sister, who was taken when their parents died, aided on by her childhood care records and a single song that continues to haunt her.
Heather Harris is a piano teacher and professional musician, whose quiet life revolves around music, whose memories centre on a single song that haunts her. A song she longs to perform again. A song she wrote as a child, to drown out the violence in their home. A song she played with her little sister, Harriet.
But Harriet is gone ... she disappeared when their parents died, and Heather never saw her again.
When Heather is offered an opportunity to play piano on a cruise ship, she leaps at the chance. She'll read her recently released childhood care records by day - searching for clues to her sister's disappearance - and play piano by night ... coming to terms with the truth about a past she's done everything to forget.
An exquisitely moving novel about surviving devastating trauma, about the unbreakable bond between sisters, Nothing Else is also a story of courage and love, and the power of music to transcend - and change - everything.
About This Edition
| | |
| --- | --- |
| ISBN: | 9781914585166 |
| Publication date: | 23rd June 2022 |
| Author: | Louise Beech |
| Publisher: | Orenda Books |
| Format: | Paperback |
| Pagination: | 276 pages |
| Collections: | |
| Primary Genre | Family Drama |
| Other Genres: | |
| Recommendations: | |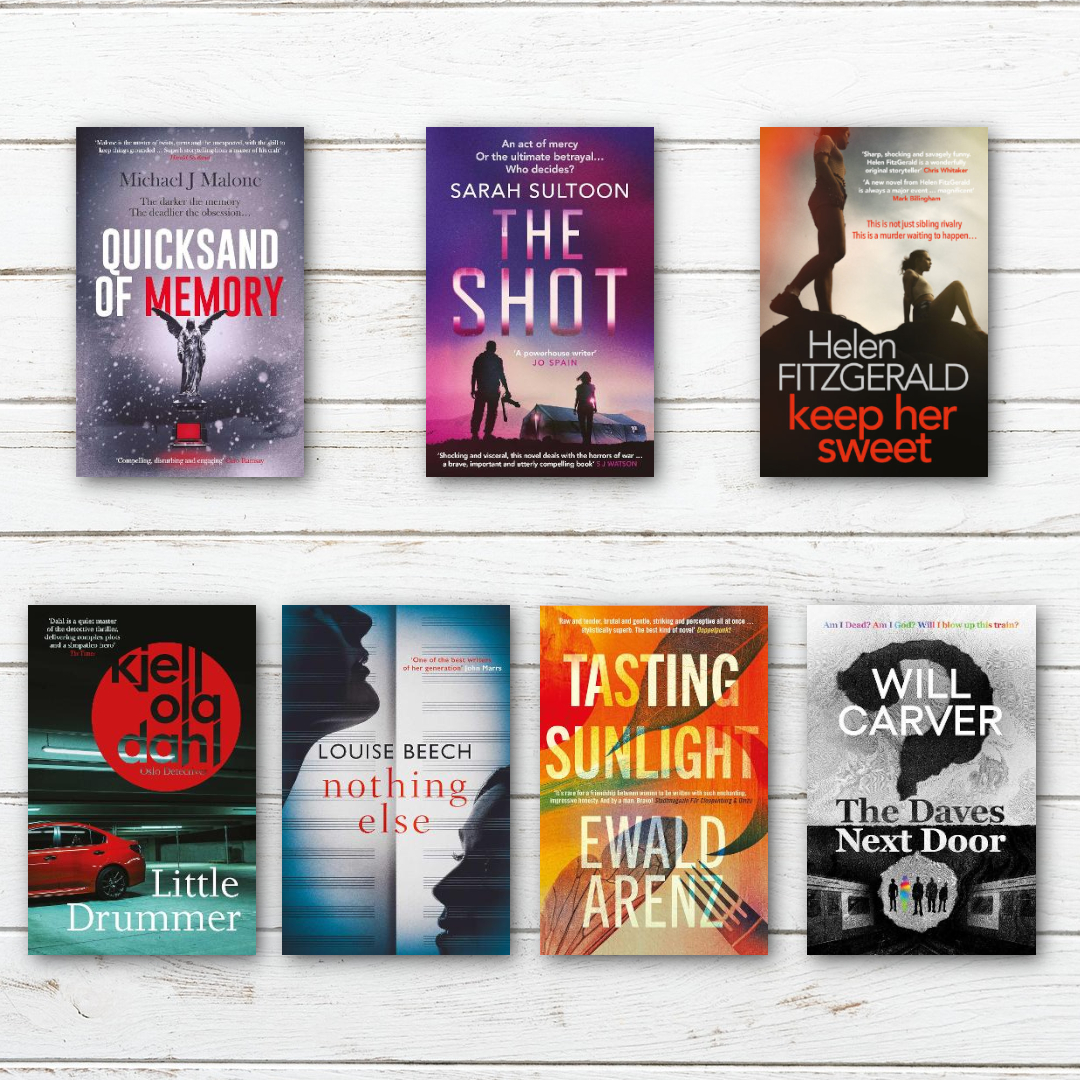 We're teaming up once again with Orenda to offer another brilliant book giveaway! This book bundle will include some of their latest releases from April to July. A perfect opportunity to stock up on some brilliant reads to enjoy this summer. The titles up for grabs are: Quicksand of Memory by Michael J. Malone - Published 14th April The Shot by Sarah Sultoon - Published 28th April Keep Her Sweet by Helen Fitzgerald - Published 26th May Little Drummer by Kjell Ola Dahl - Published 26th May Nothing Else by Louise Beech - Published 23rd June Tasting Sunlight by Ewald Arenz - Published 23rd June The Daves Next Door by Will Carver - Published 21st July This draw is open only for UK residents currently in the UK and is free to enter, multiple entries from the same email address will only be counted once. The draw closes on 31st July 2022. Please ensure that the details you use to enter the competition will be correct at the time the competition ends. The winners will be notified as soon as possible.
Like For Like Featured Books
Louise Beech Press Reviews
'A story of childhood trauma, survival, the fragility of memory, and of love that survives decades … I loved it' Gill Paul
'A beautiful, heartbreaking, uplifting novel' Vikki Patis
'Another brilliant tale of love and hope' Fionnuala Kearney
'Powerful, mesmerising and honest … I loved every word' Carol Lovekin
'Utterly beautiful … I couldn't put it down' Iona Gray
'The best one yet … I'm still in tears of heartbreak and joy' S E Lynes
'Like the notes of a Nocturne, Nothing Else will leave you profoundly touched by its beauty' Nydia Hetherington
Other editions of this book
About Louise Beech
Louise Beech is an exceptional literary talent, whose debut novel How To Be Brave was a Guardian Readers' Choice for 2015. The sequel, The Mountain in My Shoe, was shortlisted for Not the Booker Prize. Maria in the Moon was compared to Eleanor Oliphant Is Completely Fine, and widely reviewed. All three books have been number one on Kindle, Audible and Kobo in USA/UK/AU. She regularly writes travel pieces for the Hull Daily Mail, where she was a columnist for ten years. Her short fiction has won the Glass Woman Prize, the Eric Hoffer Award for Prose, ...
More About Louise Beech