LoveReading Expert Review of The Lady in the Car with Glasses and a Gun
A startling, sophisticated and intriguing psychological thriller that is fully capable of leading thoughts astray.
With the intrigue dial immediately spun to its furthest setting, this is a startling, and unexpectedly sophisticated novel. Secretary Dany Longo drops her boss and his family at the airport in his Thunderbird, rather than returning the car, she decides to keep driving. En route to the South of France people say they recognise her, and talk about meeting Dany the previous day, however she was at work in Paris, they couldn't possibly have seen her! First published in the 1960's this is still as readable and on point today, time has not caused it to wither or shrink, but to take on a rich deep tone. Author Sebastien Japrisot has a Graham Greene like reputation in France. Journalist and literary critic Christian House has written an introduction, and one that truly does introduce. The first page sent an icy shockwave through me, immediately creating an intense energy. The story was so curious, so different, I actually just stayed in the moment and didn't spend too much time in speculation. The Lady in the Car with Glasses and a Gun is so very readable, it cajoles and leads thoughts astray before settling at the end with a contented and knowing smile.
The Lady in the Car with Glasses and a Gun Synopsis
Dany Longo is blonde, beautiful - and thoroughly unpredictable. After doing a favour for her boss, she finds herself behind the wheel of his exquisite Thunderbird on a sun-kissed Parisian morning. On impulse she decides to head south.
What started as an impromptu joyride rapidly takes a turn for the chilling when strangers all along the unfamiliar route swear they recognise Dany from the previous day.
But that's impossible: she was at work, she was in Paris, she was miles away... wasn't she?
From the author of A Very Long Engagement comes a tangled, terrifying psychological thriller worthy of Georges Simenon, Paula Hawkins or Patricia Highsmith.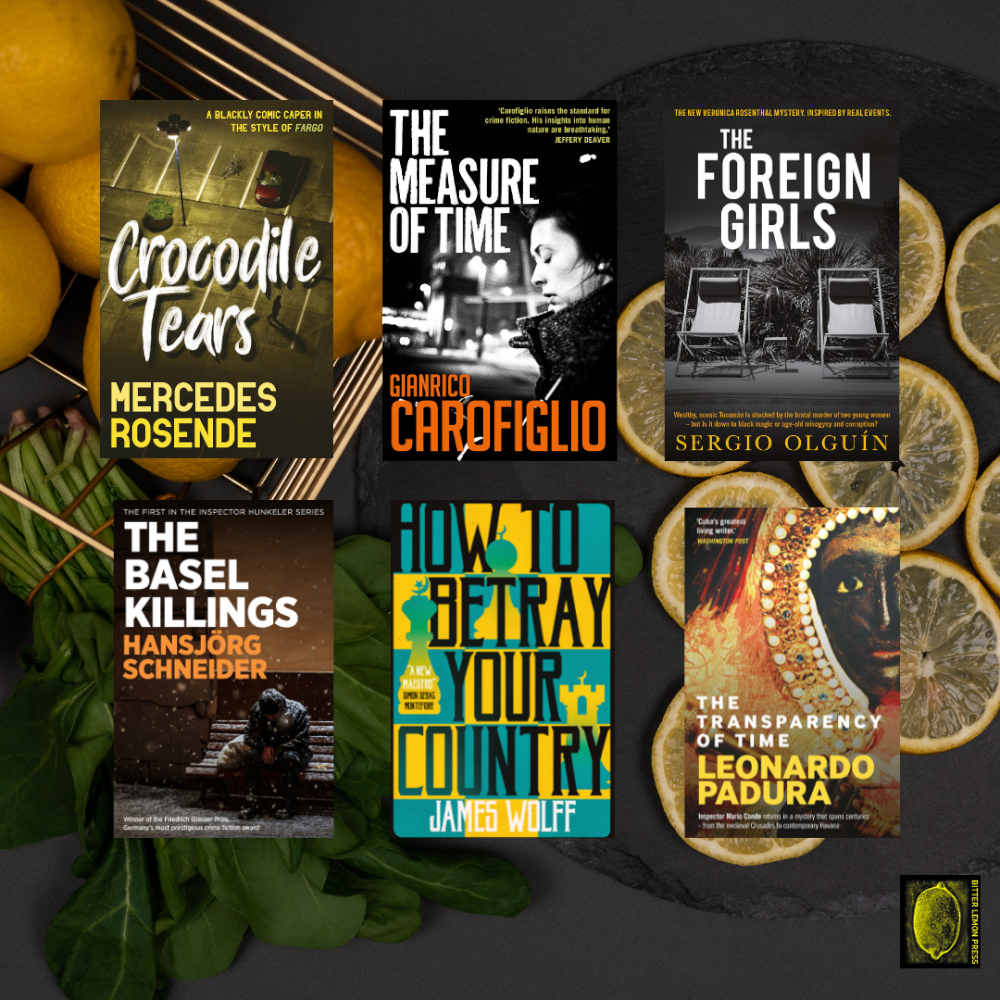 We are teaming up with translated crime fiction aficionados Bitter Lemon Press to offer a brilliant book giveaway! This book bundle will include a copy of all six 2021 releases. The titles up for grabs are: Crocodile Tears by Mercedes Rosende The Measure of Time by Gianrico Carofiglio How To Betray Your Country by James Wolff The Basel Killings by Hansjo?rg Schneider The Transparency of Time by Leonardo Padura The Foreign Girls by Sergio Olguín This draw is open only for UK residents currently in the UK and is free to enter, multiple entries from the same email address will only be counted once. The draw closes on 7th November 2021. Please ensure that the details you use to enter the competition will be correct at the time the competition ends. The winners will be notified as soon as possible.
Like For Like Featured Books
Sebastien Japrisot Press Reviews
Voted one of the Sunday Times 100 Best Crime Novels 'Classic suspenseful noir from the French Graham Greene .'
`The most welcome talent since the early Simenons' New York Times
'Japrisot might be called the Graham Greene of France' Independent
Other editions of this book
About Sebastien Japrisot
Sebastien Japrisot was born in Marseille, France in 1931. He published his first novel, Les Mal Partis when he was only 17. He translated the works of J. D. Salinger and pursued a successful career in advertising and publicity. He was a scriptwriter and the director of two films. His first crime novel, The 10:30 from Marseille, was received with great acclaim. His reputation as a master for crime fiction grew with the publication of The Lady in the Car with Glasses and a Gun, A Trap for Cinderella and Rider on the Rain. His novel One Deadly Summer was made into a ...
More About Sebastien Japrisot