LoveReading Expert Review of Razorblade Tears
This powerful, eloquent thriller takes you into the painful world of two fathers who regret past choices while seeking vengeance for the murder of their sons.
Hitting with hammer hard precision, thrilling storytelling is balanced with pointed social commentary in this fabulous novel set in the USA. Two fathers, both ex-cons, seek revenge for the murder of their sons. One of my favourite books from last year was S. A. Cosby's debut Blacktop Wasteland which I read for the Crime Writers' Association Gold Dagger Award judging, it spoke to us all and was a highly commended shortlisted title. So I came to this, his second book, with a huge sense of anticipation. The writing style is passionately and fiercely bold yet holds moments of quiet gentleness and real compassion. The characters rumble with authenticity and charged with emotion, I could see, hear, touch them. Delivering an all-consuming blast of violence, raw grief, and blistering regret, I was taken to an unknown place which made me feel the social issues on offer. The plot screams, really screams at the top of its voice as it races along and as with his first book I was left feeling stunned and emotionally drained after I had finished. This is a writer who is able to touch hearts and minds, all while offering an immensely entertaining read. Razorblade Tears is a provocative, powerful, beautiful novel that is both a LoveReading Star Book, and a Liz Pick of the Month.
Razorblade Tears Synopsis
A BLACK FATHER. A WHITE FATHER.
TWO MURDERED SONS. A QUEST FOR VENGEANCE.
*SUNDAY TIMES THRILLER OF THE MONTH*
Ike Randolph left jail fifteen years ago, with not so much as a speeding ticket since. But a Black man with cops at the door knows to be afraid.
Ike is devastated to learn his son Isiah has been murdered, along with Isiah's white husband, Derek. Though he never fully accepted his son, Ike is broken by his death.
Derek's father Buddy Lee was as ashamed of Derek being gay as Derek was of his father's criminal past. But Buddy Lee - with seedy contacts deep in the underworld - needs to know who killed his only child.
Desperate to do better by them in death than they did in life, two hardened ex-cons must confront their own prejudices about their sons - and each other - as they rain down vengeance upon those who hurt their boys.
A provocative revenge thriller and an achingly tender story of redemption, this novel is a ferocious portrait of grief; for those loved and lost, and for mistakes than can never truly be undone.
About This Edition
| | |
| --- | --- |
| ISBN: | 9781472286529 |
| Publication date: | 6th July 2021 |
| Author: | S. A. Cosby |
| Publisher: | Headline Book Publishing an imprint of Headline Publishing Group |
| Format: | Hardback |
| Collections: | |
| Primary Genre | Thriller and Suspense |
| Other Genres: | |
| Recommendations: | |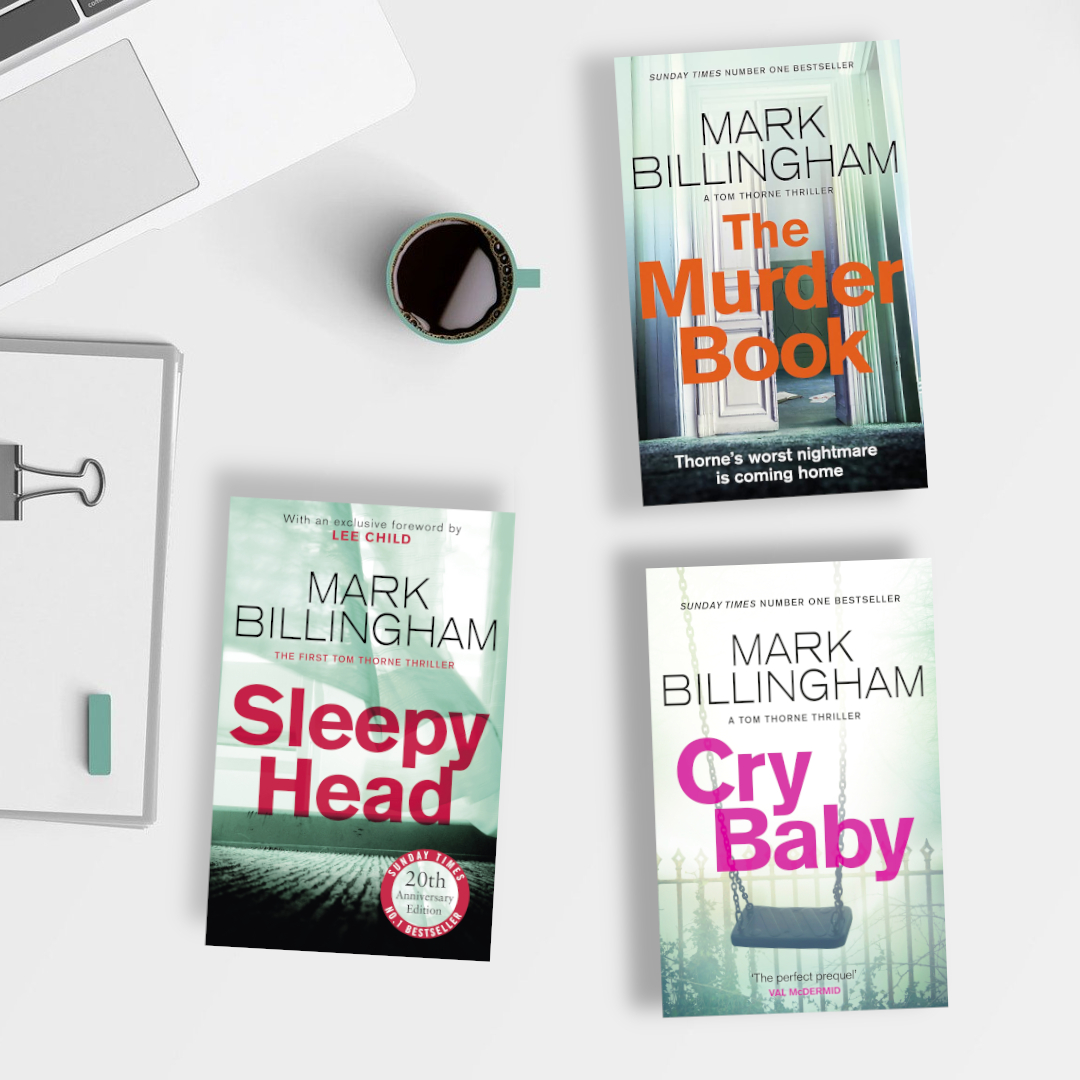 "The past is not just haunting Thorne, it's hunting him in this read-in-one-sitting thrilling crime novel." Liz Robinson, Expert Reviewer The Murder Book, the latest in the Tom Thorne series by Mark Billingham is out now and to celebrate, we working with Little, Brown Book Group to offer you an opportunity to win a book bundle of the complete Tom Thorne backlist. This draw is open only for UK residents currently in the UK and is free to enter, multiple entries from the same email address will only be counted once. The draw closes on 10 July 2022. Please ensure that the details you use to enter the competition will be correct at the time the competition ends. The winners will be notified as soon as possible.
Like For Like Featured Books
S. A. Cosby Press Reviews
'Cosby's talents for pungent dialogue and Chandler-esque phrase-making were praised in his previous novel,.. and they're evident again in this pulsating follow-up' Sunday Times THRILLER OF THE MONTH
'A stellar performance' Sunday Times Crime Club
'Cosby's prose barrels along like a pick-up still angry it's not a Ferrari, and his phrase-making is up there with the great artists of noir' The Times BEST THRILLERS OF THE MONTH
'It's a rare trick to combine violence with social commentary, but Cosby pulls it off' Daily Mail
'Raw, powerful and pacey, Razorblade Tears more than fulfils the promise of Cosby's superb debut' The Guardian
'This is as close to a thriller masterpiece as it is possible to get...it is a tale of grief and redemption, but ends with a heartbreaking poignancy that brings tears to the eyes' Daily Mail
'Every once in a while a writer comes along with an incredible voice...add S. A. Cosby to that list.' STEVE CAVANAGH
'Utterly brilliant....Beautiful, violent, operatic, relevant, poignant, gripping & important. This book is a mirror. It shows us our world as it is. Masterful' WILL DEAN
Praise for S. A. Cosby:
'Sensationally good' LEE CHILD
'I loved BLACKTOP WASTELAND' STEPHEN KING
'Stunning. Can't remember the last time I read such a powerful crime novel' MARK BILLINGHAM
'S. A. Cosby is a welcome, refreshing new voice in crime literature.' DENNIS LEHANE