LoveReading Expert Review of The Day without Yesterday
The third in Stuart Clark's accessible and informative Sky's Dark Labyrinth series, where he uses historical fiction to help readers better understand the cosmos. Based on the true story of Albert Einstein and George Lemaître, a devout catholic and physicist who proved, using Einstein's own maths, the theoretical proof of the Big Bang - a scientific 'genesis'.
The Sky's Dark Labyrinth series:
1. The Sky's Dark Labyrinth
2. The Sensorium of God
The Day without Yesterday Synopsis
Europe is marching blindly into the First World War and Berlin is in a storm of nationalist marches and army recruitment. Albert Einstein anticipates the carnage to come when his university colleagues begin work on poison gas to 'shorten the war'. He is also struggling with the collapse of his marriage in the wake of an illicit affair. Increasingly isolated, Einstein finds his academic work sidelined with few people entertaining his outlandish new way of understanding the universe. Meanwhile, in the trenches of the western front, a devoutly religious young Belgian Georges Lemaitre vows to become both a physicist and a Catholic priest if he survives. When the war ends, Einstein does make his breakthrough and is thrust into the international limelight. Lemaitre confronts him with a startling concept: that buried in the maths of the theory of relativity is a beginning of space and time, a moment when the universe came into existence - a day without yesterday. But can the priest be trusted? Or is he simply trying to foist a version of Biblical Genesis onto Einstein's now world famous theory.
About This Edition
| | |
| --- | --- |
| ISBN: | 9781846972829 |
| Publication date: | 3rd April 2014 |
| Author: | Stuart Clark |
| Publisher: | Polygon An Imprint of Birlinn Limited an imprint of Birlinn General |
| Format: | Paperback |
| Primary Genre | Historical fiction |
| Other Genres: | |
| Recommendations: | |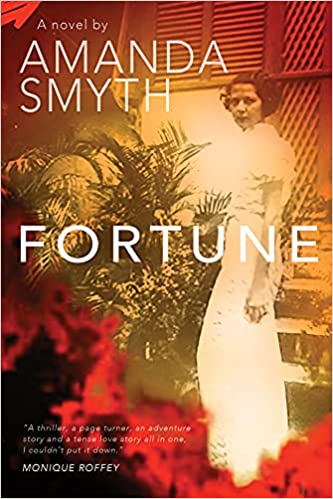 Fortune by Amanda Smyth is ' a story of love and ambition, its focus is on individuals so enmeshed in their desires that they blindly enter the territory of classic Greek tragedy where actions always have consequences.' To celebrate it's publication we're working with Peepal Tree Press to offer 3 signed copies of the book plus some tote bags as a competition prize. This draw is open only for UK residents currently in the UK and is free to enter, multiple entries from the same email address will only be counted once. The draw closes on 1st August 2021. Please ensure that the details you use to enter the competition will be correct at the time the competition ends. The winners will be notified as soon as possible.
What To Read After The Day without Yesterday
Stuart Clark Press Reviews
Praise for Stuart Clark:
'Sit under the stars and wonder, not just at their eternal beauty and mystery, but at the courage of the men who risked their lives so we could understand them' – Daily Mail

'The best historical fiction goes beyond dates and events, giving historical figures emotions, achievements and failings. This is very much the case here,' – We Love This Book
Other editions of this book
About Stuart Clark
Stuart Clark is a widely read astronomy journalist whose career is devoted to presenting the complex world of astronomy to the general public. Stuart holds a first class honours degree and a PhD in astrophysics. He is a Fellow of the Royal Astronomical Society, a former Vice Chair of the Association of British Science Writers and is the cosmology consultant for New Scientist. In 2000 The Independent placed him alongside Stephen Hawking and the Astronomer Royal, Professor Sir Martin Rees, as one of the 'stars' of British astrophysics teaching. Author photo © Simon Wallace
More About Stuart Clark