LoveReading Expert Review of Blue Monday
The abduction of five-year-old Matthew Farraday provokes national outcry and a desperate police hunt. And when his face is splashed over the newspapers, psychotherapist Frieda Klein is left troubled: one of her patients has been relating dreams in which he has a hunger for a child. A child he can describe in perfect detail, a child the spitting image of Matthew. Detective Chief Inspector Karlsson doesn't take Frieda's concerns seriously until a link emerges with an unsolved abduction twenty years ago and he summons Frieda to interview the victim's sister, hoping she can stir hidden memories. Before long, Frieda is at the centre of the race to track the kidnapper.
Books in The Frieda Klein Series:
1. Blue Monday
Serial Reader? Check out our 'Fall in Love With a Book Series' collection to find amazing book series to dive in to.
Blue Monday Synopsis
Monday: five-year-old Matthew Faraday is abducted. His face is splashed across newspaper front pages. His parents and the police are desperate. Can anyone help find their little boy before it is too late?
Psychotherapist Frieda Klein just might know something.
One of her patients describes dreams of seizing a boy who is the spitting image of Matthew. Convinced at first the police will dismiss her fears out of hand, Frieda reluctantly finds herself drawn into the heart of the case. A previous abduction, from twenty years ago, suggests a new lead - one that only Frieda, an expert on the minds of disturbed individuals, can uncover.
Struggling to make sense of this terrifying investigation, Frieda will face her darkest fears in the hunt for a clever and brutal killer...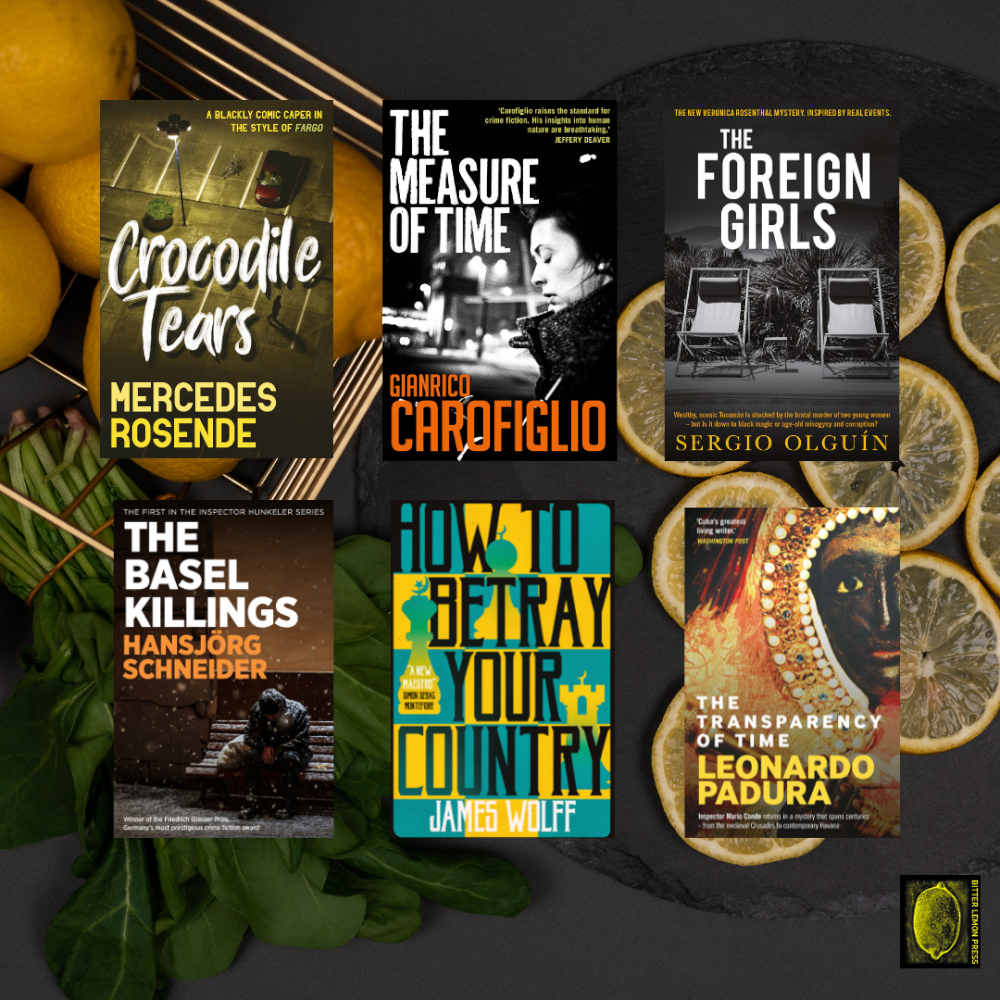 We are teaming up with translated crime fiction aficionados Bitter Lemon Press to offer a brilliant book giveaway! This book bundle will include a copy of all six 2021 releases. The titles up for grabs are: Crocodile Tears by Mercedes Rosende The Measure of Time by Gianrico Carofiglio How To Betray Your Country by James Wolff The Basel Killings by Hansjo?rg Schneider The Transparency of Time by Leonardo Padura The Foreign Girls by Sergio Olguín This draw is open only for UK residents currently in the UK and is free to enter, multiple entries from the same email address will only be counted once. The draw closes on 7th November 2021. Please ensure that the details you use to enter the competition will be correct at the time the competition ends. The winners will be notified as soon as possible.
What To Read After Blue Monday
Blue Monday Reader Reviews
Nicci French Press Reviews
'A brilliantly crafted new crime serie's' Daily Mirror
'Frieda ... is a strong creation, sympathetic but withholding and with hints of hidden facets' -- Barry Forshaw Daily Express
'Both a frightening and gripping read Easy Living A novel that will have you on the edge of your seat' Woman & Home
'This heart-stoppingly good tale sets the bar high for the next seven books - we can't wait to read them!' Good Housekeeping
Other editions of this book
About Nicci French
Nicci French was our Guest Editor in April 2014 - click here - to see the books that inspired their writing. Nicci French is the pseudonym for the writing partnership of journalists Nicci Gerrard and Sean French. The couple are married and live in Suffolk. There are fourteen other bestselling novels by Nicci French, all published by Penguin. Blue Monday was the first thrilling story in the Frieda Klein series, followed by Tuesday's Gone, Waiting for Wednesday, Thursday's Child, Friday on My Mind and Saturday Requiem. Author photo © Mark Read
More About Nicci French