LoveReading Expert Review of The Whisper Man
Clever, terrifying, emotionally beautiful, this is a book that packs the most incredible punch.
So, so incredibly good, now that I have finished, I actually feel bereft. This book called to me, the cover design is divine, the synopsis gave me chills, and when I started, well, it was a non-stop absolute feast of a read. Tom hadn't heard of the Whisper Man, he didn't know about the murder of five young boys. Tom just wanted a new start, but then his son starts to hear whispering at his bedroom window. The prologue sent shivers coursing down my arms, it is followed by short, enthralling chapters that pushed and pulled at my emotions. Chapters change focus with no introduction, however the writing is such that they immediately connected and fell into place. I entered a mind space that made me feel entirely uncomfortable, yet set my thoughts on a different path. This is clever, beautifully compassionate writing by Alex North. While the tension reaches almost unbearable levels, there is a heartfelt balance of empathy and thoughtfulness that packs a huge punch. 'The Whisper Man' has left a lingering ache, it is an emotionally beautiful and terrifying read. I've chosen it as a LoveReading star read and one of my books of the month. I'm telling everyone I know - this is a must-read!
The Whisper Man Synopsis
GET READY FOR THE BIGGEST THRILLER OF 2019
If you leave a door half-open, soon you'll hear the whispers spoken . . .
Still devastated after the loss of his wife, Tom Kennedy and his young son Jake move to the sleepy village of Featherbank, looking for a much-needed fresh start.
But Featherbank has a dark past. Fifteen years ago, a twisted serial killer abducted and murdered five young boys.
Until he was finally caught, the killer was known as 'The Whisper Man'.
Of course, an old crime need not trouble Tom and Jake as they try to settle in to their new home.
Except that now another boy has gone missing. And then Jake begins acting strangely. He says he hears a whispering at his window . . .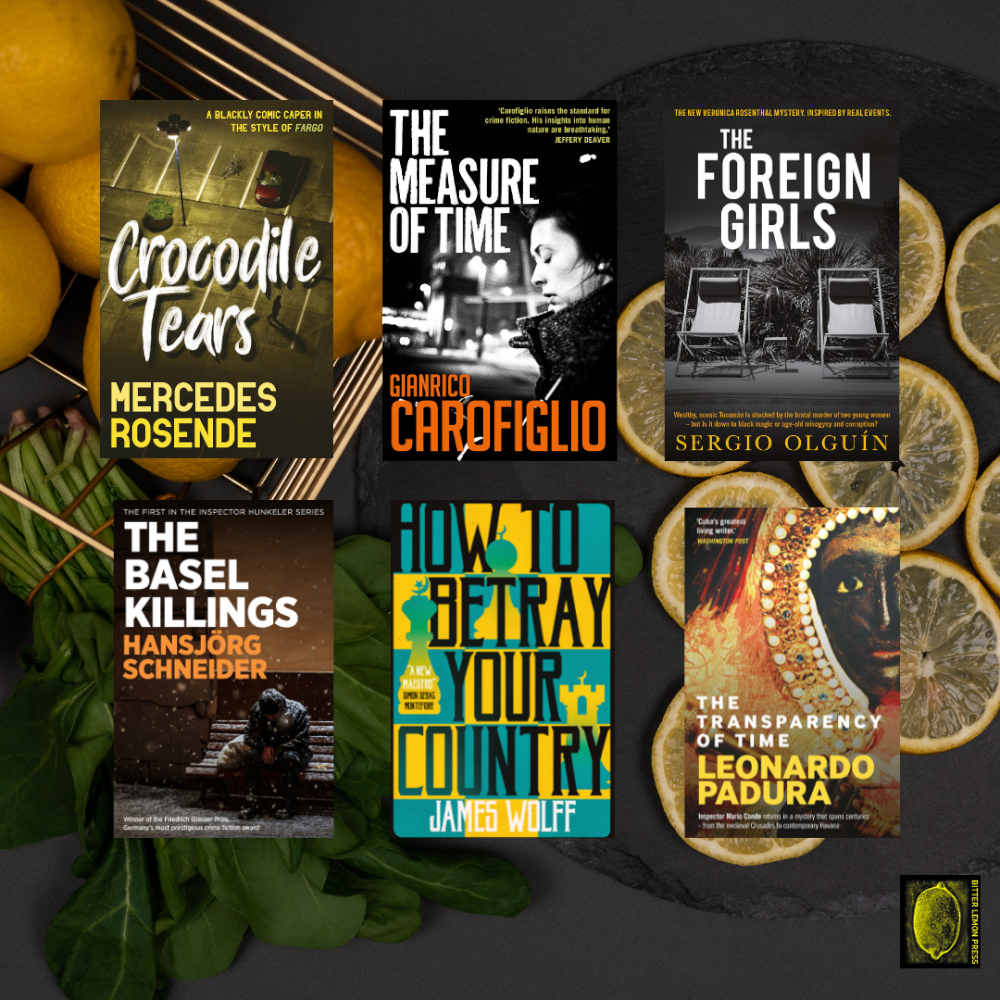 We are teaming up with translated crime fiction aficionados Bitter Lemon Press to offer a brilliant book giveaway! This book bundle will include a copy of all six 2021 releases. The titles up for grabs are: Crocodile Tears by Mercedes Rosende The Measure of Time by Gianrico Carofiglio How To Betray Your Country by James Wolff The Basel Killings by Hansjo?rg Schneider The Transparency of Time by Leonardo Padura The Foreign Girls by Sergio Olguín This draw is open only for UK residents currently in the UK and is free to enter, multiple entries from the same email address will only be counted once. The draw closes on 7th November 2021. Please ensure that the details you use to enter the competition will be correct at the time the competition ends. The winners will be notified as soon as possible.
What To Read After The Whisper Man
Alex North Press Reviews
I read The Whisper Man in one go, barely remembering to breathe. North writes brilliantly about the cruelties of life, great and small, and the terrors that afflict young children (not to mention their parents). Tender, terrifying and utterly compelling, The Whisper Man will haunt you to the final page and beyond. -- Jane Casey
No one does Dark with a Heart like Alex North and The Whisper Man delivers a sucker punch that stays with you. Beautifully crafted, chilling & emotional, this's going to be topping Books of the Year lists as soon as it's out -- Sarah Hilary
The Whisper Man is a chilling, gripping read but also deeply moving. It's a novel that succeeds on all kinds of levels and deserves all the success that is no doubt coming it's way -- William Ryan
The Whisper Man is the most stunning thriller you will read this year, examining the relationships between fathers and sons, loss, betrayal, abduction and murder. It is a story that will unravel the reader as the plot itself unravels, leaving us winded, choking, gasping for air and wrung out, while disturbing, entertaining and enthralling us at the same time. -- Liz Nugent
One of the best crime novels I've read in ages. Alex North has crafted a book that manages to be thrilling, terrifying and genuinely moving. -- Mason Cross, bestselling author of The Samaritan
The Whisper Man is a tour de force, utterly absorbing and brilliantly realised -- Mel McGrath, bestselling author of Give Me The Child