LoveReading Expert Review of The Dying Squad
Fancy something different? Then stop right here, as this supernatural crime novel is an absolute humdinger of a read.
Vividly bold and full of attitude, in fact it's gutsy as heck, this provocative supernatural crime novel takes a fabulous premise and nails its colours to the mast. While on a drugs operation Detective Joe Lazarus is suddenly faced with his own dead body and a new partner from the other side. I have to confess that while reading I completely forgot to make any notes for my review as I just sank in and was consumed. The live side smacked me in the face with its gritty reality, while the dead side just blew me away. I could see, feel, taste and smell purgatory, it menaced into existence as a fully formed entity in my minds eye. Adam Simcox writes with the most imaginative, smirky, thought-provoking pen. I really had no idea where this reading journey was going to take me, and I can't tell you how thrilled I was to learn that this is the first in a series, I will be camping outside my local bookshop when the next book is due. Chosen as a Liz Robinson Pick of the Month, The Dying Squad is a fabulously unique novel that feels as real and yet outrageously inventive as can be. A standing ovation from me to Adam Simcox, absolutely blimmin loved it!
The Dying Squad Synopsis
DYING IS HELL . . . SOLVING YOUR OWN MURDER IS PURGATORY
When Detective Inspector Joe Lazarus storms a Lincolnshire farmhouse, he expects to bring down a notorious drug gang; instead, he discovers his own dead body and a spirit guide called Daisy-May.
She's there to enlist him to the Dying Squad, a spectral police force made up of the recently deceased. Joe soon realises there are fates far worse than death. To escape being stuck in purgatory, he must solve his own murder. A task made all the more impossible when his memories start to fade.
Reluctantly partnering with Daisy-May, Joe faces dangers from both the living and the dead in the quest to find his killer - before they kill again.
About This Edition
| | |
| --- | --- |
| ISBN: | 9781473230767 |
| Publication date: | 28th April 2022 |
| Author: | Adam Simcox |
| Publisher: | Gollancz an imprint of Orion Publishing Co |
| Format: | Paperback |
| Pagination: | 368 pages |
| Collections: | |
| Primary Genre | Crime and Mystery |
| Other Genres: | |
| Recommendations: | |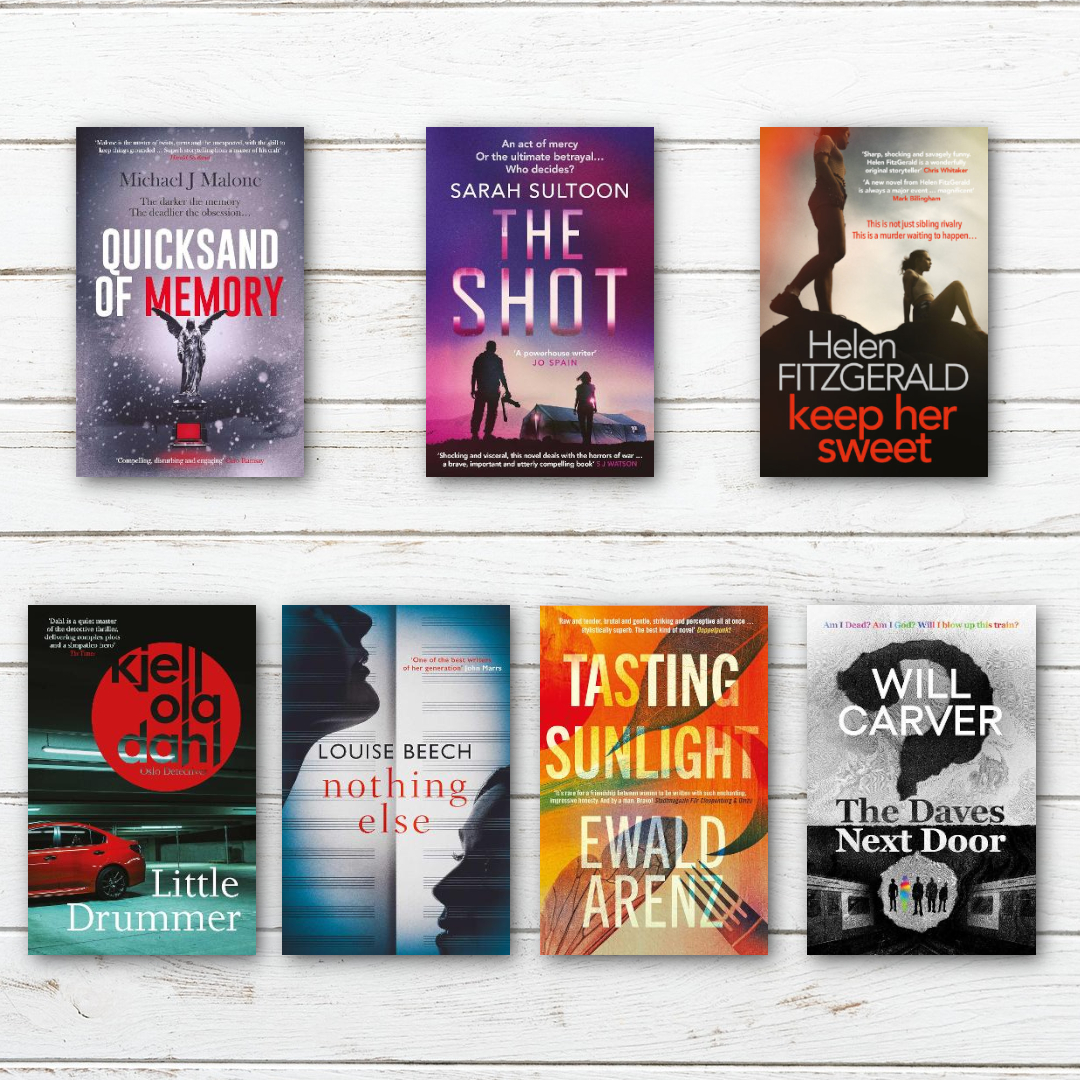 We're teaming up once again with Orenda to offer another brilliant book giveaway! This book bundle will include some of their latest releases from April to July. A perfect opportunity to stock up on some brilliant reads to enjoy this summer. The titles up for grabs are: Quicksand of Memory by Michael J. Malone - Published 14th April The Shot by Sarah Sultoon - Published 28th April Keep Her Sweet by Helen Fitzgerald - Published 26th May Little Drummer by Kjell Ola Dahl - Published 26th May Nothing Else by Louise Beech - Published 23rd June Tasting Sunlight by Ewald Arenz - Published 23rd June The Daves Next Door by Will Carver - Published 21st July This draw is open only for UK residents currently in the UK and is free to enter, multiple entries from the same email address will only be counted once. The draw closes on 31st July 2022. Please ensure that the details you use to enter the competition will be correct at the time the competition ends. The winners will be notified as soon as possible.
What To Read After The Dying Squad
Adam Simcox Press Reviews
THE DYING SQUAD is one of those books that fizzes with life. Every page has a new idea, or a funny line, and Daisy May is just a brilliant character to spend time with. Also, the ending arrives in a steel-tipped boot. Well played Adam - Stuart Turton, Sunday Times bestelling author and winner of the Costa First Novel Award for The Seven Deaths of Evelyn Hardcastle
Excellent. Funny, creepy and oh no he did not just throw that twist in there compelling' - Anna Stephens, author of The Godblind trilogy
Whip-smart, fresh with a dash of dark humour, The Dying Squad is a wildly entertaining read. Highly recommended - Adam Hamdy
Grim, wry and inventive, a twisting tale with both guts and heart. Never has Lincolnshire seemed more desolate, or more menacing - David Wragg, The Black Hawks
Other editions of this book
About Adam Simcox
Adam Simcox is a London-based filmmaker who has shot commercials for brands such as McLaren, Primark and Unilever, and music videos for Britpop veterans as well as fresh on the scene alt-country stars. He began his film career by writing and directing three features: the first sold to Netflix before Netflix was Netflix; the second and third won awards and critical acclaim at festivals worldwide, and so didn't sell at all. When he's not making films he indulges the masochistic pain that is being a Spurs fan, and keeps up his unhealthy vinyl collecting habit. He ...
More About Adam Simcox