LoveReading Expert Review of The Seven Doors
Set in Norway, secrets are exposed as an investigation into a missing woman settles into a dark and penetrating read.
Foreboding and chilling, this dramatic family tale creeps into your awareness and causes doubt and questions to multiply. When a tenant of a house in Bergan, Norway goes missing, owner and landlord Nina starts her own investigation. This is a novel to read slowly, to allow the words to sink in, so you can appreciate the pattern and movement. Agnes Ravatn (and translator Rose Hedger) have teamed up again after their award winning The Bird Tribunal. They have the ability to create one heck of an unsettling atmosphere, and this isn't a comfortable read. The characters are flawed, feel so very real, and at times made me wince. Short abrupt sentences, the lack of quotation marks, and a marked jagged boundary between chapters creates a decided edge. Layers of unease built as I questioned everyone and everything, and the ending when it comes feels inevitable and perfect. Blanketed in an ominous sheet of tension, The Seven Doors is an intriguing, compelling and penetrating read.
The Seven Doors Synopsis
When the tenant of a house that university professor Nina owns with her doctor husband goes missing after an uncomfortable visit, Nina starts her own investigation ... with deeply disturbing results. The long-awaited new thriller from the bestselling author of The Bird Tribunal.
University professor Nina is at a turning point. Her work seems increasingly irrelevant, her doctor husband is never home, relations with her difficult daughter are strained, and their beautiful house is scheduled for demolition.
When her daughter decides to move into another house they own, things take a very dark turn. The young woman living there disappears, leaving her son behind, the day after Nina and her daughter pay her a visit.
With few clues, the police enquiry soon grinds to a halt, but Nina has an inexplicable sense of guilt. Unable to rest, she begins her own investigation, but as she pulls on the threads of the case, it seems her discoveries may have very grave consequences for her and her family.
Exquisitely dark and immensely powerful, The Seven Doors is a sophisticated and deeply disturbing psychological thriller from one of Norway's most distinguished voices.
About This Edition
| | |
| --- | --- |
| ISBN: | 9781913193386 |
| Publication date: | 17th September 2020 |
| Author: | Agnes Ravatn |
| Publisher: | Orenda Books |
| Format: | Paperback |
| Pagination: | 276 pages |
| Primary Genre | Family Drama |
| Other Genres: | |
| Recommendations: | |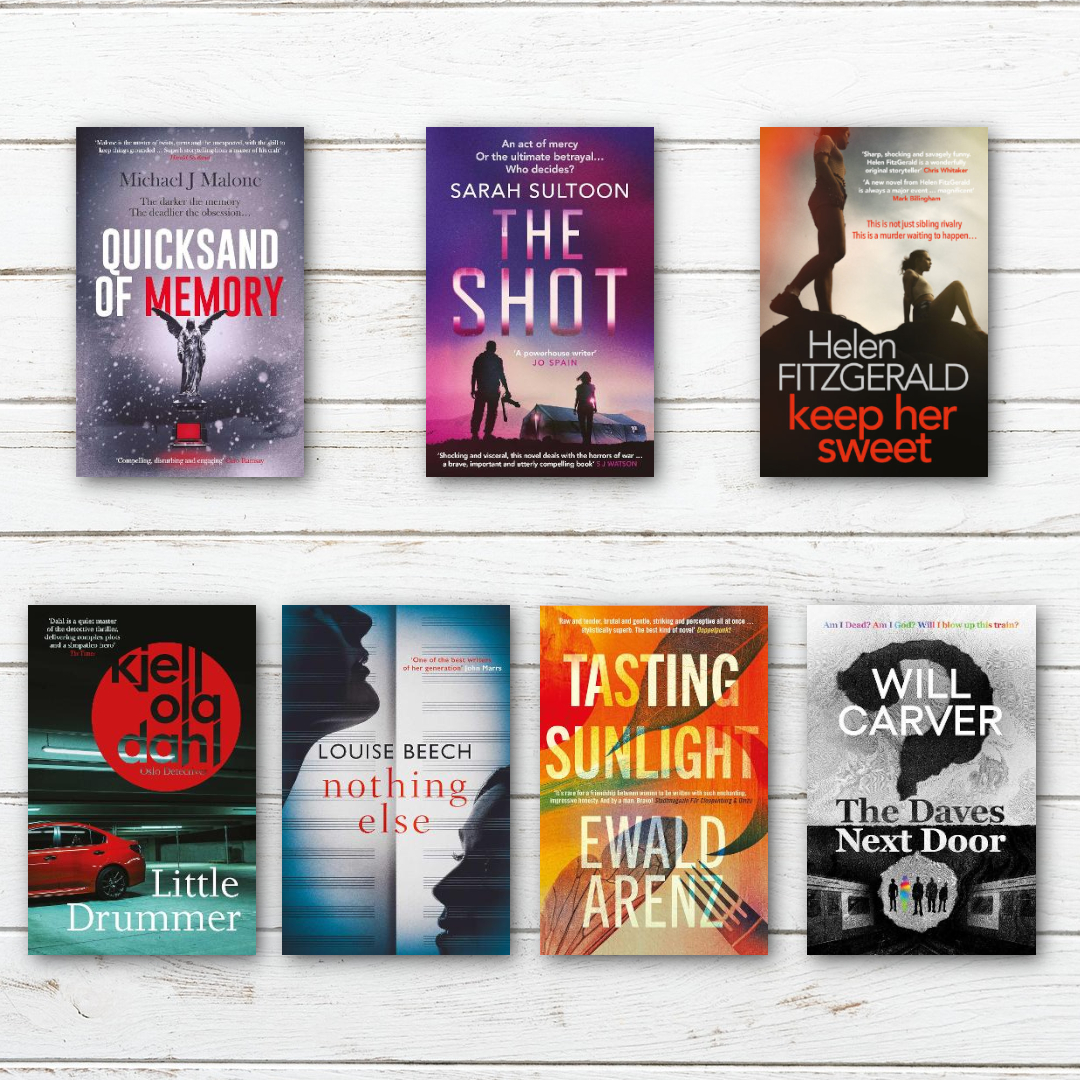 We're teaming up once again with Orenda to offer another brilliant book giveaway! This book bundle will include some of their latest releases from April to July. A perfect opportunity to stock up on some brilliant reads to enjoy this summer. The titles up for grabs are: Quicksand of Memory by Michael J. Malone - Published 14th April The Shot by Sarah Sultoon - Published 28th April Keep Her Sweet by Helen Fitzgerald - Published 26th May Little Drummer by Kjell Ola Dahl - Published 26th May Nothing Else by Louise Beech - Published 23rd June Tasting Sunlight by Ewald Arenz - Published 23rd June The Daves Next Door by Will Carver - Published 21st July This draw is open only for UK residents currently in the UK and is free to enter, multiple entries from the same email address will only be counted once. The draw closes on 31st July 2022. Please ensure that the details you use to enter the competition will be correct at the time the competition ends. The winners will be notified as soon as possible.
What To Read After The Seven Doors
The Seven Doors Reader Reviews
In addition to our Lovereading expert opinion some of our Reader Review Panel were also lucky enough to read and review this title.
Twists and turns right to the end. I absolutely loved this book.
The Seven Doors is the story of Nina, a university professor, who finds out that the tenant from one of her properties has gone missing, only a few days after an awkward encounter with Nina and her daughter. Feeling guilty, Nina starts to investigate the disappearance herself and things start to get a little too close to home.
I absolutely loved this book. It's written in a style that makes it easy to just keep reading, very much one of those books where you say to yourself 'oh just one more chapter' and then end up reading the whole thing. It has lots of twists and misdirection, especially the second half which I ended up speeding through to find out what had happened. I'd changed my mind three or four times about how I thought it would end but even with the resolution in hand, the last page was still a killer ending.
A real life Greek tragedy for a professional Norwegian family with a breathtaking conclusion.
Professor of Literature Nina Wisløff is in the throes of a midlife crisis largely brought on by the compulsory purchase and imminent demolition of her childhood home in Bergen. Her work feels immaterial, her husband, Mads, is a busy doctor and member of the local council and she has a difficult relationship with her abrasive adult daughter, Ingeborg. Mads owns a house nearby that he inherited from his aunt and Ingeborg takes it upon herself to pay a visit to the young single mother tenant, Mari Nilsen, and announce her own plans to move in, much to Nina's chagrin. The encounter leaves Nina feeling awkward and concerned for the woman that her daughter brushed aside and when Mari goes missing and leaves her son behind just days later she is filled with an nagging sense of guilt about the part they may have inadvertently played in her vanishing.
When the police make little headway with probing Mari's disappearance Nina feels compelled to start her own investigation but as she delves into Mari's life in a search for answers she is forced to confront the fact that it may have irrevocable consequences for her respectable family. A seamless translation and short chapters edge the tension ever higher as Nina unravels a web of secrets with a shocking denouement that caught me unawares swiftly followed by a jaw-dropping conclusion.
Atmospheric, psychologically astute and set against the bleak backdrop of a Norwegian winter, this is a sublime piece of crime fiction that expertly teases out the identity of missing Mari.
A single mother disappears in Bergen leaving behind her young son. Nina investigates to find out why, not realising the impact the truth will have on her own family.
The Seven Doors is translated from the Norwegian and is another great offering from the scandinoir camp. Reflecting in detail the ordinary life of an extended family, well off, professional people whose lives are turned upside down by deceit and lies.
Nina, a professor at a local University, turns investigator when a tenant disappears leaving a young son behind.
A great storyline with a steady pace which belies the emotion that is stirred up by Nina's investigations. Characterisation especially of the females is well rounded and the plot reveals itself gradually. A great read which ended a bit abruptly for me, leaving a lot to the reader's imagination.
Agnes Ravatn Press Reviews
This really reminds me of Patricia Highsmith's work, and I can't offer much higher praise than that.
--Philip Ardagh, author, Dreadful Acts
This is Ravatn's first book in this genre, and as a psychological thriller it certainly does the job. In all, a tense and riveting read!
--Barry Forshaw, author, The Man Who Left Too Soon
Intriguing . . . enrapturing.
--Sarah Hilary, author, Someone Else's Skin
An unrelenting atmosphere of doom fails to prepare readers for the surprising resolution that engulfs this flawed pair.
--Publishers Weekly
The Bird Tribunal is a chilly psychological thriller / domestic noir that unfolds in an austere style that perfectly captures the bleakly beautiful landscape of Norway's far north.
--Irish Times
Other editions of this book
About Agnes Ravatn
Agnes Ravatn (b. 1983) is an author and columnist. She made her literary debut with the novel Week 53 (Veke 53) in 2007. Since then she has written three critically acclaimed and award-winning essay collections: Standing still (Stillstand), 2011, Popular reading (Folkelesnad), 2011, and Operation self-discipline (Operasjon sjoldisiplin), 2014. In these works Ravatn shows her unique, witty voice and sharp eye for human fallibility. Her second novel, The Bird Tribunal (Fugletribuanlet), 2013, is a strange and captivating story about shame, guilt and atonement. Ravatn received The cultural radio P2's listener's prize for this novel, a popular and important prize in Norway, in addition to The Youth's Critic's ...
More About Agnes Ravatn
More Books By Agnes Ravatn
View All Books By Agnes Ravatn