LoveReading Expert Review of Deadland
An assured, fascinating and compelling crime novel with Dungeness in Kent featuring as strongly as the fabulous lead character, DS Cupidi.
In what is promising to be an assured series, Deadland sits as a gripping, fabulous read in its own right. Two 17 year old lads end up in a whole heap of trouble when they steal a mobile phone, meanwhile DS Alexandra Cupidi returns to investigate a severed limb, but without the rest of the body is there actually a murder to investigate? The first in this DS Alexandra Cupidi Investigation series by William Shaw is Salt Lane, with the standalone The Birdwatcher taking place before, but also linking to the series. So there are a couple of recommended stops to make before potentially embarking on Deadland. I just slipped straight into the storyline, I immediately felt at home, there was a fresh feeling of reality and I didn't question, just read. DS Cupidi is a really strong lead, the relationship with her daughter adding a contrasting note of tension. There is a wonderful balance between the investigations taking place, and the story of Benjamin and Joseph, the links starting to tighten as the story progresses. Dungeness thrusts itself into the story, the social aspects substantial and compelling. Deadland is an absolutely fascinating read, one that I highly recommend and I have chosen it as one of my Liz Robinson picks of the month.
Deadland Synopsis
***The bestselling William Shaw returns with a thrilling investigation in the unmissable new series***
'One of the great rising talents of UK crime fiction' PETER JAMES
'If you're not a fan yet, why not?' VAL MCDERMID
A superb storyteller' PETER MAY
YOU CAN RUN
The two boys never fitted in. Seventeen, the worst age, nothing to do but smoke weed; at least they have each other. The day they speed off on a moped with a stolen mobile, they're ready to celebrate their luck at last. Until their victim comes looking for what's his - and ready to kill for it.
YOU CAN HIDE
On the other side of Kent's wealth divide, DS Alexandra Cupidi faces the strangest murder investigation of her career. A severed limb, hidden inside a modern sculpture in Margate's Turner Contemporary. No one takes it seriously - not even the artwork's owners, celebrity dealers who act like they're above the law.
YOU CAN DIE
But as Cupidi's case becomes ever more sinister, as she wrangles with police politics and personal dilemmas, she can't help worrying about those runaway boys. Seventeen, the same age as her own headstrong daughter. Alone, on the marshes, they're pawns in someone else's game. Two worlds are about to collide.
Kent and its social divisions are brilliantly captured in Deadland, a crime thriller that's as ingeniously unguessable as it is moving and powerful.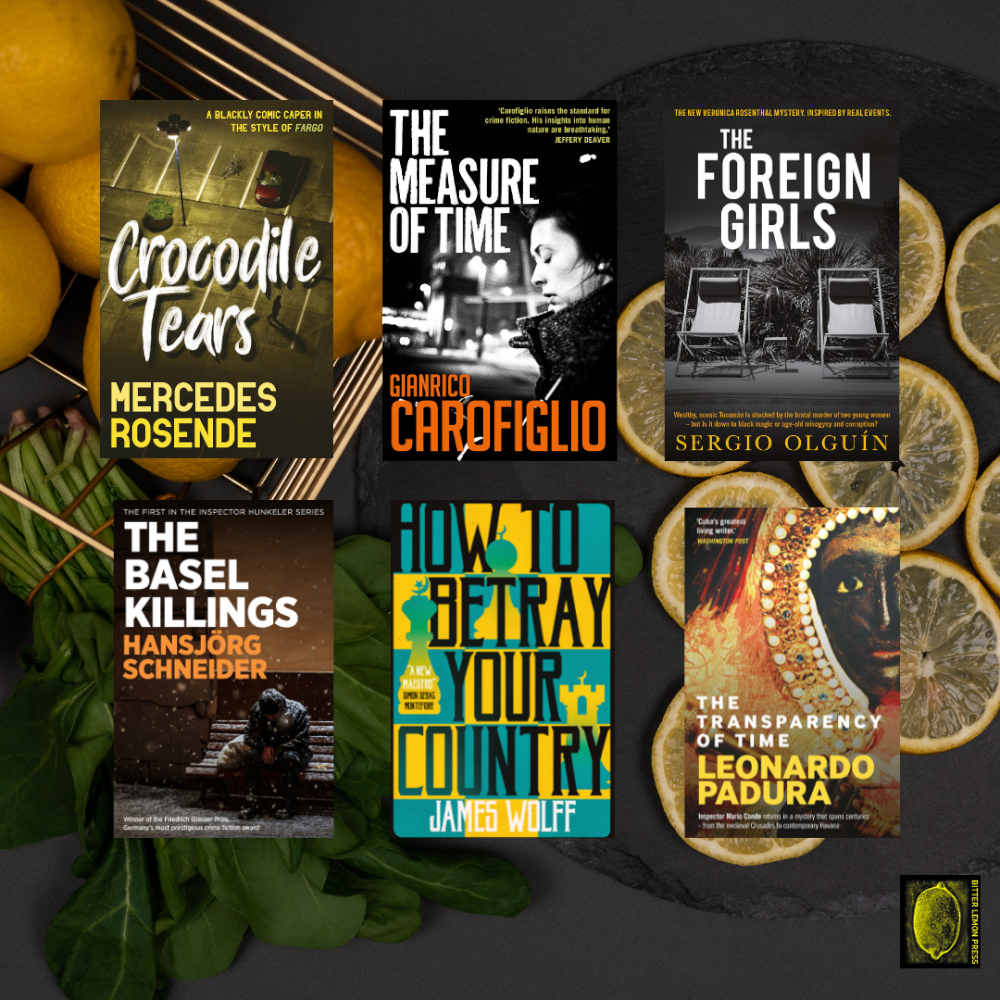 We are teaming up with translated crime fiction aficionados Bitter Lemon Press to offer a brilliant book giveaway! This book bundle will include a copy of all six 2021 releases. The titles up for grabs are: Crocodile Tears by Mercedes Rosende The Measure of Time by Gianrico Carofiglio How To Betray Your Country by James Wolff The Basel Killings by Hansjo?rg Schneider The Transparency of Time by Leonardo Padura The Foreign Girls by Sergio Olguín This draw is open only for UK residents currently in the UK and is free to enter, multiple entries from the same email address will only be counted once. The draw closes on 7th November 2021. Please ensure that the details you use to enter the competition will be correct at the time the competition ends. The winners will be notified as soon as possible.
What To Read After Deadland
William Shaw Press Reviews
*BEST THRILLERS OF 2019* 'It's up to DI Alexandra Cupidi to pull together disparate threads when a drug dealer is shot dead in a scrapyard and a severed arm shows up in an exhibit at Margate's Turner Gallery.' - Daily Mail
*BEST BOOKS OF THE SUMMER* 'When teenagers use a borrowed scooter to steal an iPhone X off a passer-by, the owner will stop at nothing, including murder, to get it back. The result is a superb, haunting, intelligent novel.' - Sunday Times
*Audiobook of the Week* In the inventive and arresting Deadland, the outrageously rich haves of the art world and a pair of hopeless have-nots collide with murderous results . . .Tautly constructed thriller . . . Jasmine Blackborow is exactly the right reader, good at both posh and demotic accents, she does full justice to Shaw's skilfully rounded characterisation. -- Christina Hardyment - The Times
William Shaw is an expert manipulator of his readers' emotions . . . each new torment provokes readers' sympathies more and more . . . The many stranded drama works, but it is the boys' story that is the most engaging -- Natasha Cooper - Literary Review
Sinister and divisive themes . . . Shaw is a master of characterisation . . . Totally believable -- Jon Wise - Sunday Sport
A thrilling climax that will keep you guessing until the end - Candis Magazine
Delivering a great sense of place, well-drawn characters and a feisty heroine, this is highly recommended -- Myles McWeeney - Irish Independent
Shaw has made the bleak and inhospitable Kent coastline one of the principal characters in his mysteries . . . Opens spectacularly -- Geoffrey Wansell - Daily Mail
*PICK OF THE WEEK* Another clever, thoughtful mystery from one of the best authors of Brit crime fiction's new wave. - Sun
*CRIME BOOK OF THE MONTH* Superb . . . Shaw handles diverse plotlines brilliantly, demonstrating his ability to write about contemporary events with keen intelligence -- Joan Smith - Sunday Times