LoveReading Expert Review of The Red Address Book
A charming, heart-rending tale about the unbreakable bonds of love told through the experiences of an unforgettable 96-year-old woman.
Doris lives a lonely life in Stockholm, her only human contact coming from daily carer visits and weekly Skype calls with her beloved grandniece Jenny, who lives in America. Since being given an address book by her dad as a child, Doris has kept a record of her life, noting all the people she's loved, and all those she's lost with "DEAD" written against their name. A smart dual narrative lays bare fascinating details of Doris's life as she writes stories about her past for Jenny, with poignant developments also playing out in the present day narrative. We follow Doris as she's sent to work for a wealthy Frenchwoman at the age of thirteen, a job that sets her on a path of exploration that continues through her life – modeling in Paris, meeting the love of her life, the outbreak of WWII, a reunion with her younger sister, a flight to America. Doris's complex, rich life sees her crisscross the Atlantic, following her heart, experiencing near misses, loves lost, and loves re-found. When Doris is hospitalised, her life seems on the verge of crashing in both narratives, as Jenny makes her own journey across the Atlantic to be with the aunt she so loves.
The novel's beautiful ending makes the soul sing, the heart swell and the tears fall, and so I shall leave the last word to Doris: "Don't be afraid of life, Jenny. Live. Help yourself. Laugh. Life isn't here to entertain; you have to entertain life. Seize opportunities whenever they come along, and make something good out of them."
The Red Address Book Synopsis
A heartwarming debut about 96-year-old Doris, who writes down the memories of her eventful life as she pages through her decades-old address book. But the most profound moment of her life is still to come ...
Meet Doris, a 96-year-old woman living alone in her Stockholm apartment. She has few visitors, but her weekly Skype calls with Jenny-her American grandniece, and her only relative-give her great joy and remind her of her own youth. When Doris was a girl, she was given an address book by her father, and ever since she has carefully documented everyone she met and loved throughout the years. Looking through the little book now, Doris sees the many crossed-out names of people long gone and is struck by the urge to put pen to paper. In writing down the stories of her colourful past-working as a maid in Sweden, modelling in Paris during the 30s, fleeing to Manhattan at the dawn of the Second World War-can she help Jenny, haunted by a difficult childhood, to unlock the secrets of their family and finally look to the future? And whatever became of Allan, the love of Doris's life?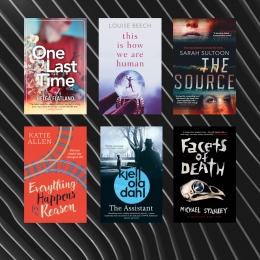 We're teaming up once again with Orenda to offer another brilliant book giveaway! Not only is a bundle of Orenda Books up for grabs, we also have a £15 voucher for the winner to use on Orenda's new look website! This book bundle will include some of their latest releases from April to June. A fantastic opportunity to stock your bookshelves. The titles up for grabs are: The Source be Sarah Sultoon - Published 15th April Facets of Death by Michael Stanley - Published 29th April The Assistant by Kjell Ola Dahl - Published 13th May This is How We Are Human by Louise Beech - Published 10th June Everything Happens for a Reason by Katie Allen - Published 10th June One Last Time by Helga Flatland - Published 24th June This draw is open only for UK residents currently in the UK and is free to enter, multiple entries from the same email address will only be counted once. The draw closes on 30th June 2021. Please ensure that the details you use to enter the competition will be correct at the time the competition ends. The winners will be notified as soon as possible.
Like For Like Featured Books
Sofia Lundberg Press Reviews
`Written with love, told with joy. Very easy to enjoy' Fredrik Backman, New York Times bestselling author of A Man Called Ove
`With an ingenious hook and a glorious heroine, this book is a delicate balance of heartwarming and heartbreaking and a timely reminder to hold on to those you love in case they get away. Enchanting' Veronica Henry
`In a reader's lifetime, there are a few books that will be companions forever. For me, The Red Address Book is one of them. It will comfort you, and remind you of all the moments when you grabbed life with both hands. It is also an homage to the wisdom of women who have lived longer than most of us. One is never too old to learn that love is the only meaning of life - let's listen to these women' Nina George, author of The Little Paris Bookshop
`Doris's life story is magnetic, and it's her strong personality and pearls of wisdom ... that drive the book ... Fans of Fredrik Backman will find much to like here'
Publishers Weekly
`A warm and tender story about life, memories, and the power of love and friendship. A novel with heart and humor!'
Katarina Bivald, author of The Readers of Broken Wheel Recommend
`Romantic ... fabulous' Lucy Dillon, author of Lost Dogs and Lonely Hearts
`The Red Address Book is a love letter to the human heart. Full of tenderness and empathy, Lundberg has created more than just a novel - she has created a window into the soul' Alyson Richman, author of The Lost Wife and The Velvet Hours