LoveReading Expert Review of The Comforters
'There are two plots in The Comforters. One is fanciful and improbable; the other imaginative and convincingly real. The first is charming; the second disturbing… There is evidence of what would come to be recognised as the characteristic Spark touch: the unreal plot is presented in realistic style… the real one engages with religious mysteries and flirts with the supernatural… Spark is a comic novelist… She is a mercurial, a slippery, writer. Now you see her, now you don't. You think you have grasped her meaning; then it eludes you… What an unusual, and unusually confident first novel this is… I was eighteen when I first read The Comforters. It delighted me then; it still delights me now, sixty years on…' From the introduction by Allan Massie
This is one novel in the absolutely glorious, must-have, complete collection of all 22 novels by Muriel Spark. This series is a wonderful way to celebrate the 100th anniversary of Muriel Spark's birth. Edited by Alan Taylor, author of Appointment In Arezzo, A Friendship with Muriel Spark, each perfectly sized and beautiful hardback book is introduced by a leading writer. Each introduction, while individually touching on thoughts and feelings, mentions the originality, the wit and humour, the cleverness of the writing. Whether an existing fan, or new to her works, this collection from one of our greatest writers, beckons, and quite simply, just asks to be read and re-read. ~ Lovereading.co.uk
The Comforters Synopsis
In Muriel Spark's fantastic first novel, the only things that aren't ambiguous are her matchless originality and glittering wit. Caroline Rose is plagued by the tapping of typewriter keys and the strange, detached narration of her every thought and action. She has an unusual problem - she realises she is in a novel. Her fellow characters are also possibly deluded: Laurence, her former lover, finds diamonds in a loaf of bread - could his elderly grandmother really be a smuggler? And Baron Stock, her bookseller friend, believes he is on the trail of England's leading Satanist.
A comedy of errors, a crime novel, a book about books, Spark's debut remains as otherworldly and mischievous as it was when first published sixty years ago. The publishers acknowledge investment from Creative Scotland towards the publication of this book. Supported by the Muriel Spark Society.
About This Edition
| | |
| --- | --- |
| ISBN: | 9780811223003 |
| Publication date: | 22nd June 2021 |
| Author: | Muriel Spark |
| Publisher: | New Directions Publishing Corporation |
| Format: | Paperback |
| Pagination: | 224 pages |
| Primary Genre | Modern and Contemporary Fiction |
| Other Genres: | |
| Recommendations: | |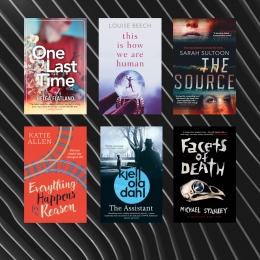 We're teaming up once again with Orenda to offer another brilliant book giveaway! Not only is a bundle of Orenda Books up for grabs, we also have a £15 voucher for the winner to use on Orenda's new look website! This book bundle will include some of their latest releases from April to June. A fantastic opportunity to stock your bookshelves. The titles up for grabs are: The Source be Sarah Sultoon - Published 15th April Facets of Death by Michael Stanley - Published 29th April The Assistant by Kjell Ola Dahl - Published 13th May This is How We Are Human by Louise Beech - Published 10th June Everything Happens for a Reason by Katie Allen - Published 10th June One Last Time by Helga Flatland - Published 24th June This draw is open only for UK residents currently in the UK and is free to enter, multiple entries from the same email address will only be counted once. The draw closes on 30th June 2021. Please ensure that the details you use to enter the competition will be correct at the time the competition ends. The winners will be notified as soon as possible.
Like For Like Featured Books
Muriel Spark Press Reviews
Often referred to as 'the writer's writer', Spark's work has garnered acclaim around the globe:
"[Spark] has written some things that seem likely to go on being read as long as fiction in English is read at all." – New York Times Book Review
"The greatest Scottish novelist of modern times . . . my admiration for Spark's contribution to literature knows no bounds" – Ian Rankin
"Some of [Spark's] finest fictions are novellas rather than novels, short enough to be read in a single dizzying sitting." – David Lodge
"A master of malice and mayhem" Michiko Katutani, New York Times
"Brilliantly original and fascinating" Evelyn Waugh
Other editions of this book
About Muriel Spark
Muriel Spark, DBE, C.Litt., was born in Edinburgh in 1918 and educated in Scotland. A poet and novelist, she also wrote children's books, radio plays, a comedy Doctors of Philosophy, (first performed in London in 1962 and published 1963) and biographies of nineteenth-century literary figures, including Mary Shelley and Emily Brontë. For her long career of literary achievement, which began in 1951, when she won a short-story competition in the Observer, Muriel Spark garnered international praise and many awards, which include the David Cohen Prize for Literature, the Ingersoll T.S. Eliot Award, the James Tait Black Memorial Prize, the ...
More About Muriel Spark