LoveReading Expert Review of Sweetpea
The first adult novel by an acclaimed children's book author, Sweetpea hits all the right buttons. A dark, twisted read about a female serial killer with dollops of humour, sarcasm and a lightweight approach to a serious subject that shouldn't work but does! Rhiannon loves her pet dog and her doll house and works in a menial position at her local newspaper. She also kills people in imaginative ways. None of them are actually innocent; well, maybe one was... Her boyfriend is cheating on her with a friend to his peril. You can't help but smile along with Rhiannon as her diary unfolds, bitchy, sarcastic, lethal. Skuse is clever and maintains just the right balance of immorality, belly laughs, sinister actions and eye-opening commentary on the absurdities and pettiness of everyday life to, keeping you gripped and on the hook, both smiling and squirming. I'm looking forward to her next 'grown-up' book, as this one will be hard to beat! ~ Maxim Jakubowski
The LoveReading view...
Oooh, this is a truly cringe-inducing, yet addictive, whammy of a read. 'Sweetpea' is the diary of a serial killer, Rhiannon may look sweet and innocent, but inside that shell, is a plotting, deviously twisted mind. The first chapter shocked me, in fact every chapter shocked me, I blurted with laughter and then burned with guilt at my reaction as words spilled from Rhiannon's mind onto the page. If you find the thought of an evil-thinking, murdering psychopath, who tosses imaginative profanities like litter a little off-putting, then do think twice before opening this book. If you do peek, be warned, I found it impossible to put down, this is a psychopath whose words struck a chord and made me wonder at my own propensity for wickedness. This is the first novel for adults from C. J. Skuse, and I think she must have an evil little monster residing in her pen, yet as information was revealed, my thoughts halted, coiled, altered. 'Sweetpea' is a wonderfully surprising novel, obvious, a shock-fest, in your face… yet incredibly subtle and thought-provoking too, I loved it, I absolutely loved it. ~ Liz Robinson
Books in The Rhiannon Series:
1. Sweetpea
2. In Bloom
Serial Reader? Check out our 'Fall in Love With a Book Series' collection to find amazing book series to dive in to.
Sweetpea Synopsis
The last person who called me 'Sweetpea' ended up dead...I haven't killed anyone for three years and I thought that when it happened again I'd feel bad. Like an alcholic taking a sip of whisky. But no. Nothing. I had a blissful night's sleep. Didn't wake up at all. And for once, no bad dream either. This morning I feel balanced. Almost sane, for once.
Rhiannon is your average girl next door, settled with her boyfriend and little dog...but she's got a killer secret.
Although her childhood was haunted by a famous crime, Rhinannon's life is normal now that her celebrity has dwindled. By day her job as an editorial assistant is demeaning and unsatisfying. By evening she dutifully listens to her friend's plans for marriage and babies whilst secretly making a list.
A kill list. From the man on the Lidl checkout who always mishandles her apples, to the driver who cuts her off on her way to work, to the people who have got it coming, Rhiannon's ready to get her revenge.
Because the girl everyone overlooks might be able to get away with murder...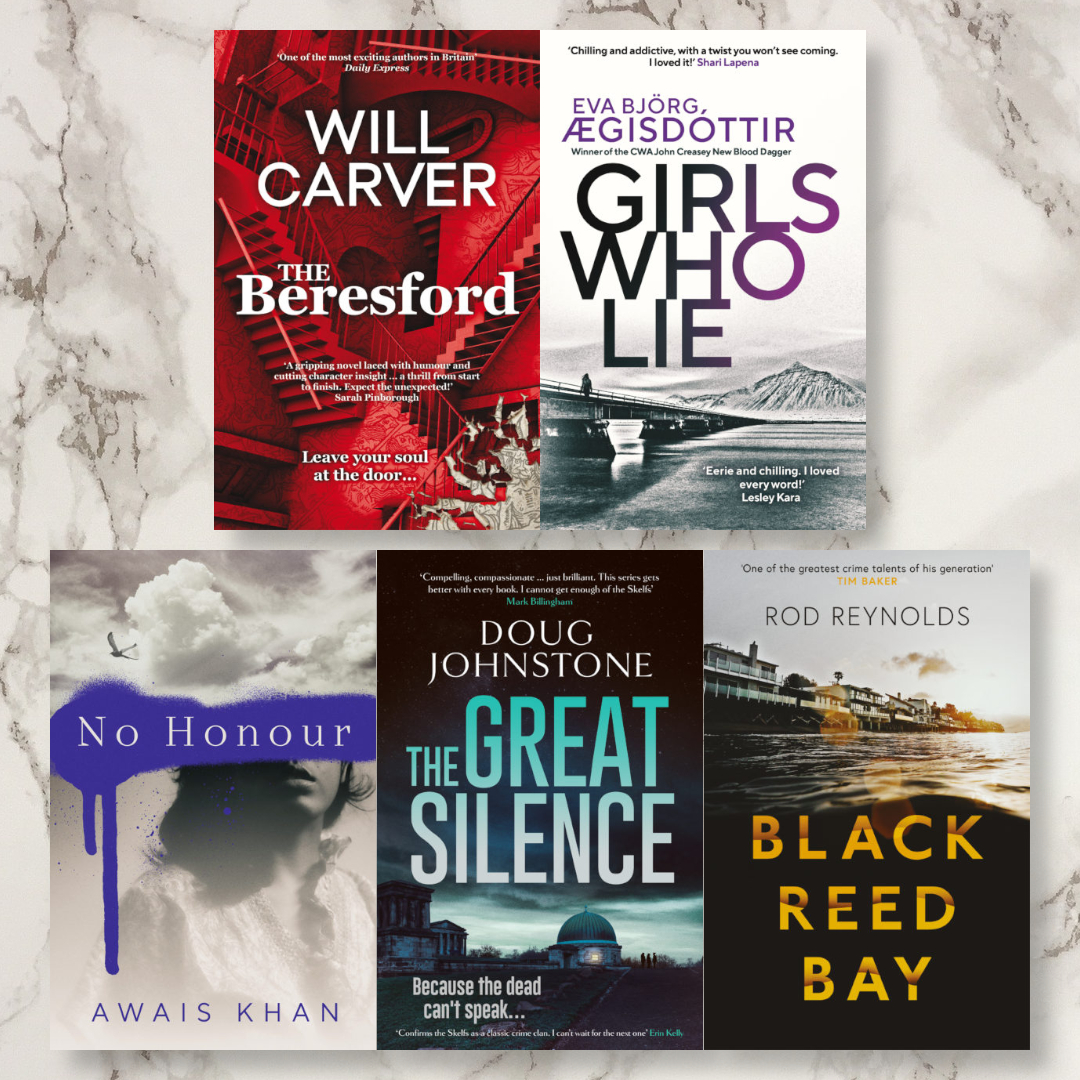 We're teaming up once again with Orenda to offer another brilliant book giveaway! This book bundle will include some of their latest releases from July to September. A fantastic opportunity to stock your bookshelves. The titles up for grabs are: The Beresford by Will Carver - Published 22nd July Girls Who Lie by Eva Bjorg Aegisdottir - Published 22nd July No Honour by Awais Khan - Published 19th August The Great Silence by Doug Johnstone - Published 19th August Black Reed Bay by Rod Reynolds - Published 2nd September This draw is open only for UK residents currently in the UK and is free to enter, multiple entries from the same email address will only be counted once. The draw closes on 30th September 2021. Please ensure that the details you use to enter the competition will be correct at the time the competition ends. The winners will be notified as soon as possible.
What To Read After Sweetpea
C. J. Skuse Press Reviews
'Electrifying, bold, brilliant' - Amanda Craig on The Deviants
'Monster is another rollicking adventure ... but you might not want to read the final chapter alone in the house ... or while you're eating ... as you find out the truth about the Beast of Bathory. Great fun.' - Martin Chilton, Telegraph's Best YA Books 2015
'It's an absolute page-turner! I gobbled it up in one sitting, and it kept me guessing right till the end. A deliciously creepy horror story, served up with CJ's trademark humour.' - Cat Clarke
'A rip roaring story' - Julia Eccleshare, The Guardian on Rockoholic 'sharp, funny and knowing...' - The Telegraph on Rockoholic
'The tension and the comedy crack along with a heart-warming hilarity that is impossible to resist.'- Amanda Craig, The Times on Dead Romantic