LoveReading Expert Review of The Owl Always Hunts at Night
A chilling, stimulating, intensely dark tale set in Norway. A young woman is found dead in woodland on the edge of Oslo Fjord, with her body arranged in a strange, unsettling backdrop. The policing team in charge of the investigation are lost, until help comes from an unlikely source. This is the second in the 'Munch and Kruger' series which started with 'I'm Travelling Alone'. Munch and Kruger are a fascinating pairing, work Kruger's reason for living, while Munch should really take time out. In short sharp chapters, characters were slowly introduced, ruffling my senses, keeping me in suspense, there were times when I wanted to shout a warning, to hold out a restraining arm. Samuel Bjork creates a jagged zig-zagging edge of understanding, there isn't a convenient jigsaw shaped hole waiting for your thoughts. 'The Owl Always Hunts at Night' is a cunning, dramatically sinister tale, it looks as though this is a series with staying power. ~ Liz Robinson
The Owl Always Hunts at Night Synopsis
When a young woman is found dead, the police are quick to respond. But what they find at the scene is unexpected. The body is posed, the scene laboriously set. And there is almost no forensic evidence to be found. Detective Mia Kruger has been signed off work pending psychological assessment. But her boss has less regard for the rules than he should. Desperate to get Mia back in the office, Holger Munch offers her an unofficial deal. But the usually brilliant Mia is struggling and the team are unable to close the case. Until a young hacker uncovers something that forces the team to confront the scope of the murderer's plans and face the possibility that he may already be on the hunt for a second victim.
About This Edition
| | |
| --- | --- |
| ISBN: | 9780552170918 |
| Publication date: | 2nd January 2018 |
| Author: | Samuel Bjork |
| Publisher: | Corgi Books an imprint of Transworld Publishers Ltd |
| Format: | Paperback |
| Pagination: | 480 pages |
| Primary Genre | Crime and Mystery |
| Other Genres: | |
| Recommendations: | |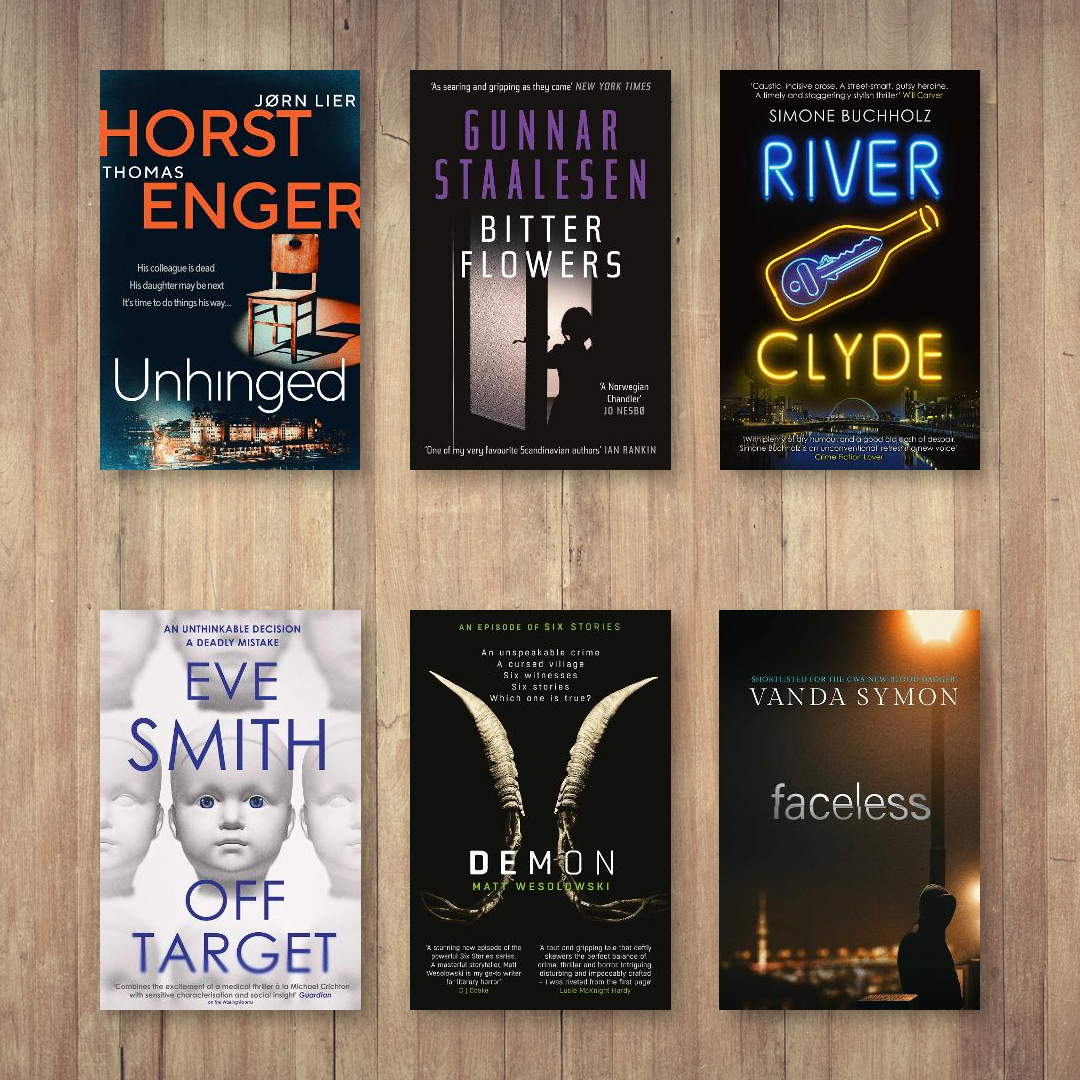 We're teaming up once again with Orenda to offer another brilliant book giveaway! This book bundle will include some of their latest releases from January to March. A fantastic opportunity to stock your bookshelves or give as a Christmas gift to your favourite bookworm. The titles up for grabs are: Demon by Matt Wesolowski - Published 20th January Bitter Flowers by Gunnar Staalesen - Published 20th January Off-Target by Eve Smith - Published 17th February Unhinged by Thomas Enger & Jorn Lier Horst - Published 17th February Faceless by Vanda Symon - Published 17th March River Clyde by Simone Buchholz - Published 17th March This draw is open only for UK residents currently in the UK and is free to enter, multiple entries from the same email address will only be counted once. The draw closes on 10th April 2022. Please ensure that the details you use to enter the competition will be correct at the time the competition ends. The winners will be notified as soon as possible.
What To Read After The Owl Always Hunts at Night
The Owl Always Hunts at Night Reader Reviews
In addition to our Lovereading expert opinion some of our Reader Review Panel were also lucky enough to read and review this title. You can click here to read the full reviews.
Michelle Hodson - 'Fabulous characters. An unusual plot. This is a perfect example of the Scandi Noir at its best. Totally absorbing. I couldn't put it down!'
Les Wood - 'If you liked Jo Nesbo's The Snowman you will love this; a story that weaves, undulates and draws you in to reading when you should be doing other things!'
Richard Coe - '5 stars, crime fans are in for a treat as this is a great book. Instantly readable, the pages disappear very quick as you gobble them up.'
Phylippa Smithson - 'Yet another star shines from the Nordics Premier league of authors bringing absorbing thrillers to the UK book shelves.'
Helen Treadwell - 'I particularly liked the character of Mia who is a brilliant detective but struggling with personal issues. A tense, exciting story building to an epic final scene.'
Maxine Broadbent - 'It is a long time since I have read such a complex yet easy to follow crime novel with such a fascinating and large set of engaging characters. Superb plotting.'
Sabine Little - 'If you can suspend disbelief and make your peace with a considerable number of unlikely coincidences, then this is a good way to pass a few hours, and the end managed to draw me in, eager for book no. 3.'
Alfred Nobile - 'This was a bleak tale and a slow burner of a read. Never the less a finely written tale with plenty of red herrings and false clues.'
Alan Brown - 'A fascinating story that keeps the reader's mind on the page.'
Angela Rhodes - 'Loved this book, creepy and gripping, it will have you checking the windows, doors and over your shoulders, it will give you sleepless nights but boy is it worth it!!'
Nikki Whitmore - 'If you like a bit of 'nordic noir' and you're looking for a new series to get into, this seems like a solid place to start.'
Louise Woods - 'A quick read with a familiar writing style making it easy to get into. Not too heavy a plot, with a few twists, but I was expecting more. A good train or plane read.'
Rebecca Kirkby - 'Overall, I haven't been left wanting to find out what happens next and feel a little disappointed. I found the book absorbing to begin with, but don't feel as though it got the ending it deserved.'
Lesley Hart - 'Mia Kruger and Holger Munch-Norwegian police investigators, together for a second gripping book, involving a naked young woman's body found in a wood, will keep you guessing the murderers identity!'
Maz Tucker - 'The Story grips you from the first page. The team trying to solve the crime have lots of false starts and false leads, but together they get there in the end. Good Solid Crime Thriller.'
Jocelyn F Garvey - 'A dead posed body, good police work, Excellent crime thriller. A really good read. A great addition to the genre.'
Edel Waugh - 'This had a great plot, fantastic characters, interesting bad guys and good ending. What more could you want!'
Samuel Bjork Press Reviews
'FANTASTIC sequel from Samuel Bjork! ... This is quality suspense at its very best and in my opinion a literary masterpiece. A delight to read!' Bokelskere.no
'This book is damnably perfect ... A real ace of a crime novel full of suspense, horror, loss, deprivation and eternal love. Each and every page is worth reading.' 5/5 Mitt Fyn (Sweden)
'With a dramatic finale that really took my breath away Samuel Bjork has placed himself up there with the best of Norwegian crime writers.' I hyllan (Sweden)
'Samuel Bjork is Norway's new Jo Nesbo.' Boktok 73 (Sweden)
'Raw, psychological, disturbing. The Owl Always Hunts at Night, the new thriller by Samuel Bjork, is one of those reads you just can't stop thinking about ... a great thriller, a novel that leaves you with a sense of confusion and anxiety, a discomfort because of what humanity is capable of.' Il Giallista (Italy)
Other editions of this book
About Samuel Bjork
Samuel Bjork is the pen name of Norwegian novelist, playwright and singer/songwriter Frode Sander Øien. The Owl Always Hunts At Night is the second in his Munch and Krüger series, I'm Travelling Alone was the first. Both have been bestsellers across Scandinavia and the rest of Europe. Author photo copyright Harald Oren
More About Samuel Bjork