LoveReading View on Twilight - Limited Edition
The Twilight Saga by Stephenie Meyer - Have a White Christmas with The Twilight Saga:
____________________________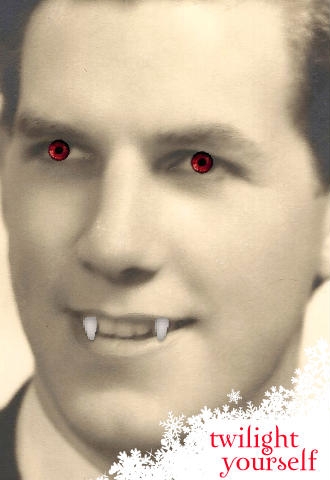 Fangtastic makeover for Twilight lovers


Any Edward fan can now 'vamp themselves' with this new Facebook app
We will wait to see if they produce a Jacob version where you can choose your fur colour……

____________________________
The Twilight Saga has now sold over 116 million copies worldwide and created a generation of devoted fans. Twilight, the first novel in the series, was first published in 2005 and has since sold over two million copies in the UK alone, with each of the other three novels selling over a million copies.

Deeply seductive and irresistibly compelling, the Twilight series is an extraordinary love story that will stay with you long after you've finished it.This is the first in the Twilight series and is a captivating saga of vampire romance. The second is New Moon, the third is Eclipse and the fourth Breaking Dawn - a truly must-read series.
Twilight - Limited Edition Synopsis
When Isabella Swan moves to the gloomy town of Forks and meets the mysterious, alluring Edward Cullen, her life takes a thrilling and terrifying turn. With his porcelain skin, golden eyes, mesmerising voice, and supernatural gifts, Edward is both irresistible and impenetrable. Up until now, he has managed to keep his true identity hidden, but Bella is determined to uncover his dark secret. What Bella doesn't realise is that the closer she gets to him, the more she is putting herself and those around her at risk. And it might be too late to turn back ...Deeply seductive and irresistibly compelling, TWILIGHT is a love story that will stay with you long after you have turned the final page.