LoveReading Expert Review of The Great North Road
The Great North Road is Britain's Route 66 - we've just forgotten how to sing its praises
The Great North Road is a brilliantly researched historical journey by bicycle which follows an ancient highway that since 1921, for most of its length, has been known as the A1. Cyclist Steve Silk threads the 493 miles from London to Edinburgh following at a challenging but doable pace in the tracks of Charles G Harper's 1901 journal of the same name. Steve's eleven day journey is so rich in history at times he could be a time traveller, slipping in and out of centuries, bumping into legendary and influential characters and (unlike most touring cyclists) spending enough time to soak up the stories along the way. The book is probably more for travellers with an interest in history than it is for cyclists with a passion for endurance, but it does seem to be the case that the further one pedals north on this famous artery, the harder it gets.
The Great North Road Synopsis
London to Edinburgh - 11 Days, 2 Wheels and 1 Ancient Highway.
In 1921, Britain's most illustrious highway, the Great North Road, ceased to exist - on paper at least. Stretching from London to Edinburgh, the old road was largely replaced by the A1 as the era of the motor car took hold. A hundred years later, journalist and cyclist Steve Silk embraces the anniversary as the perfect excuse to set off on an adventure across 11 days and 400 miles.
Travelling by bike at a stately 14 miles per hour, he heads north, searching out milestones and memories, coaching inns and coffee shops. Seen from a saddle rather than a car seat, the towns and the countryside of England and Scotland reveal traces of Britain's remarkable past and glimpses of its future. Instead of the familiar service stations and tourist hotspots, Steve tracks down the forgotten treasures of this ancient highway between the two capitals. The Great North Road is a journey as satisfying for the armchair traveller as the long-distance cyclist. Enriched with history, humour and insight, it's a tribute to Britain and the endless appeal of the open road.
About This Edition
| | |
| --- | --- |
| ISBN: | 9781800070493 |
| Publication date: | 8th July 2021 |
| Author: | Steve Silk |
| Publisher: | Summersdale Publishers |
| Format: | Paperback |
| Pagination: | 304 pages |
| Primary Genre | Travel |
| Other Genres: | |
| Recommendations: | |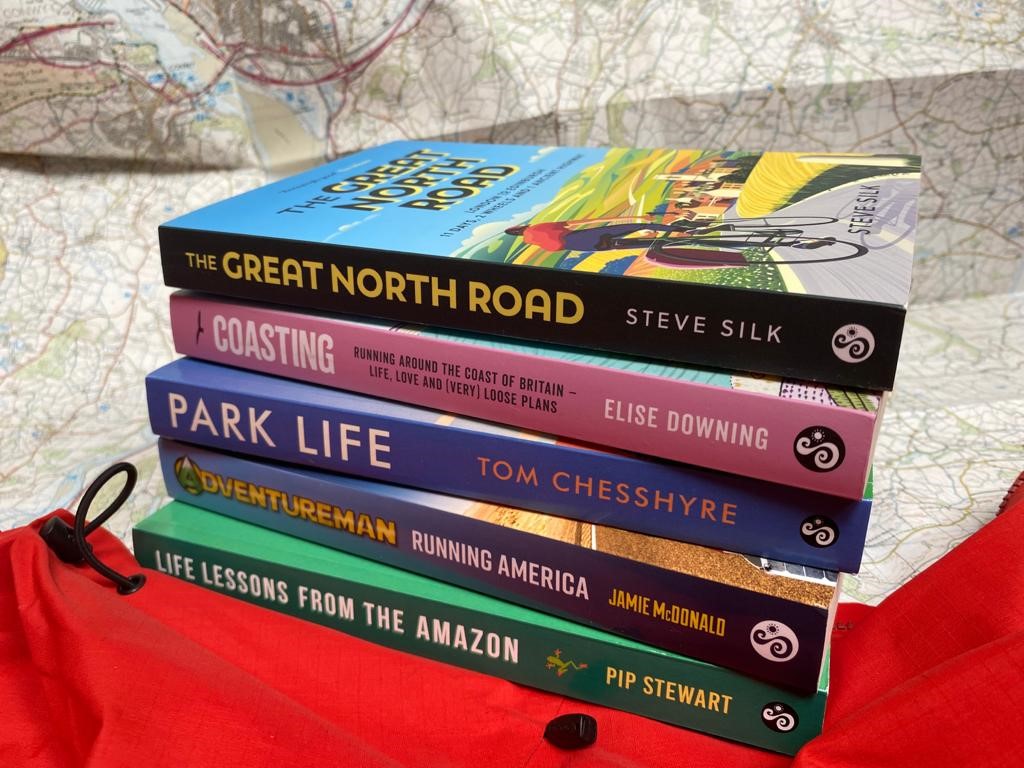 If you're looking for adventure then this is the competition for you! We are giving away FIVE bundles of books from Summersdale Publishers including a paperback copy of Coasting, The Great North Road, Running America, Life Lessons from the Amazon and Park Life! Enter below - good luck!
Steve Silk Press Reviews
'I was going to ride the Great North Road and write about it... but in the light of this annoyingly good book, I won't.' Tim Moore
'Weaving the history of the old road with the colour and the characters of today, Steve proves that any journey is an adventure if you know where to look.' Alastair Humphreys
'An enjoyable ode to a road that cyclists planning a trip will love, with entertaining nuggets of trivia and history for anyone who has ever hit the A1 for a long drive. Silk is a man on a mission, snaking alongside the main carriages on his winding passage by bike north via many a cafe and old coaching inn (many of which Charles Dickens visited, apparently). This journey may just give the lockdown Lycra brigade ideas.' Tom Chesshyre
'I love this book. I love the idea of considering something as mundane and utilitarian as the A1(M) in a fascinating, historical context. Who knew that behind this seemingly endless snake of concrete and tarmac lies the makings of a fabulous journey of pilgrimage? It is a joy to learn about the background to Steve's journey and to follow him as he makes his way along his very own Great North Road.' Rachel Ann Cullen
Other editions of this book
About Steve Silk
Steve Silk is a journalist working for BBC Look East in Norwich. Before attempting his adventure along the Great North Road, he'd only really cycled around the lanes of Norfolk. Over the course of 11 days, he broke most of the rules of cycle touring, but still managed to get there in one piece, proving that if he can do it, almost anybody can! He is also the author of two previous books, The Wherryman's Way and Hidden Riverside Norwich, which saw him explore the Norfolk Broads on foot and by canoe. The Wherryman's Way won the East Anglian ...
More About Steve Silk