LoveReading Expert Review of Squeeze Me
Hugely entertaining and funny, this is must-read comedic crime novel for anyone needing a hit of escapism.
An absolute monster of a fabulous read! I smirked and chuckled my way through this thoroughly entertaining and smart comedic crime novel. It's charity ball season in Palm Beach, when a prominent high-society member of the POTUSSIES (a group of women who support the President) goes missing, the President declares it was the fault of immigrant hordes. However, wildlife wrangler Angie Armstrong has just been tasked to deal with an influx of huge pythons, so the President might just be talking out of his behind. By the way, I am a titchy bit scared of snakes, but this didn't affect my reading of this novel in any way. The President's name is never mentioned, but Carl Hiaasen brilliantly lampoons the President that came between Obama and Biden, and I actually snorted with laughter on a number of occasions. I first read Carl Hiaasen's novels for young adults, including Skink No Surrender but this is my first of his novels for adults. If you're already a fan then you might just bump into a much loved character in Squeeze Me. This is a book that you can just throw yourself into and trust in the talent of the author. He isn't just funny, the humour is pointed and makes a point. Squeeze Me is so irreverent, stimulating, and gorgeously readable, I already know that it will be one of my books of the year. Chosen as a Liz Pick and a Star Book, in the middle of dark times this is just what we needed, unless of course you are a fan of a certain someone!
Squeeze Me Synopsis
From the bestselling author of Bad Monkey and Razor Girl comes this hilarious new novel of social and political intrigue, set against the glittering backdrop of Florida's gold coast.
It's the height of the Palm Beach charity ball season: for every good cause, there's a reason for the local luminaries to eat (minimally), drink (maximally), and be seen. But when prominent high-society dowager Kiki Pew suddenly vanishes during a swanky gala, and is later found dead, panic and chaos erupt.
Kiki was an ardent fan of the Winter White House resident just down the road, and a founding member of the POTUSSIES, a group of women dedicated to supporting their President - who immediately declares that Kiki was the victim of rampaging immigrant hordes. This, it turns out, is far from the truth.
The truth might just lie in the middle of the highway, where a bizarre discovery brings the First Lady's motorcade to a grinding halt. Enter Angie Armstrong, wildlife wrangler extraordinaire, who is summoned to the posh island to deal with a mysterious and impolite influx of huge, hungry pythons . . .
Carl Hiaasen can brighten even the darkest of days and Squeeze Me is pure, unadulterated Hiaasen. Irreverent, ingenious, and highly entertaining, it perfectly captures the absurdity of our times.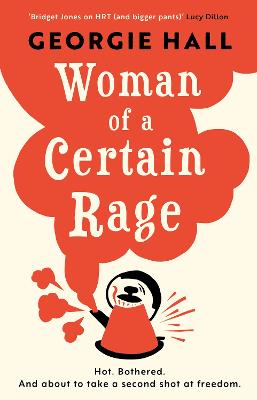 "We declare this divinely funny, warm, and engaging novel about navigating family life during the menopause a must-read." Liz Robinson, Expert Reviewer To celebrate the release of Woman of a Certain Rage by Georgie Hall we're teaming up with Head of Zeus to offer you the chance to win a copy of the book! This draw is open only for UK residents currently in the UK and is free to enter, multiple entries from the same email address will only be counted once. The draw closes on 8th August 2021. Please ensure that the details you use to enter the competition will be correct at the time the competition ends. The winners will be notified as soon as possible.
What To Read After Squeeze Me
Carl Hiaasen Press Reviews
Will have you crying with laughter - Best
Splendid satire [...] One of his best - Crime Club
Rampagingly funny satire - Kirkus
By the evidence of the scabrous and unrelentingly hilarious Squeeze Me, the Trump era is truly Carl Hiaasen's moment - Washington Post
If you could use some wild escapism right now, Hiaasen is your guy. In its themes and its wild imagination, Squeeze Me offers some familiar pleasures, akin to a Greatest Hits collection. Anyone who's read him will know what a prime recommendation that is - New York Times
Creating laughter in a tough world may be Hiaasen's hallmark - Independent
Hiaasen is wondrously fertile in devising fizzing plots and zany characters, but also as a comic prose stylist he can give Wodehouse and Waugh a run for their money - The Sunday Times
Scintillating, driven and very, very funny. Sheer comic genius - Metro
Carl Hiaasen remains the undefeated, unscored-upon conscience of Florida, maybe the conscience of the whole country. I laughed and laughed and laughed while I read Squeeze Me - until I remembered, hey, I live in Palm Beach! - James Patterson