LoveReading Expert Review of The Englishman
An outstanding spy action thriller - first in a series and an absolute reading feast, meet former Foreign Legion Commando Dan Raglan!
Klaxon alert! Discover full-on heart-pounding action, plus smart, sharp writing in this absolute reading feast of a book. Travelling from Africa to the UK and ending in Russia, former Foreign Legion Commando Dan Raglan is on a hunt that guarantees death. This is the first in what promises to be a smash-hit spy thriller series and I already can't wait for the next book. The prologue throws you straight into October 2019 with a man running through a frozen Russian forest while bullets whip towards him. Chapter one turns to 2013 and from here we get to know Dan Raglan. As an introduction, it's spot on, within pages I was on board and by his side. Author David Gilman is a former firefighter, paratrooper, and photographer and now writes full time. His words build a vivid picture, this world feels authentic and I read with full confidence. I was so involved in the unfolding story that my thoughts didn't skim backwards or forwards, I purely existed in each moment as it hit. And boy, each moment lands with ferocious intensity. Shockwaves of action expanded and the storyline tripped me with unexpected developments. Even though I had read the prologue, the ending still came with a whammy. LoveReading Book of the Month - tick, LoveReading Star Book - tick, one of my personal Picks of the Month - tick! The Englishman comes with a tremendous thumbs up from me, more please!
The Englishman Synopsis
Penal Colony No. 74, AKA White Eagle, lies some 600 kilometres north of Yekaterinburg in Russia's Sverdlovskaya Oblast. Imprisoning the country's most brutal criminals, it is a winter-ravaged hellhole of death and retribution.
And that's exactly why the Englishman is there.
Six years ago, Raglan was a soldier in the French Foreign Legion engaged in a hard-fought war on the desert border of Mali and Algeria. Amid black ops teams and competing intelligence agencies, his strike squad was compromised and Raglan himself severely injured.
His war was over, but the deadly aftermath of that day has echoed around the world ever since: the assassination of four Moscow CID officers; kidnap and murder on the suburban streets of West London; the fatal compromise of a long-running MI6 operation.
Raglan can't avoid the shockwaves. This is personal. It is up to him to finish it – and it ends in Russia's most notorious penal colony.
But how do you break into a high security prison in the middle of nowhere?
More importantly, how do you get out?
About This Edition
| | |
| --- | --- |
| ISBN: | 9781838931414 |
| Publication date: | 4th February 2021 |
| Author: | David Gilman |
| Publisher: | Head of Zeus |
| Format: | Paperback |
| Pagination: | 480 pages |
| Collections: | |
| Primary Genre | Action Adventure |
| Other Genres: | |
| Recommendations: | |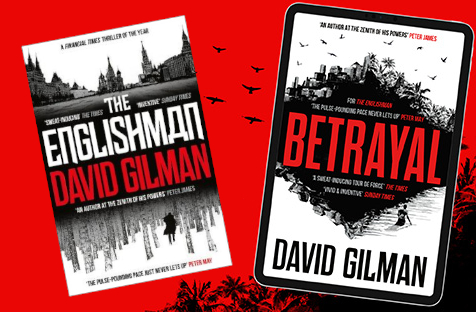 The latest "vividly intense spy thriller" from David Gilman is out now! Betrayal sees the return of Former Foreign Legion operative Dan Raglan, and to celebrate, we're working with Head of Zeus to offer three lucky winners the chance to win both Betrayal and the first book in the series, The Englishman. "If you get your reading kicks diving into an espionage thriller full of heart-pounding action running alongside a wickedly intricate plot, then hello, THIS is your book." Liz Robinson, Expert Reviewer This draw is open only for UK residents currently in the UK and is free to enter, multiple entries from the same email address will only be counted once. The draw closes on 3rd February 2022. Please ensure that the details you use to enter the competition will be correct at the time the competition ends. The winners will be notified as soon as possible.
What To Read After The Englishman
The Englishman Reader Reviews
In addition to our Lovereading expert opinion some of our Reader Review Panel were also lucky enough to read and review this title.
A unique story that is a hugely descriptive and atmospheric thriller. Fast paced with characters you come to care about and identify with. One of the best books I have read this year.
I have never tried this author before, but I absolutely loved this story. In fact it's probably one of the best books I have read this year. So descriptive and fast paced - I actually found myself holding my breath on more than one occasion whilst racing through the pages. I learnt a lot too as I imagine the research was meticulous.
I really identified with the characters too - always a test of a good book to get drawn in and really care about what happens, good and bad. It would make a great film! It's a book that really has you rooting for the good guys - or guy, Raglan, a totally believable character.
Am now going to read more David Gilman!
A gripping read, well researched and with great characters. Who could ask for more?!
Although David Gilman is an award winning author this was the first of his books that I had tried. For the first couple of chapters I must admit I didn't know if I would stay the course. It was all very informative in terms of organisations, protocols etc. but too much description seemed at first to blunt the action. I needn't have worried, by the time I was a couple more chapters in I had difficulty putting it down! "The Englishman", one Dan Raglan, moves from the desert border of Algeria with The French Legionnaires, to a kidnap in West London and then on to a Russian penal colony in the middle of nowhere with consummate ease - and Gilman makes the character so believable that there is no question in one's mind that this could happen! A gripping read, well researched and with great characters. Who could ask for more?!
Thoroughly enjoyed this gripping novel from start to finish.
Simply brilliant!
A really great read, with a true grit.
The action rolls from each page, keeping you coming back for more.
The Englishman is portrayed at his best across the continents.
Fearless in a quest for answers, Dan Raglan leads us on a gripping journey of believable events.
You'll be hooked.
David Gilman Press Reviews
PRAISE FOR DAVID GILMAN:
'A gripping ride' Wilbur Smith.
'Gilman does heart-pounding action superlatively' The Times.
'Page-turning and gritty' Daily Mail. 'The Englishman is electrifying proof that high-tension international thrillers are back - and with an absolute vengeance' William Shaw, author of Deadland. 'The pulse-pounding pace just never lets up' Peter May, bestsellling author of Lockdown.