LoveReading Expert Review of Hunting Evil
Full-on supercharged reading entertainment in the form of a prolific serial killer out for revenge.
Oooh, this an absolute belter of a read, in fact my mind is still bouncing up and down in appreciation. Serial killer Lucien Folter has spent just over three years in solitary confinement plotting his revenge on the person who put him away, Robert Hunter, head of the LAPD's Ultra Crime Unit. Lucien can easily be described as the most dangerous man you would NEVER wish to meet, and Hunter will need all of his wits about him. Meet the 10th in the Robert Hunter Thriller series which actually follows on from the 6th An Evil Mind. Yes, yes, of course you should read An Evil Mind (and the others) first, but such is the writing, you could successfully read this as a standalone and thoroughly enjoy it. Chapter one hits with hammer hard precision and each of the following short shocks of chapters have the same impact. Just be aware that this is a rather graphic read (in terms of violence), well, you are dealing with the FBI's most prolific murderer! Even so Chris Carter somehow makes evil personified human too, and dare I say that I find Lucien one of the most fascinating characters I've ever read. Hunting Evil has zoomed its way into our LoveReading Star Books, this is full-on supercharged reading entertainment at its best.
Hunting Evil Synopsis
The compulsive new novel from the author of the Sunday Times Number One bestseller The Caller and Gallery of the Dead.
AS ADDICTIVE AS A TV BOXSET!
'Every story one day comes to an end.'
As roommates, they met for the first time in college. Two of the brightest minds ever to graduate from Stamford Psychology University.
As adversaries, they met again in Quantico, Virginia. Robert Hunter had become the head of the LAPD's Ultra Violent Crimes Unit. Lucien Folter had become the most prolific and dangerous serial killer the FBI had ever encountered.
Now, after spending three and a half years locked in solitary confinement, Lucien has finally managed to break free. And he's angry.
For the past three and a half years, Lucien has thought of nothing else but vengeance.
The person responsible for locking him away has to pay, he has to suffer.
That person ... is Robert Hunter.
And now it is finally time to execute the plan.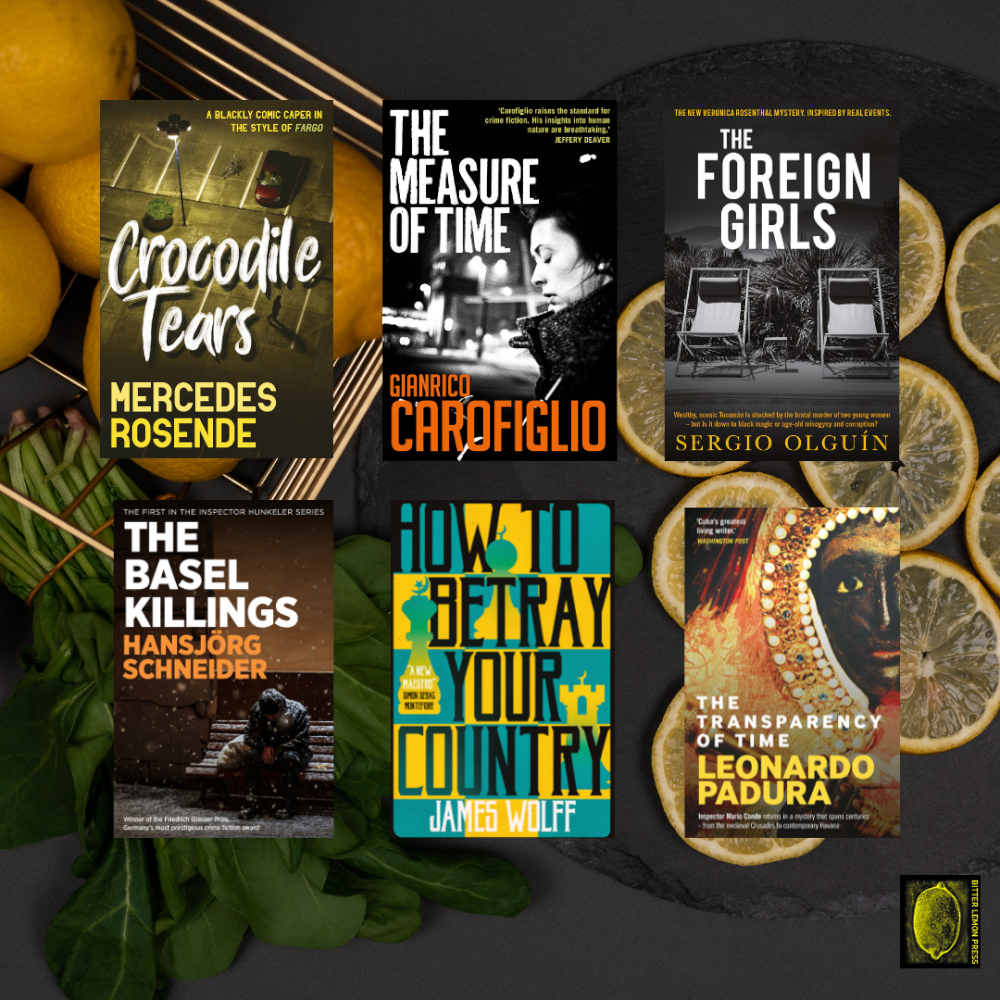 We are teaming up with translated crime fiction aficionados Bitter Lemon Press to offer a brilliant book giveaway! This book bundle will include a copy of all six 2021 releases. The titles up for grabs are: Crocodile Tears by Mercedes Rosende The Measure of Time by Gianrico Carofiglio How To Betray Your Country by James Wolff The Basel Killings by Hansjo?rg Schneider The Transparency of Time by Leonardo Padura The Foreign Girls by Sergio Olguín This draw is open only for UK residents currently in the UK and is free to enter, multiple entries from the same email address will only be counted once. The draw closes on 7th November 2021. Please ensure that the details you use to enter the competition will be correct at the time the competition ends. The winners will be notified as soon as possible.
What To Read After Hunting Evil
Hunting Evil Reader Reviews
In addition to our Lovereading expert opinion some of our Reader Review Panel were also lucky enough to read and review this title.
Chris Carter is now my new Lee Child! A gripping read; from its start to its explosive ending; that left me wanting to read the next instalment immediately.
I hadn't read a Chris Carter novel before, reading Hunting Evil allowed me to experience a new author. Now the book is finished, I will definitely be considering him as a new favourite. I was gripped from the start and I found myself continually wanting to read on to discover more about Hunter and Lucien and their complex relationship. The book only gets better; I wasn't left disappointed for a second as twists and turns in the plot lead you to an explosive ending that left me wanting to read more.
A thrilling cat-and-mouse chase which reboots Hannibal for today's standards of criminal psychology.
The cover promised Netflix-level addiction - and it definitely delivered! I read this in two days, including having the book precariously propped open in cramped Tube carriages, because I just had to find out what happened next. I am new to the Detective Robert Hunter series but after having read this one I'm now a fan - and the prequel to this, An Evil Mind, is already queued up on my reading list. Los Angeles is depicted so well that I could almost feel the heat rising off the LAPD station concourse - crime-writing at its best.
A great dark psychological thriller, that I couldn't get enough of. Definitely recommend!!!
Hunting Evil is the 10th book in the Robert Hunter series. In fact, I only found out after reading the intriguing synopsis provided by LoveReading UK. Although I haven't read any of the previous books in the series, I didn't have a problem with reading this one as standalone.
In Hunting Evil, we follow Detective Robert Hunter and an escaped serial killer Lucien Folter who has escaped from prison. But Lucien isn't just any serial killer/prisoner, he was Robert's roommate and friend during college. Lucien is also a master at disguising himself which makes it even more difficult to catch him.
This book was so fast-paced, I raced through it. It was full of suspense and thrilling moments that had me at the edge of my seat. The plot is full of twists and turns that I really didn't see coming. I favourite parts of the book were the graphic scenes and gore bits.
As I said earlier this book can be read as a standalone as it contains enough details to understand both the backstory and the relationship between Detective Hunter and Lucien. The characters were really interesting and intriguing I really enjoyed learning about Lucien's evil nature and messed up mind.
Hunting Evil was a great read and I will be looking to into reading more books by Chris Carter in the near future. If you're looking form a dark psychological thriller this is the book I highly recommend you give a go. Just be warned this book isn't for the faint-hearted.
Thank you LoveReading and Simon and Schuster UK Fiction for sending me a review copy in return for an honest and unbiased review.
Chris Carter Press Reviews
What the reviewers are saying about Chris Carter:
'Carter has a background in criminal psychology and the killers at the centre of his novels are all the more terrifying for it' Mail on Sunday, chosen for 'If You Only Pack One'
'Carter is one of those authors who makes writing look effortless ... I couldn't put it down' Crime Squad
'An insanely good crime series. Extraordinarily well written, high quality and high drama all the way' Liz Loves Books
'An intriguing and scary thriller' Better Reading
'A gripping feast of thrills' Shots
'A gripping psychological thriller' Breakaway
'This is a chilling, compulsive portrait of a psychopath, and proves that Carter is now in the Jeffery Deaver class' Daily Mail
'Punchy and fast paced' Sunday Mirror
Other editions of this book
About Chris Carter
Born in Brazil of Italian origin, Chris Carter studied psychology and criminal behaviour at the University of Michigan. As a member of the Michigan State District Attorney's Criminal Psychology team, he interviewed and studied many criminals, including serial and multiple homicide offenders with life imprisonment convictions. Having departed for Los Angeles in the early 1990s, Chris spent ten years as a guitarist for numerous bands before leaving the music business to write full-time. He now lives in London.
More About Chris Carter