LoveReading Expert Review of Tall Oaks
One of Our Books of the Year 2017 | Shortlisted for the CWA John Creasey (New Blood) Dagger 2017.
Shortlisted for the Last Laugh Award at the CrimeFest Awards 2017.
A first British crime novel, albeit set in a small American community, that appeared a few months ago and only recently came to my attention, Tall Oaks takes a sometimes hackneyed theme and turns it into a thing of wonder. A small child has gone missing, apparently kidnapped and we follow how a group of varied inhabitants of Tall Oaks are affected by the disappearance in an atmosphere reminiscent of both Twin Peaks and Fargo, as the tale that unfolds sensitively blends pathos and even tragedy with an affectionate sense of the absurd and the comic. The grieving mother falls into a downward spiral of despair and degradation, the errant father remains suspiciously absent and uninvolved, the policemen investigating the case obstinately fights against the odds and his own, terrible attraction to one of the suspects, a group of local teenagers, including a splendidly comic figure who aims to become the town's master criminal and dresses ridiculously to cultivate his image, his Syrian refugee acolyte and sidekick, the slightly retarded mother's boy who works at the photo shop, a forlorn waitress and a host of other striking characters take the stage in turn as the story develops and races to a both abominably poignant and also comic conclusion that ties all the threads together most satisfactorily. A gem of a story. Stunning. ~ Maxim Jakubowski
Maxim Jakubowski's April 2017 Book of the Month.
Tall Oaks Synopsis
Tall Oaks is an idyllic small town, until the disappearance of a young child throws the tight-knit community into crisis. Jess Monroe, the boy's distraught mother, is simultaneously leading the search and battling her own grief and self-destructive behaviour. Her neighbours watch on, their sympathy masking a string of dark secrets. This is a small town where nothing is as it seems, and everyone has something to hide. And as the investigation draws towards a climax, prepare for a devastating final twist...Dark but laugh-out-loud funny, full of suspense and packed with twists, this brilliant new thriller is like nothing you've read before.
About This Edition
| | |
| --- | --- |
| ISBN: | 9781785770302 |
| Publication date: | 8th September 2016 |
| Author: | Chris Whitaker |
| Publisher: | twenty7 |
| Format: | Paperback |
| Pagination: | 368 pages |
| Primary Genre | Thriller and Suspense |
| Other Genres: | |
| Recommendations: | |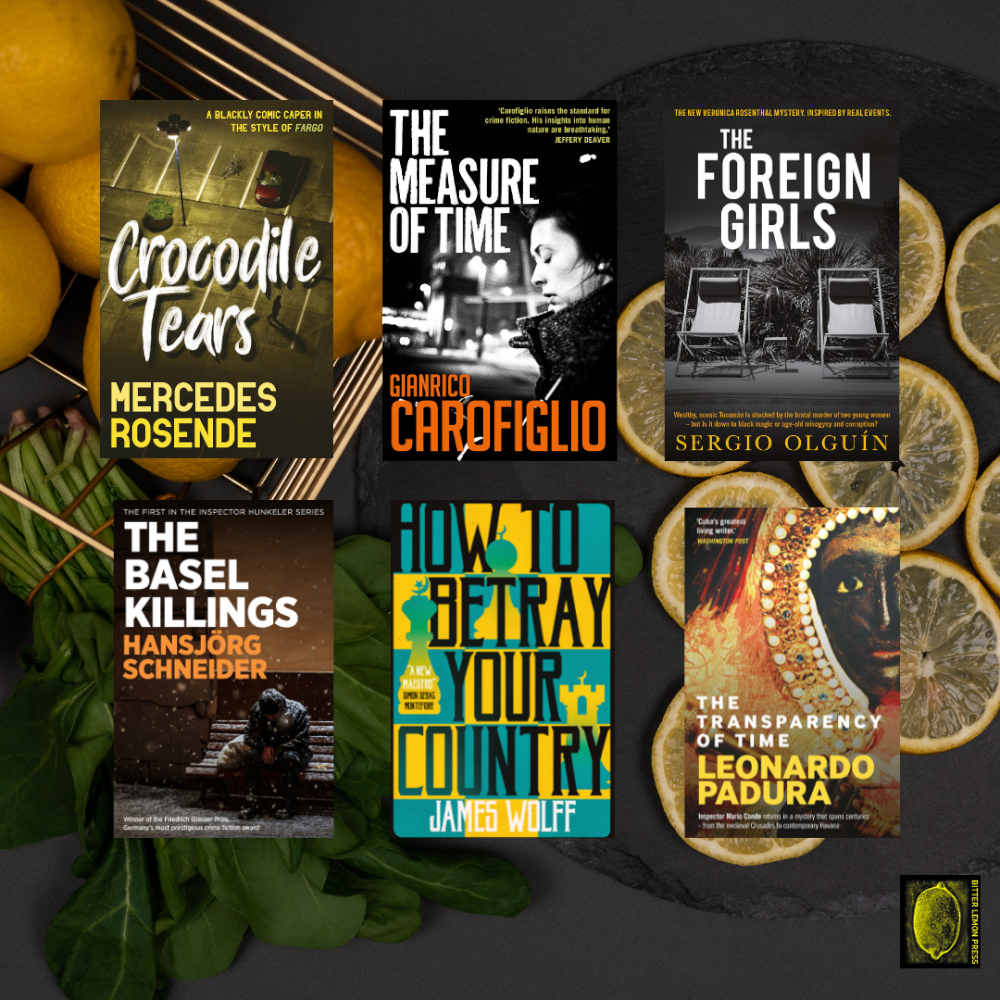 We are teaming up with translated crime fiction aficionados Bitter Lemon Press to offer a brilliant book giveaway! This book bundle will include a copy of all six 2021 releases. The titles up for grabs are: Crocodile Tears by Mercedes Rosende The Measure of Time by Gianrico Carofiglio How To Betray Your Country by James Wolff The Basel Killings by Hansjo?rg Schneider The Transparency of Time by Leonardo Padura The Foreign Girls by Sergio Olguín This draw is open only for UK residents currently in the UK and is free to enter, multiple entries from the same email address will only be counted once. The draw closes on 7th November 2021. Please ensure that the details you use to enter the competition will be correct at the time the competition ends. The winners will be notified as soon as possible.
What To Read After Tall Oaks
Chris Whitaker Press Reviews
'Set in a small California town with a high ratio of weirdos, this quirky debut from a former City of London trader entertains and intrigues' The Sunday Times Crime Club
'A perpetually fascinating read' Heat Magazine
'Manny is a brilliant mix of bravado and teenage angst. This character gives the novel an extra little sparkle which makes it worth seeking out' Reviews Revues
'A gripping debut about a secret ridden American town that is propelled into the national spotlight when a three year old goes missing' The Mail on Sunday
'The supporting cast includes Manny, a podgy, potty-mouthed teenager who wants to be a gangster and who swelters in his woollen three-piece suit and too-tight fedora as he tries to extort money from local shopkeepers, and Jerry, the mountainous, slow-witted manager of a local photo store. They are an absolute delight...highly original...the combination of verve, humour and pathos make it well worth a read' -- Laura Wilson, The Guardian
Other editions of this book
About Chris Whitaker
Chris Whitaker's debut novel, Tall Oaks, was published in 2016 by Bonnier Zaffre. It was a Guardian crime book of the month as well as featuring in Crime Time's top 100 books of 2016 and BuzzFeed's incredible summer reads. Chris's second novel, All The Wicked Girls, will be published in autumn 2017. Chris lives in Hertfordshire with his wife and two young sons.
More About Chris Whitaker