LoveReading Expert Review of Quicksand
April 2017 Debut of the Month.
Provocative and compelling, this mind and heart-breaking tale really shouldn't be missed. After a school shooting, 18 year old Maja is finally in court, will she be found innocent or guilty, is she willing offender or naive victim, just what is the truth? Translated from Swedish, this was a huge bestseller in its native country. The words hit with hammer hard intensity from the outset. Maja tells her own tale, from day one in the courtroom, through to events leading up to the shooting, her thoughts and emotions veered from her head, straight into mine. Malin Persson Giolito occasionally allows light and hope to flicker in from beyond the dark, aching intensity. This really is very clever writing indeed, I felt as though my thoughts and feelings were trapped behind a caged door, constantly testing and searching for a way out. 'Quicksand' is a challenging, stirring, absolutely cracking read. ~ Liz Robinson
Quicksand Synopsis
There could be two sides to Maja Norberg that shift silently like quicksand: the question is, which one do you believe? Is Maja a normal 18-year-old, the poster girl next door, popular and excelling at her schoolwork, caught in the middle of a terrible tragedy? Or, is she the most reviled teenager in the country? Either way, everyone knows her name. She has spent nine excruciating months in jail, awaiting trial for a mass murder that killed her boyfriend and her best friend, and now the time has come for her to enter the courtroom. What did she do? Or is it what she didn't do that brought her here? Is Maja a cold-blooded murderer or is she just a girl who has lost her way and, as a consequence, now lost the ones she loved?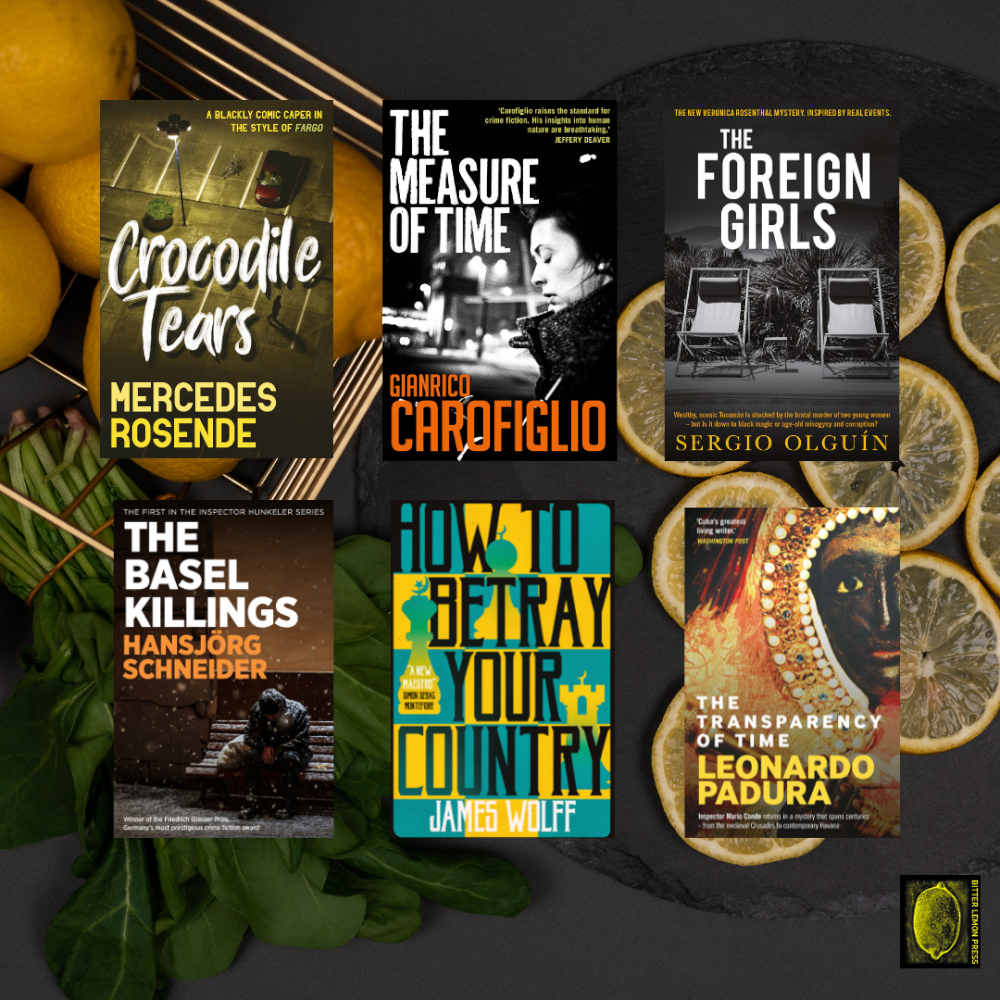 We are teaming up with translated crime fiction aficionados Bitter Lemon Press to offer a brilliant book giveaway! This book bundle will include a copy of all six 2021 releases. The titles up for grabs are: Crocodile Tears by Mercedes Rosende The Measure of Time by Gianrico Carofiglio How To Betray Your Country by James Wolff The Basel Killings by Hansjo?rg Schneider The Transparency of Time by Leonardo Padura The Foreign Girls by Sergio Olguín This draw is open only for UK residents currently in the UK and is free to enter, multiple entries from the same email address will only be counted once. The draw closes on 7th November 2021. Please ensure that the details you use to enter the competition will be correct at the time the competition ends. The winners will be notified as soon as possible.
What To Read After Quicksand
Quicksand Reader Reviews
In addition to our Lovereading expert opinion some of our Reader Review Panel were also lucky enough to read and review this title. You can click here to read the full reviews.
Victoria Emerson - 'I was thoroughly involved in the story from the first chapter and couldn't put it down.'
Phyl Smithson - 'Powerful stuff from a writer who surely ranks high along with the ever growing list of excellent Scandinavian authors.'
Jo-anne Atkinson - 'What should be a book of clichés turns out to be a gripping tale of disaffected youth and the different facets of being a teenager in Sweden...An exciting and satisfying novel that never lets up.'
Heather Byrne - 'An excellent, if unnerving read, this novel is fast paced and addictive.'
Emma Barton - 'This is a gripping story that will keep you guessing until the end, and thinking about it for a long time afterwards.'
Kerry Bridges - 'A compelling court room drama with a twist, great reading!'
Alison Bisping - 'A gripping story, very readable and enjoyable.'
Angie Rhodes - 'it had me gripped from the first page, and didn't let go until the last page was turned.'
Annie Day - 'The unfolding of the court case keeps you guessing to the end.'
Edel Waugh - 'This was a hard book to put down, so I didn't, and read it all in one go and loved it!'
Beth Winsor - 'A very intriguing premise, the opening was startling and I was gripped from the start.
Laura Gardner - 'A gripping read; one with an, undeniable, darkness and a truly remarkable insight in to the main character. I can't stop thinking about it since I put it down.'
Les Wood - 'Intriguing, you will be still scratching your head long after you have finished reading.'
Gill Wilmott - 'On the outside covers it reads "Maja Norberg - Demonised Victim ? (or) Cold - blooded Killer?" It takes the whole book to answer this, and what an outstanding book it is!'
Michelle McKernan - 'A gripping courtroom drama that unfolded at a great pace. I couldn't wait for the next chapter and the ending was full of suspense. I would definitely recommend this.'
Nicola Kingswell - 'This is a fantastic novel. I absolutely loved every word of it...A very clever story, executed beautifully. I cannot wait to read more by this author.'
Malin Persson Giolito Press Reviews
'Subliminal story, masterfully told.'
Hakan Nesser on Quicksand

'It's awesome! The only credible Swedish courtroom drama I've ever read.'
Jens Lapidus on Quicksand
Other editions of this book
About Malin Persson Giolito
Malin Persson Giolito was born in Stockholm in 1969 and grew up in Djursholm, Sweden. She holds a master in Swedish law from the University of Uppsala and a master in EU law from the College of Europe in Bruges. She has also studied literature, art, French, criminology, and social science at the University of Stockholm and Université Catholique de l'Est in Anger, France. She is a lawyer by training, working in the private sector for Scandinavia's largest law firm for 10 years, before joining the European Commission in late 2007 as an official specializing in Competition law. ...
More About Malin Persson Giolito
More Books By Malin Persson Giolito
View All Books By Malin Persson Giolito