LoveReading Expert Review of The Rabbit Factor
Think you know what to expect from "Nordic Noir'? Then think again, because in the hands of Tuomainen in The Rabbit Factor, it's the funniest, darkest, most suspenseful and deliciously absurd read of the year.
It has been 15 years since award-winning Finnish copywriter Tuomainen launched his career as an author and in that time he has delighted readers and critics with 6 books that have seen him hailed by The Times as "the funniest writer in Europe," and "the King of Helsinki Noir" by the Finnish press.
It's hard to really capture and express just how brilliant this man's writing is, but imagine, if you will, Ian Rankin's gift for crime thrillers channelled through the skew-wiff comic genius of Christopher Brookmyre, or to put it another way, think of Carl Hiaasen in thermals, Mukluks and a big, down parka for, yes, he is that good.
To even think that there might be a tale to be told of a staid insurance actuary inheriting a problematic adventure park takes courage. To then be able to grip readers' imaginations for three hundred pages, to make them laugh so hard they soak the pages of the book by squirting tea from their nose and then make them weep so fiercely that the tears trickle down their thighs, takes huge talent.
But there is also nigh-on writing genius here as, woven into what is essentially a crime thriller, albeit a raucous, rip-roaring comic one, is a genuine sense of pathos, a real understanding and expression of human frailties, the random doubts and failures, that make The Rabbit Factor such a wonderfully engaging and enduringly humane read.
Be in no doubt, this is quality, top drawer, writing and storytelling of the sort that makes you feel good to be alive and oh-so-grateful to be literate.
The Rabbit Factor Synopsis
An insurance mathematician's carefully ordered life is turned on its head when he unexpectedly loses his job and inherits an adventure park ... with a whole host of problems. A quirky, tense and warmly funny thriller from award-winning Finnish author Antti Tuomainen.
Just one spreadsheet away from chaos...
What makes life perfect? Insurance mathematician Henri Koskinen knows the answer because he calculates everything down to the very last decimal.
And then, for the first time, Henri is faced with the incalculable. After suddenly losing his job, Henri inherits an adventure park from his brother - its peculiar employees and troubling financial problems included. The worst of the financial issues appear to originate from big loans taken from criminal quarters ... and some dangerous men are very keen to get their money back.
But what Henri really can't compute is love. In the adventure park, Henri crosses paths with Laura, an artist with a chequered past, and a joie de vivre and erratic lifestyle that bewilders him. As the criminals go to extreme lengths to collect their debts and as Henri's relationship with Laura deepens, he finds himself faced with situations and emotions that simply cannot be pinned down on his spreadsheets...
Warmly funny, rich with quirky characters and absurd situations, The Rabbit Factor is a triumph of a dark thriller, its tension matched only by its ability to make us rejoice in the beauty and random nature of life.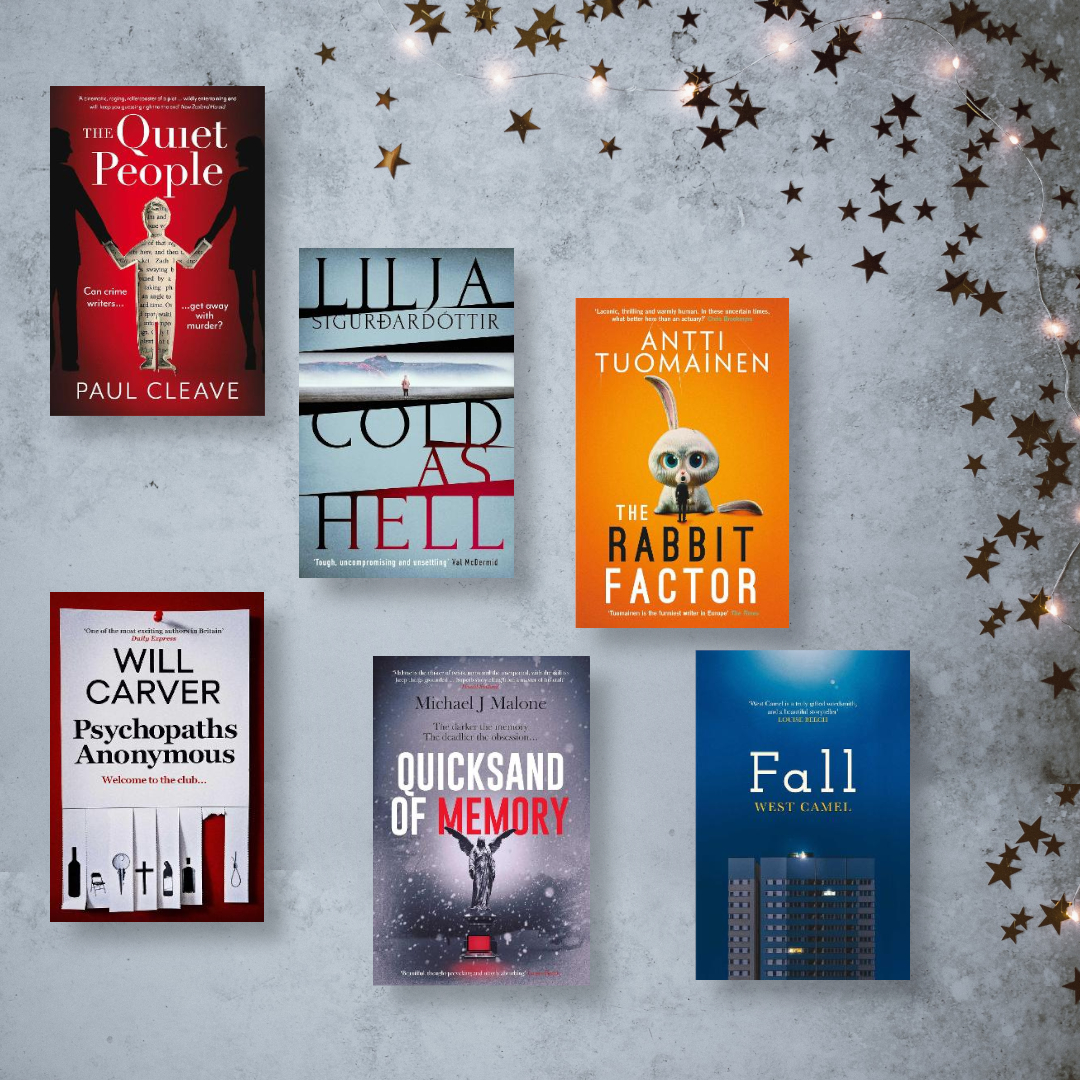 We're teaming up once again with Orenda to offer another brilliant book giveaway! This book bundle will include some of their latest releases from October to December. A fantastic opportunity to stock your bookshelves or give as a Christmas gift to your favourite bookworm. The titles up for grabs are: The Rabbit Factor by Antti Tuomainen - out in hardback on the 28th October Cold as Hell by Lilja Sigurdardottir - out in paperback 28th October The Quiet People by Paul Cleave - out in paperback on 25th November Psychopaths Anonymous,4 by Will Carver - out in paperback on 25th Noveber Fall by West Camel - out in paperback on 9th December Quicksand of Memory by Michael J Malone - out in paperback on 9th December This draw is open only for UK residents currently in the UK and is free to enter, multiple entries from the same email address will only be counted once. The draw closes on 12th December 2021. Please ensure that the details you use to enter the competition will be correct at the time the competition ends. The winners will be notified as soon as possible.
Like For Like Featured Books
Antti Tuomainen Press Reviews
'Antti Tuomainen turns the clichéd idea of dour, humourless Scandi noir upside down with The Rabbit Factor. Dark, gripping and hilarious … Tuomainen is the Carl Hiaasen of the fjords' Martyn Waites
'The Rabbit Factor is a triumph, a joyous, feel-good antidote to troubled times' Kevin Wignall
'Finland's greatest export' M.J. Arlidge
'You don't expect to laugh when you're reading about terrible crimes, but that's what you'll do when you pick up one of Tuomainen's decidedly quirky thrillers' New York Times
'Tuomainen is the funniest writer in Europe' The Times
'Right up there with the best' Times Literary Supplement
'Tuomainen continues to carve out his own niche in the chilly tundras of northern' Daily Express