LoveReading Expert Review of Black Rabbit Hall
One of our Books of the Year 2016.
July 2016 MEGA Debut of the Month.
Pencraw Hall, Cornwall, is a beautiful old house, the holiday retreat for the well-off Alton family of four children, twins and then a couple much younger, a hard-working father and a young, gregarious American mother, very liberal. Wonderful times are had at Pencraw in the late 60s. It is nicknamed Black Rabbit Hall due to the silhouette of numerous rabbits which actually lead to the tragedy that shatters the family. We follow them and in alternating sections, Lorna, thirty years later who is looking for a wedding venue and is inexplicably drawn to the now decaying house and its mysterious occupants. This is straight down the line pure country house, classic mystery, wonderful stuff. Suspenseful, haunting, startling and full of the unexpected. It's a family drama, beautifully written and highly recommended. You've got to read it.
Black Rabbit Hall Synopsis
One golden family. One fateful summer. Four lives changed forever. Amber Alton knows that the hours pass differently at Black Rabbit Hall, her London family's country estate where no two clocks read the same. Summers there are perfect, timeless. Not much ever happens. Until, one stormy evening in 1968, it does. The idyllic world of the four Alton children is shattered. Fiercely bonded by the tragic events, they grow up fast. But when a glamorous stranger arrives, these loyalties are tested. Forbidden passions simmer. And another catastrophe looms...Decades later, Lorna and her fiance wind their way through the countryside searching for a wedding venue. Lorna is drawn to a beautiful crumbling old house she hazily remembers from her childhood, feels a bond she does not understand. When she finds a disturbing message carved into an old oak tree by one of the Alton children, she begins to realise that Black Rabbit Hall's secret history is as dark and tangled as its woods, and that, much like her own past, it must be brought into the light. A thrilling spiral into the hearts of two women separated by decades but inescapably linked by Black Rabbit Hall. A story of forgotten childhood and broken dreams, secrets and heartache, and the strength of a family's love. Reviews: A stunning new writer has arrived - gripping and heart rending, this novel is full of original characters which don't let you forget them. (Katie Fforde). Black Rabbit Hall is a seductive wonder of a novel; with echoes of Daphne Du Maurier and Dodie Smith, it pulls you irresistibly into its world where nothing is quite as it first appears. (Elizabeth Fremantle). About the Author Eve Chase always wanted to write about families - ones that go wrong but somehow survive - and big old houses, where family secrets and untold stories seed in the crumbling stone walls. Black Rabbit Hall is such a story. Eve is married with three children and lives in Oxfordshire.
About This Edition
| | |
| --- | --- |
| ISBN: | 9781405919326 |
| Publication date: | 16th June 2016 |
| Author: | Eve Chase |
| Publisher: | Penguin Books Ltd |
| Format: | Paperback |
| Pagination: | 400 pages |
| Primary Genre | Crime and Mystery |
| Other Genres: | |
| Recommendations: | |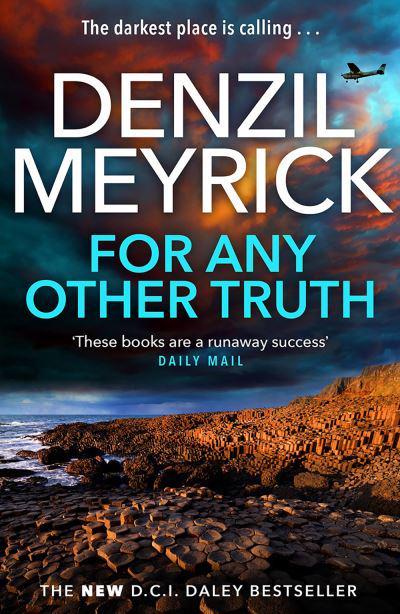 For Any Other Truth by Denzil Meyrick is "a twisty, intricate, and action-packed crime novel based in Scotland full of schemes, intrigue, and shenanigans." Liz Robinson, Expert Reviewer To celebrate the release of the ninth book in the 'DCI Daley series', we're working with Birlinn Ltd in order to give away a signed copy of For Any Other Truth. This draw is open only for UK residents currently in the UK and is free to enter, multiple entries from the same email address will only be counted once. The draw closes on 1st August 2021. Please ensure that the details you use to enter the competition will be correct at the time the competition ends. The winners will be notified as soon as possible.
Like For Like Featured Books
Black Rabbit Hall Reader Reviews
In addition to our Lovereading expert opinion some of our Reader Review Panel were also lucky enough to read and review this title. Click here to read the full reviews.
Victoria Whish - ' Eve Chase has certainly pulled a rabbit out of the hat with this dual time tale of family, tragedy and enduring love. It is truly affecting and beautifully written.'
Kate Thacker - 'I thoroughly enjoyed this and I wanted it to continue passed the end!!'
Sarah Webb - 'It's an engrossing mystery, ideal for any holiday times.'
Maxine Broadbent - 'An amazingly accomplished debut novel. This is the story of Amber and Lorna and their connection to Black Rabbit Hall, Amber's childhood home in Cornwall. Highly recommended.'
Emily Curnow - 'Eve Chase's writing is beautiful and lyrical. The novel is a pleasure to read from beginning to end.'
Barbara Goldie - 'Loss love and family ties, a well-crafted debut novel from Eve Chase.'
Angie Rhodes - 'A beautiful story, which will have the reader thinking of Daphne Du Maurier, a story which will haunt and stay with the reader for a long time.'
Cheryl Kinney - 'Brilliant book.'
Ann Peet - 'Captivating, atmospheric, beautifully written - excellent first novel.'
Richard Coe - 'If you like stories about big old houses, family secrets written in an easy to read style this is the book for you...you will experience a whole range of emotions during the read.'
Katie Hoare - 'An enjoyable read and the reader is enticed into the hall and the world of both women and into the unfolding mystery, leaving you to not want to put the book down.'
Michelle Mckernan - 'An exciting and page-turning read. I was desperate to read on, finding it hard to put down.'
Pauline Braisher - 'a lovely story and a real page-turner, so lock yourself away for a couple of days and enjoy.'
Nicola Laverty - 'Wow! I absolutely loved this book and am truly sad to have finished it.'
Alfred Nobile - 'This is a story of lies, deceit and eventually discovery and truth. Not normally my type of read but I loved it.'
Vanessa Wild - 'An absorbing, gripping and captivating debut which had me avidly turning the pages!'
Melanie Chadwick - 'Full of delightful detail which creates a huge sense of place, and plot twists befitting any good mystery.'
Kirsty McGowan - 'A well-crafted and alluring mystery - two stories running concurrently. A story about family and the ties that bind and break, love and the insecurities it brings.'
Nicola Kingswell - 'Old family houses, house old family secrets...A tale of love, loss, secrets and lies all within one family home in Cornwall. The characters were quirky and wholly believable.'
Kathryn Whitfield - 'I loved this story, beautifully written, I would give it 4 out of 5.'
Laura Lovelock - 'I cannot recommend this book enough. It was beautiful, heart-breaking and had the most perfect air of mystery to it.'
Sarah Harper - 'A well-composed and intricate mystery, this is a thoroughly enjoyable read which I can happily recommend.'
Jocelyn Garvey - 'Beautiful writing and believable characters, this is just a lovely book.'
Nikki Whitmore - 'A novel that stirs up a lot of emotion.'
Rachel Corlett - 'This is a feed good read which at times took me back to my childhood. It keeps you guessing until the very end.'
Val Rowe - 'A perfect holiday read! Wonderfully descriptive, I felt that I really did get into the skin of the characters and I did so enjoy the complexities of their developing relationships.'
Chloe Hill - 'I really loved this book. I adored the characters and got swept say in the story. 5/5 stars.'
Alisha Ball - 'This book is a very good read. I couldn't put it down! A captivating book with a heart breaking, exciting, enthralling storyline.'
Andrea Rayner - 'Black Rabbit Hall is a gripping and intriguing novel. The writing creates a strong sense of place and of the past as well as mystery and romance.'
Sarah Davis - 'Intriguing page turner - beautifully written.'
Emily Wright - 'Eve Chase is a talented storyteller. Her debut novel captivated me and the fairy tale quality of her writing is a joy to read.'
Josie Barton - 'Reminiscent of the style of Daphne du Maurier, Black Rabbit Hall's air of Gothic mystery invokes the long forgotten summer of 1969, when everything changed for the Alton family.'
Evelyn Barrett - 'Eve Chase certainly knows how to grab the attention of the reader.'
Edel Waugh - 'I really enjoyed this book and if you love books set around creepy houses that leave you feeling jumpy when reading them then this is the book for you.'
Tracey Poulter - 'It is beautifully written, with the mystery gently woven into the story whilst dealing with some difficult family issues...Thoroughly recommended.'
Christine Harris - 'I thoroughly enjoyed this story of mystery, romance and family ties, and often found myself reading it into the early hours.'
Kath Martin - 'An enjoyable bit of escapism.'
Val Brown - 'A lovely read, very atmospheric and full of suspense. Reminiscent of Daphne Du Maurier's novels.'
Gill Dally-Fitzsimons - 'Enthralling!!'
Eve Chase Press Reviews
'Black Rabbit Hall is a seductive wonder of a novel; with echoes of Daphne Du Maurier and Dodie Smith, it pulls you irresistibly into its world where nothing is quite as it first appears.' Elizabeth Fremantle
'Expertly crafted, dark, beautiful and utterly enthralling' Rowan Coleman
Other editions of this book
About Eve Chase
Eve Chase always wanted to write about families - ones that go wrong but somehow survive - and big old houses, where family secrets and untold stories seed in the crumbling stone walls. Black Rabbit Hall is such a story. Eve is married with three children and lives in Oxfordshire. Author photo © Philippa Gedge photography
More About Eve Chase