LoveReading Expert Review of The Serial Killer's Wife
A weaving twisting plot travels through resulting friendship and community reactions after allegations of murder.
A snaking twisting ride into the middle of a young family torn apart by allegations of murder. When the police knock on the door of Beth and Tom Hardcastle the resulting investigation means that life will never be the same again. The author previously worked for the NHS and on completing a psychology degree then worked in a men's prison facilitating rehabilitation programmes, she has also written thrillers under another name. While the title screams a high body count, the story weaves through the reactions of community and friendship as the allegation hits. The four narrators each have their own unique voice, with Beth and Tom speaking in the present, Katie in the past, while a further un-named narrator adds a decidedly chilling tone. These are characters who delight in provoking the reader, both in terms of decisions they make, and who they are. As I read my thoughts paused before moving down new paths as each voice and short chapter altered the plot in turn. The Serial Killer's Wife is a read you can throw yourself into and race through, while the plot corkscrews itself through to a highly entertaining end.
The Serial Killer's Wife Synopsis
Every marriage has its secrets...
Beth and Tom Hardcastle are the envy of their neighbourhood - they have the perfect marriage, the perfect house, the perfect family.
When the police knock on their door one evening, Beth panics. Tom should be back from work by now - what if he's crashed his car? She fears the worst.
But the worst is beyond imagining. As the interrogation begins, Beth will find herself questioning everything she believed about her husband.
They're saying he's a monster. And they're saying she knew.
About This Edition
| | |
| --- | --- |
| ISBN: | 9780008414085 |
| Publication date: | 27th May 2021 |
| Author: | Alice Hunter |
| Publisher: | AVON, a division of HarperCollins Publishers Ltd an imprint of HarperCollins Publishers |
| Format: | Ebook |
| Primary Genre | Crime and Mystery |
| Other Genres: | |
| Recommendations: | |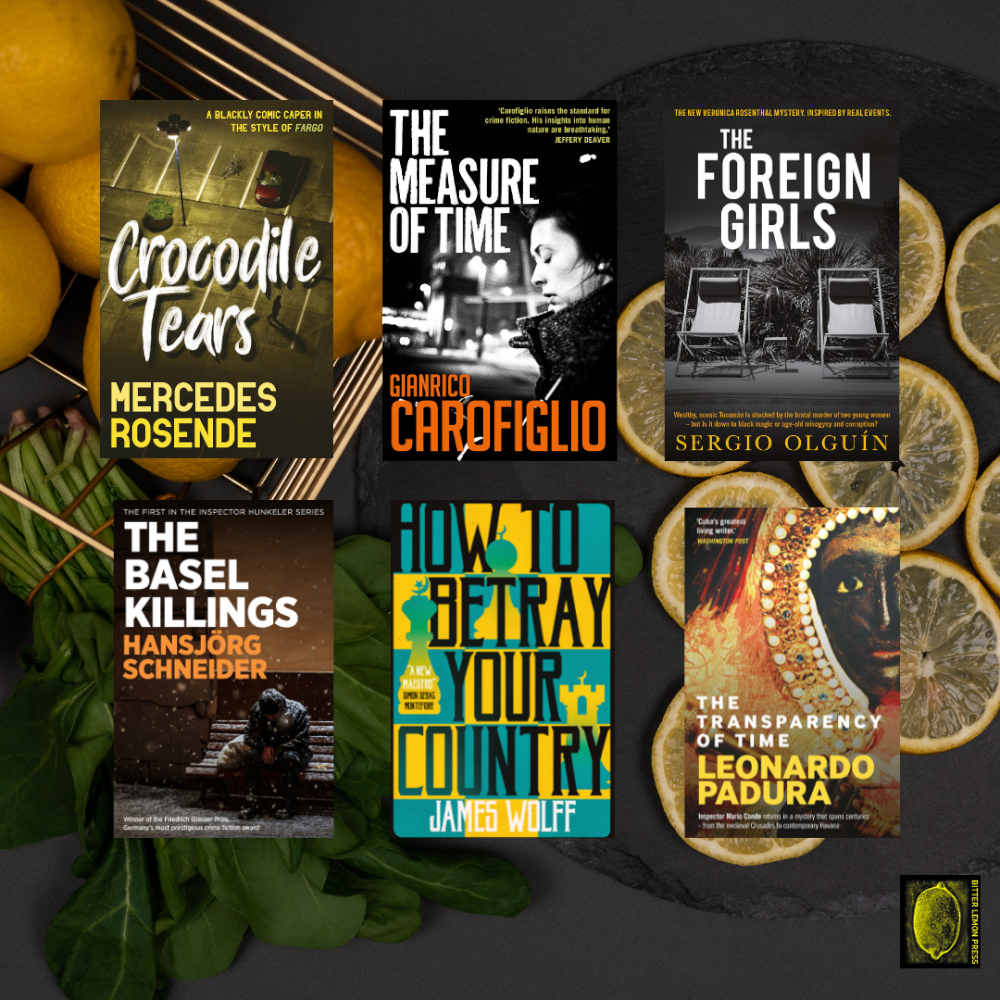 We are teaming up with translated crime fiction aficionados Bitter Lemon Press to offer a brilliant book giveaway! This book bundle will include a copy of all six 2021 releases. The titles up for grabs are: Crocodile Tears by Mercedes Rosende The Measure of Time by Gianrico Carofiglio How To Betray Your Country by James Wolff The Basel Killings by Hansjo?rg Schneider The Transparency of Time by Leonardo Padura The Foreign Girls by Sergio Olguín This draw is open only for UK residents currently in the UK and is free to enter, multiple entries from the same email address will only be counted once. The draw closes on 7th November 2021. Please ensure that the details you use to enter the competition will be correct at the time the competition ends. The winners will be notified as soon as possible.
Like For Like Featured Books
The Serial Killer's Wife Reader Reviews
In addition to our Lovereading expert opinion some of our Reader Review Panel were also lucky enough to read and review this title.
When you own a pottery café, you'd best be prepared for some breakages!
A twisty debut which kept me guessing! I loved the fact that a pottery café features, and enjoyed the sections of the novel set there, as I love going to my local pottery café. But even more enjoyable was the experience of delving into Beth and Tom as characters - they're portrayed realistically (as is small-town life), and that alone makes Alice Hunter one to watch for me.
A terrifically twisty tale! So utterly moreish!
So utterly moreish! This book kept me guessing all the way through, and little twists kept surprising me!
Beth's husband Tom is arrested in connection with the disappearance of an ex girlfriend. Beth knows he can't be involved, but as time goes on she discovers new things about Tom and she wonders whether she ever really knew him, and whether he knew her.
This was one of those books where you have to keep reading late into the night, wondering what will happen next, who to believe, how that happened. Great twists and turns all the way through. Absolutely fantastic!
The Serial Killer's Wife grabs you by the scruff of the neck from the very beginning and drops you in an exhausted heap at the end. This is one cracking read!
Tom and Beth have a perfect marriage, a gorgeous three-year-old daughter and an idyllic family life nestled in the village of Lower Tew, or so it seems. But when Tom is unexpectedly linked to the disappearance of a former girlfriend everything unravels. As the lies start to surface and the cracks begin to appear we find ourselves questioning how well we really know the ones we love and just how far we would go to protect them. After all everyone has secrets, don't they? It just depends how good you are at keeping them.
Seriously fast paced and yet in no way superficial, the short, punchy chapters of The Serial Killer's Wife hurtle through the story at breakneck speed. There is no time to be bored or lose interest, this book grabs you by the scruff of the neck from the very beginning and drops you in an exhausted heap at the end. You'll want to read it in a single sitting if you can and if you can't you'll find yourself desperately wanting to get back to it as soon as possible. The tension builds inexorably, the story unfolds piece by tiny piece, just enough to allow you to start questioning the characters motives and attempting to see beyond the lies but not enough for you to predict the outcome. I literally found myself exclaiming out loud on multiple occasions in the final few chapters which, to me, is a good indication of a completely engrossing and expertly crafted thriller. This is one cracking read!
Alice Hunter Press Reviews
'A one-sitting read that absolutely gripped me from the first page.' C S Green
'Smart, assured and wickedly twisty.' Jenny Blackhurst
'Top end crime fiction, beautifully written and totally mesmerising.' Amanda Robson
'A gripping story of secrets, manipulation and power in a quiet Cotswolds village. Terrific!' Mick Finlay
'A novel that I was immediately sucked into ... Alice Hunter cleverly kept me on my toes as I was desperately trying to work it out.' Joy Kluver
'Scarily believable - what does go on behind closed doors? It's such a twisty, addictive read, and brilliantly written - highly recommended.' Elisabeth Carpenter
Other editions of this book
About Alice Hunter
After completing a psychology degree, Alice Hunter became an interventions facilitator in a prison. There, she was part of a team offering rehabilitation programmes to men serving sentences for a wide range of offences, often working with prisoners who'd committed serious violent crimes. Previously, Alice had been a nurse, working in the NHS. She now puts her experiences to good use in fiction. THE SERIAL KILLER'S WIFE draws heavily on her knowledge of psychology and the criminal mind.
More About Alice Hunter
More Books By Alice Hunter
View All Books By Alice Hunter