LoveReading Expert Review of Harvest
A beautifully written and unexpectedly thrilling novel
Winner of the Impac Prize 2015.
A beautifully written and unexpectedly thrilling novel, this book defies categorisation and almost reinvents itself from one chapter to the next. Dark, unsettling, intriguing and exciting it is that rare thing, a hugely enjoyable and readable book which will have you thinking about it and its themes for weeks to come. - Sarah Broadhurst
Shortlisted for the Man Booker Prize 2013.
Harvest, by Jim Crace, was my own 'novel of the year' pick when it came out. It was shortlisted for the Man Booker Prize in 2013, and it won the IMPAC Dublin Award, so I am obviously not alone in admiring it so much. Harvest is set in a village called simply The Village. No precise historical time period or geographical location are offered. We are … somewhere and somewhen in England, apparently the 17th century. We share in the villagers' general ignorance about the wider world. And that ignorance, the vulnerability of it, becomes central to the story — which is about a period when land owners came to realize that there was more money and less uncertainty in sheep than in tenants and farming, with all the obvious implications for the farmers. The writing is exquisite, and though the story is dark it is not without redemption, and there is so much illumination and reward for a reader here. It's a lament for a lost way of life, but also an alert as to the inevitability, and the consequences, of change. A brilliant novel.
Harvest Synopsis
Shortlisted for the Man Booker Prize 2013.
As late summer steals in and the final pearls of barley are gleaned, a village comes under threat. A trio of outsiders -- two men and a dangerously magnetic woman -- arrives on the woodland borders and puts up a make-shift camp. That same night, the local manor house is set on fire. Over the course of seven days, Walter Thirsk sees his hamlet unmade: the harvest blackened by smoke and fear, the new arrivals cruelly punished, and his neighbours held captive on suspicion of witchcraft. But something even darker is at the heart of his story, and he will be the only man left to tell it ...
About This Edition
| | |
| --- | --- |
| ISBN: | 9780330445672 |
| Publication date: | 13th February 2014 |
| Author: | Jim Crace |
| Publisher: | Picador an imprint of Pan Macmillan |
| Format: | Paperback |
| Pagination: | 304 pages |
| Primary Genre | Modern and Contemporary Fiction |
| Other Genres: | |
| Recommendations: | |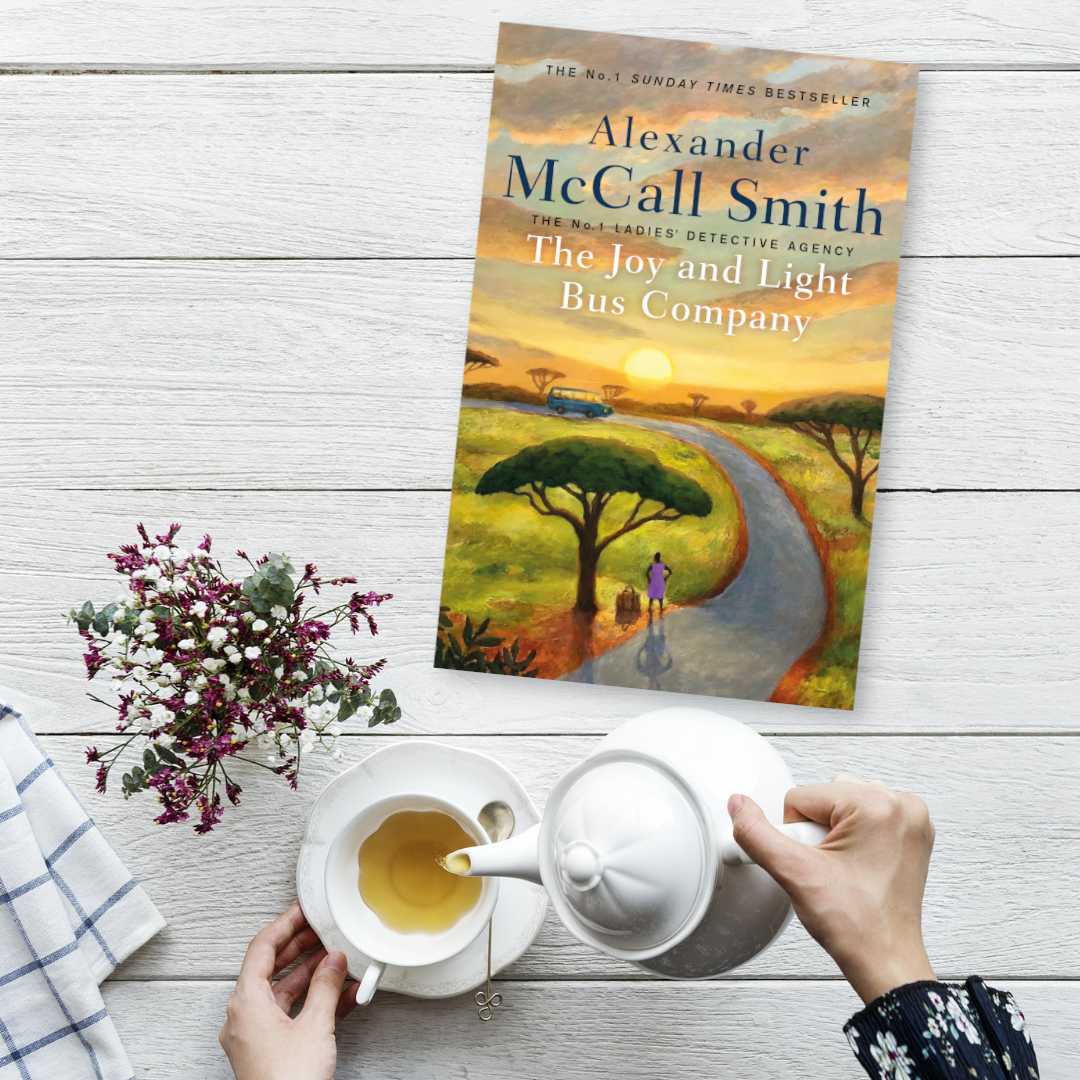 The latest instalment of the No.1 Ladies' Detective Agency sees Mma Ramotswe return to take on a mystery much trickier than it initially appears. To celebrate the release of The Joy and Light Bus Company by Alexander McCall Smith, we are working with Little, Brown Book Group in order to offer you a chance to win a hardback copy of the book and a Fortnum's Tea Basket. This draw is open only for UK residents currently in the UK and is free to enter, multiple entries from the same email address will only be counted once. The draw closes on 10th October 2021. Please ensure that the details you use to enter the competition will be correct at the time the competition ends. The winners will be notified as soon as possible.
What To Read After Harvest
Jim Crace Press Reviews
'Unfolding in Crace's trademark rhythmic prose and brimming with unsentimental but intense feeling for the natural landscape, this lingering novel is as resonant as it is elusive.'
Daily Mail

'Jim Crace is the most generous of writers. A fabulist, an open heart, an imagination in full flight. There is something of a harvest in every book: the promise, the violence, the fall, the regain. And Harvest is one of his best novels ever. He is, quite simply, one of the great writers of our time.'
Colum McCann, author of Let the Great World Spin

'Harvest, his latest novel, dramatises one of the great under-told narratives of English history ... Crace brings his signature combination of atmosphere and exactitude to every aspect of this far-off world ... the prose is extraordinary: rich yet measured, estranged and familiar, both intimate and austere ... Harvest can be read in mythical, even biblical terms, but the physical and emotional displacement of individuals and communities at its heart remains as politically resonant today as it was at the time.'
Guardian

'Crace's prose - percussive, rhythmic, resonant - is unmistakable.'
Independent on Sunday

'The rhythmic power of his prose, with its vivid physical imagery, brings his stories to life ... Crace is brilliant at evoking atmosphere, mood and an all-persuasive sense of place ... Harvest has been announced by Crace as his final novel. If so ... it is majestic leavetaking, honed by an unforgettable narrative voice: resigned, bewildered, ultimately hopeful ... Few novels as fine or as complex in their apparent simplicity will be published this, or indeed any, year.'
Irish Times

'Harvest is Jim Crace's most ambitious novel since Being Dead (1999) ... Crace's stunning depiction of country life in all its hardship - less Tolstoy, more Hardy, but bleak-pastoral rather than idyllic-bucolic ... Harvest is a mesmerising slow-burner of a novel, both a paean to a lost way of life and a timeless cautionary fable... We gladly accompany Thirsk on his eventful seven-day journey of discovery, always aware of that one portentous word which slyly reappears as a leitmotif, signifying a better future beyond the village boundary, a word in which Jim Crace cleverly compounds his perennial twin concerns of place and time: hereafter.'
Literary Review

'The best of his that I've read ... Full of the most wonderful descriptions ... Very readable and very scary ... A tour de force'
Gillian Slovo, Saturday Review on BBC Radio 4

'Crace evoked this musty, murky world, and the ambiguous persona of our protagonist within it, with wit and immediacy that bring it touchably close ... The story that he constructs is involving and mysterious, stoked by vividly descriptive prose that's never wastefully or showily verbose.'
Scotland on Sunday
Other editions of this book
About Jim Crace
Novelist Jim Crace has won numerous prizes for his writing including the Whitbread First Novel Award, the Guardian Fiction Prize and the David Higham Prize for Fiction. He was awarded the E. M. Forster Award by the American Academy of Arts and Letters in 1992 and became a Fellow of the Royal Society of Literature in 1999.
More About Jim Crace