LoveReading Expert Review of Take Your Breath Away
Second chances are threatened in this edgy and entertaining thriller as it corkscrews through lives six years after a woman disappears.
Fiendishly full of twists and turns this is one heck of a thrilling domestic mystery. Andy has finally moved on after his wife disappeared in suspicious circumstances, having been number one suspect he has hidden his past, however it refuses to remain concealed. I always look forward to a new Linwood Barclay novel, he has the ability to send chills coursing through your veins, while encouraging thoughts to rummage in dark recesses. I always have confidence in the writing and throw myself in with abandon, giving myself up to the new world I'm about to enter. The characters here are intriguingly complicated and various viewpoints hit thoughts and sending them spinning. My suspicions levels spiralled and worked overtime, I didn't trust anyone and my wariness conspired against me. While the main storyline runs, various subplots dig in alongside and ensure you never settle. Highlighting the secrets and lies that can rip apart second chances, Take Your Breath Away is an absolute blast of a read.
Take Your Breath Away Synopsis
The breathtaking new crime thriller from the international bestselling author of Elevator Pitch and Find You First... AVAILABLE TO PRE-ORDER NOW!
It's always the husband, isn't it?
One weekend, while Andrew Mason was on a fishing trip, his wife, Brie, vanished without a trace. Most people assumed Andy had got away with murder, but the police couldn't build a strong case against him. For a while, Andy hit rock bottom - he drank too much, was abandoned by his friends, nearly lost his business, and became a pariah in the place he had once called home.
Now, six years later, Andy has put his life back together. He's sold the house he shared with Brie and moved away for a fresh start. When he hears his old house has been bulldozed and a new house built in its place, he's not bothered. He's settled with a new partner, Jayne, and life is good.
But Andy's peaceful world is about to shatter. One day, a woman shows up at his old address, screaming, 'Where's my house? What's happened to my house?' And then, just as suddenly as she appeared, the woman - who bears a striking resemblance to Brie - is gone. The police are notified and old questions - and dark suspicions - resurface.
Could Brie really be alive after all these years? If so, where has she been? It soon becomes clear that Andy's future, and the lives of those closest to him, depends on discovering what the hell is going on. The trick will be whether he can stay alive long enough to unearth the answers...
About This Edition
| | |
| --- | --- |
| ISBN: | 9780008332099 |
| Publication date: | 3rd February 2022 |
| Author: | Linwood Barclay |
| Publisher: | HQ an imprint of HarperCollins Publishers |
| Format: | Hardback |
| Pagination: | 464 pages |
| Collections: | |
| Primary Genre | Thriller and Suspense |
| Other Genres: | |
| Recommendations: | |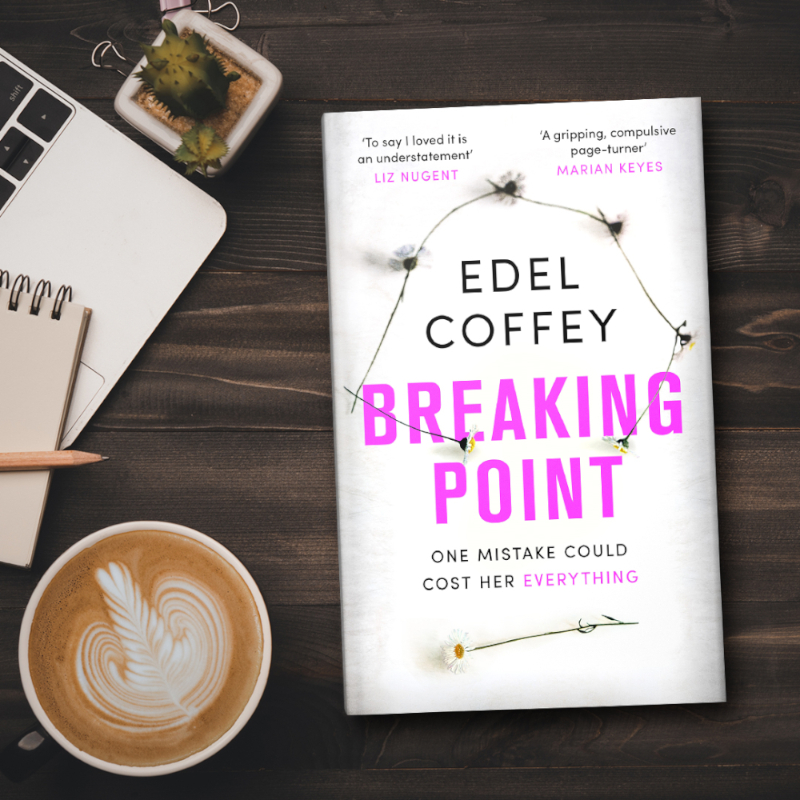 Win a copy of the "chilling, emotional thriller" Breaking Point by Edel Coffey as well as a £50 Costa Coffee voucher in our new giveaway. We're also offering copies of the book to five runners up. "an absolute page-turner all with the compelling, "can't-look-away-for-a-moment" power of a primetime TV thriller." Joanne Owen, Expert Reviewer This draw is open only for UK residents currently in the UK and is free to enter, multiple entries from the same email address will only be counted once. The draw closes on 20th February 2022. Please ensure that the details you use to enter the competition will be correct at the time the competition ends. The winners will be notified as soon as possible.
What To Read After Take Your Breath Away
Linwood Barclay Press Reviews
PRAISE FOR LINWOOD BARCLAY:
'A superior thriller' SUNDAY TIMES
'The twists keep coming' THE TIMES
'Find You First starts with a bang and ends with an even bigger one. Barclay is a terrific writer, but he's outdone himself with this. It's the best book of his career. I couldn't put it down, and you won't be able to either. If you enjoy thrillers, this is the real deal. It never lets up' STEPHEN KING
'A full-throttle powerhouse of a thriller - Linwood Barclay is in a class of his own' T.M. LOGAN
'Genius ... but terrifying' THE SUN
'This novel moves as fast as a falling elevator and hits with just as much force. Linwood Barclay is a stone cold pro and Elevator Pitch is a shameless good time' JOE HILL
'A great cast of characters,tension, humour and a thrilling ending; this book takes Linwood to new heights!' MARK EDWARDS
'A fast-moving, high-concept thriller from the talented Barclay ... a rip-roaring rollercoaster of a ride' DAILY MAIL
'Linwood Barclay's thrillers move at breakneck speed ... pacy, exciting' WOMAN & HOME
'Linwood Barclay presses all the right buttons' MICHAEL ROBOTHAM
'One of the finest thriller writers in the world at the very top of his game' MARK BILLINGHAM
'A relentlessly tense thriller ... there's plenty of the sardonic humour that came to the fore in Mr Barclay's previous novel Elevator Pitch ... the comedy enhances the edgy atmosphere' THE TIMES CRIME CLUB
'Another gripping thriller from bestselling master of tension Linwood Barclay' HELLO!