LoveReading Expert Review of The Long, Long Afternoon
A breath-taking, chromium-shiny, tale of how dark the sunniest places can be and how very desperate things can get in a cracking slice of dark Americana
Well, a debut doesn't come more well-honed than Inga Vesper's absolutely cracking slice of dark Americana, The Long, Long Afternoon, which is set in the summer of 1959 and encompasses a gripping mystery with an excoriating vision of the ways in which women everywhere are under-estimated, silenced and diminished.
Beautifully written with scenes and characters that take you right back to a time of mail-order catalogues, mother's 'little helper' and the appalling casualness of race and gender inequality, Inga has created a breath-taking, chromium-shiny, tale of how dark the sunniest places can be and how very desperate things can get.
The LoveReading LitFest invited Inga to the festival to talk about The Long, Long Afternoon.
The digitally native, all year round, online literature and books festival, with new content released every week is a free-for-all-users festival.
What are you waiting for? Check out a preview of the event and sign up to become a member.
The Long, Long Afternoon Synopsis
A Stylist Best New Fiction of 2021 Selection, this stunning 1950s set debut mystery is a perfect summer read.
'A remarkably assured debut. A tale of inequality, broken dreams and quiet desperation behind a picture-perfect facade' Guardian
'A clever and absorbing debut by Inga Vesper, who bricks Joyce up in her perfect house, then smashes it to pieces with aplomb' The Times
Yesterday, I kissed my husband for the last time . . . It's the summer of 1959, and the well-trimmed lawns of Sunnylakes, California, wilt under the sun. At some point during the long, long afternoon, Joyce Haney, wife, mother, vanishes from her home, leaving behind two terrified children and a bloodstain on the kitchen floor. While the Haney's neighbours get busy organising search parties, it is Ruby Wright, the family's 'help', who may hold the key to this unsettling mystery. Ruby knows more about the secrets behind Sunnylakes' starched curtains than anyone, and it isn't long before the detective in charge of the case wants her help. But what might it cost her to get involved? In these long hot summer afternoons, simmering with lies, mistrust and prejudice, it could only take one spark for this whole 'perfect' world to set alight . . .
A beguiling, deeply atmospheric debut novel from the cracked heart of the American Dream, The Long, Long Afternoon is at once a page-turning mystery and an intoxicating vision of the ways in which women everywhere are diminished, silenced and ultimately under-estimated. Everyone is talking about The Long, Long Afternoon
'Beguiling and evocative. This vivid and atmospheric pageturner will keep readers guessing all the way to its satisfying finale' Sunday Express
'Beautifully crafted, claustrophobic and compelling. As delicious as a long drink on a hot day' Stacey Halls, Sunday Times bestselling author of The Familiars and The Foundling
'Such a vivid atmosphere of stifling LA heat and stifling 50s domesticity' Clare Chambers, author of Small Pleasures
'Breathtakingly stylish, hypnotic and masterfully gripping' Chris Whitaker, author of We Begin at the End, Waterstones Thriller of the Month
'A triumph. What a pleasure to read something fresh and original. For once the hype is justified and Inga Vesper's gripping page turner must surely now be bound for Netflix' Evening Standard
'A tasty, tense, page-turning combo of James Ellroy and Kate Atkinson with a bit of Mad Men thrown in' Liz Hyder
'For fans of Revolutionary Road and Mad Men, this is an atmospheric tale of repression and style at the heart of the American Dream' Stylist
About This Edition
| | |
| --- | --- |
| ISBN: | 9781838772284 |
| Publication date: | 19th August 2021 |
| Author: | Inga Vesper |
| Publisher: | Manilla Press an imprint of Bonnier Books Ltd |
| Format: | Paperback |
| Pagination: | 416 pages |
| Primary Genre | Historical Fiction |
| Other Genres: | |
| Recommendations: | |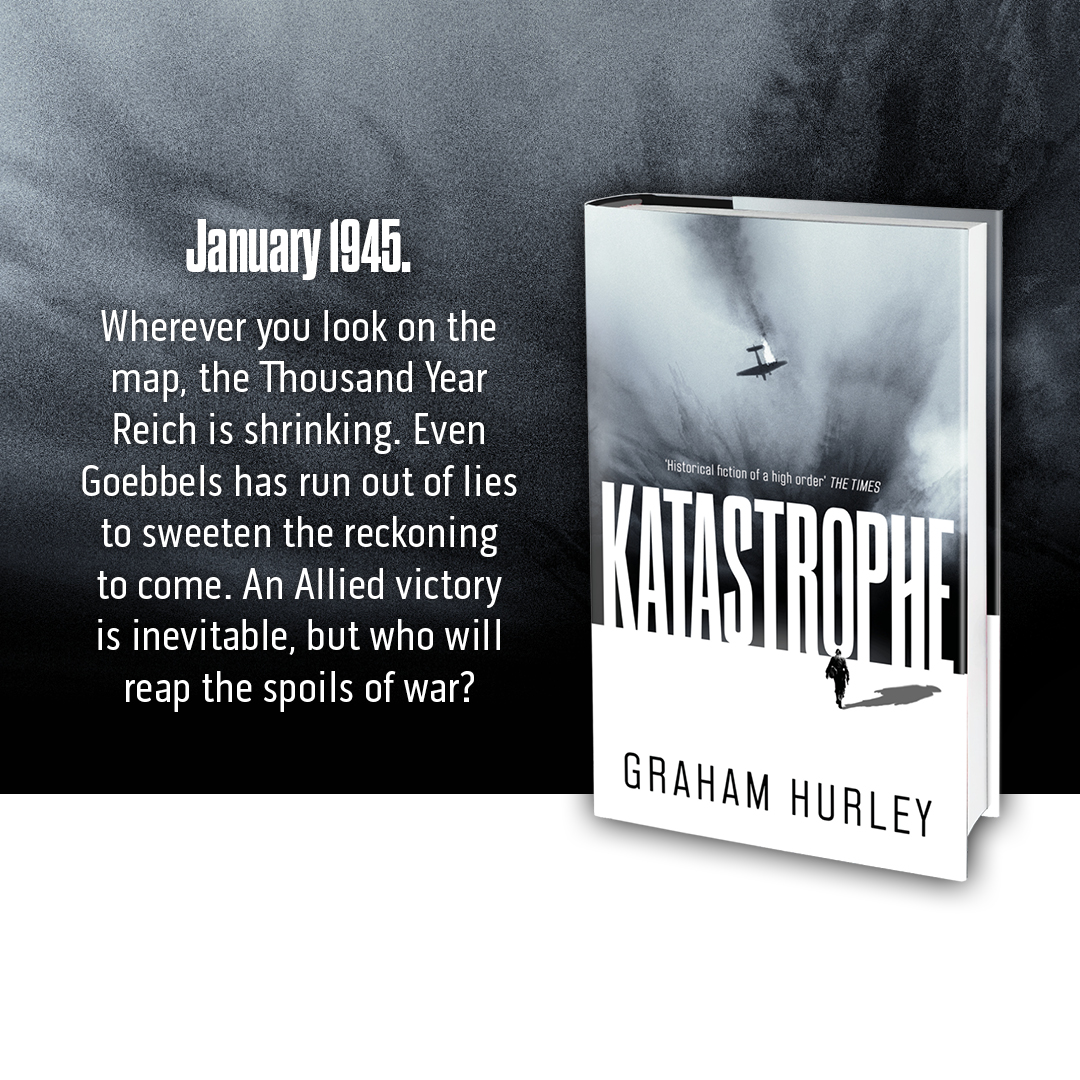 "A penetrating, compelling, and skilfully vivid slice of historical fiction set as the war-torn fight for survival and their future." Liz Robinson, Expert Reviewer Katastrophe by Graham Hurley is the latest book in the Spoils of War series and to celebrate it's release we're working with Head of Zeus to give away a copy of Katastrophe and all the previous books in the series: Kyiv, Last Flight to Stalingrad, Raid 42, Estocada, Aurore, and Finisterre. This draw is open only for UK residents currently in the UK and is free to enter, multiple entries from the same email address will only be counted once. The draw closes on 8th August 2022. Please ensure that the details you use to enter the competition will be correct at the time the competition ends. The winners will be notified as soon as possible.
What To Read After The Long, Long Afternoon
Inga Vesper Press Reviews
A beguiling and evocative debut novel which exposes the sexism and racism lurking beneath the smooth surface of the American Dream in the 1950s. This vivid and atmospheric pageturner will keep readers guessing all the way to its satisfying finale. It's a powerful novel that shows how far we've come and how far we still need to go in ending discrimination. - Sunday Express
With its fabulously kitsch technicolour setting and gripping storyline, this debut is a triumph. What a pleasure to read something fresh and original. Beyond the fabulously kitsch technicolour setting of the gleaming lawns, roadside motels, and purring silver Pontiacs, Inga Vesper has captured the flavour of the casual sexism and racism of the times with a perfectly-judged touch. It's no surprise to hear this was fought over by publishers at auction. For once the hype is justified and Inga Vesper's gripping page turner must surely now be bound for Netflix. - Evening Standard
A remarkably assured debut, The Long, Long Afternoon takes us into Stepford Wives territory: the California suburb of Sunnylakes in 1959, where housewives have to be tranquillised up to the eyeballs in order to bear the smallness and isolation imposed on them by the American dream. The racism is as systemic as the sexism: when Joyce Haney vanishes, leaving behind two young children and a bloodstained kitchen, the police promptly arrest her black maid, Ruby. Along with Detective Mick Blanke, recently arrived from New York and tasked with working out what happened, the two women take it in turns to narrate this tale of inequality, broken dreams and quiet desperation behind a picture-perfect facade. - Guardian
A clever and absorbing debut by Inga Vesper, who bricks Joyce up in her perfect house, then smashes it to pieces with aplomb. - The Times
Vesper mixes a gripping plot with pithy views on class, sex and race. - Sunday Times
For fans of Revolutionary Road and Mad Men, this is an atmospheric tale of repression and style at the heart of the American Dream as a wife and mother disappears from her home leaving nothing but a stain of blood. - Stylist
Beautifully crafted, claustrophobic and compelling, Inga Vesper's skilfully woven suburban noir is as delicious as a long drink on a hot day. - Stacey Halls, Sunday Times bestselling author of The Familiars and The Foundling
A kind of pulp noir version of The Stepford Wives with Vesper weaving in themes of women's empowerment, institutionalised racism and the redemptive power of art. With a few notable exceptions the classic hardboiled era was the province of white male authors; here Inga Vesper looks askance at the conventions, and reconfigures the template with a timely and refreshing debut. - Irish Times
Gripping . . . set in the steamy August of a time and place we can still recognise, its themes of nastiness, abuse and despair seem vividly relevant. A fine debut. - Sunday Sport
Such a vivid atmosphere of stifling LA heat and stifling 50s domesticity - the brittle facades of those suburban mansions with their manicured lawns and maddened housewives. A homage to hard-boiled American crime fiction, but told with a distinctive female sensibility. Lovely! - Clare Chambers, author of Small Pleasures
It's hard to express just how much I loved The Long, Long Afternoon. It's breathtakingly stylish, hypnotic and masterfully gripping. Inga paints the most beautiful portrait of 50s suburbia, yet each page scratches away at the sunny gloss to reveal the darkness beneath. Outstanding - Chris Whitaker, author of We Begin at the End