LoveReading View on All American Boys
Co-written by Brendan Kiely and the always-exceptional Jason Reynolds, All American Boys is an immensely powerful, timely novel about police brutality against young Black men. Shining a stark light on white privilege and the racism implicit in not speaking out, it's a punch-packing wake-up call for us all to stand up and plant ourselves on the right side of history.
Wrong place, wrong time, wrong colour. It all goes wrong for Black sixteen-year-old Rashad when a cop jumps to the unfounded conclusion that he's shoplifted a bag of chips. Rashad's arrest is brutal and the cop, Paul, leaves him with internal bleeding and broken bones. There were witnesses though, among them Quinn, a rising basketball star from Rashad's school who also happens to know Paul. In fact, Paul has been like a father to Quinn since his dad died on service in Afghanistan, which puts him in a tricky situation - speaking out against Paul would sever his friendship and support ties. But Quinn's decision to keep quiet unravels when footage of the incident is picked up by the media, with everyone in town taking a side.
As a powerful "Rashad is absent" school campaign gains momentum along with plans for a big protest march, Quinn realises that not speaking up is a form of racism, that as an "All-American" white boy he can walk away from anything. "Well, I was sick of it," he decides. "I was sick of being a dick". Aware that his dad had inspired Paul to become a cop to "make a difference in the world", Quinn resolves to be like his dad too, but not in the sense of being loyal to his country and family, which is how people always frame his father's heroism. Quinn means in the sense of standing up for what he believes in; being "someone who believed a better world was possible - someone who stood up for it."
Packed with plenty of moments that will make you melt and tear up (such as Rashad's relationship with the hospital shop volunteer, and the bonds between him and his buddies and big brother), this is a smart, incisive, rousing read for our times.
All American Boys Synopsis
A bag of chips. That's all sixteen-year-old Rashad is looking for. What he finds instead is a fist-happy cop, Paul, who mistakes Rashad for a shoplifter, mistakes Rashad's pleadings that he's stolen nothing for belligerence, mistakes Rashad's every flinch at every punch the cop throws as further resistance and refusal to STAY STILL as ordered.
But how can you stay still when someone is pounding your face into the pavement?
There were witnesses: Quinn - a varsity basketball player and Rashad's classmate who has been raised by Paul since his own father died in Afghanistan - and a video camera. Soon the beating is all over the news and Paul is getting threatened with accusations of prejudice and racial brutality. Quinn refuses to believe that the man who has basically been his saviour could possibly be guilty. But then Rashad is absent. And absent again. And again. And the basketball team - half of whom are Rashad's best friends - start to take sides. As does the school. And the town. Simmering tensions threaten to explode as Rashad and Quinn are forced to face decisions and consequences they had never considered before.
All American Boys Press Reviews
'This hard-edged, ripped-from-the-headlines book is more than a problem novel; it's a carefully plotted, psychologically acute, character-driven work of fiction that dramatizes an all-too-frequent occurrence. Police brutality and race relations in America are issues that demand debate and discussion, which his superb book powerfully enables.' Booklist, starred Review
'Timely and powerful, this novel promises to have an impact long after the pages stop turning.' School Library Journal, starred review
'...a deeply moving experience.' Kirkus
'The scenario that Reynolds and Kiely depict has become a recurrent feature of news reports, and a book that lets readers think it through outside of the roiling emotions of a real-life event is both welcome and necessary.' Publishers Weekly, starred review
If you loved this, you might like these...
All versions of this book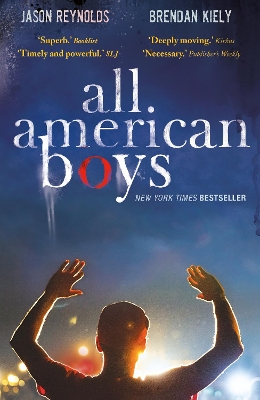 ISBN: 9780571366750
Publication date: 04/03/2021
Publisher: Faber & Faber
Format: Paperback
About Jason Reynolds, Brendan Kiely
Jason Reynolds is a #1 New York Times bestselling author, a Newbery Award Honoree, a Printz Award Honoree, a two-time National Book Award finalist, a Kirkus Award winner, a two-time Walter Dean Myers Award winner, an NAACP Image Award Winner and the recipient of multiple Coretta Scott King honors. Reynolds is also the 2020-2021 National Ambassador for Young People's Literature. His many books include When I Was the Greatest, The Boy in the Black Suit, All American Boys (cowritten with Brendan Kiely), As Brave as You, For Every One, the Track series (Ghost, Patina, Sunny, and Lu), Look Both Ways and ...
More About Jason Reynolds, Brendan Kiely