LoveReading Expert Review of A Song of Isolation
A sensitively handled yet powerful and provocative tale that explores secrets, lies, and greed after an allegation of child sex abuse.
A thoughtful, compelling, and provocative novel that may well challenge your understanding of the meaning of victim. When Amelie's boyfriend is arrested on child sex abuse charges, lives are thrown into chaos and confusion. This story concentrates on celebrity, secrets, and greed and covers several different time periods between 2010 and 2019. Michael J Malone's previous books range across genres, yet he has the ability as a writer to tackle difficult subjects with sensitivity while still ensuring an intense delivery. There were moments here where I truly flinched, yet he doesn't exploit, rather explores and exposes thoughts and feelings with care and consideration. He focuses on the impact allegations can have on everyone involved, not just the main parties. The title has made a real impression on me, and it sits as a perfect accompaniment to the story. The three main characters stand in vivid isolation, even when surrounded by other people and the writing reflects the difficulties faced. A Song of Isolation is a cracking read, that could encourage your thoughts to travel in unexpected directions.
A Song of Isolation Synopsis
Film star Amelie Hart is the darling of the silver screen, appearing on the front pages of every newspaper. But at the peak of her fame she throws it all away for a regular guy with an ordinary job. The gossip columns are aghast: what happened to the woman who turned heads wherever she went?
Any hope the furore will die down are crushed when Amelie's boyfriend Dave is arrested on charges of child sexual abuse. Dave strongly asserts his innocence, and when Amelie refuses to denounce him, the press witch hunt quickly turns into physical violence, and she has to flee the country.
While Dave is locked up with the most depraved men in the country and Amelie is hiding on the continent, Damaris, the victim at the centre of the story, is isolated - a child trying to make sense of an adult world.
Breathtakingly brutal, dark and immensely moving, A Song of Isolation looks beneath the magpie glimmer of celebrity to uncover a sinister world dominated by greed and lies, and the unfathomable destruction of innocent lives ... in an instant.
About This Edition
| | |
| --- | --- |
| ISBN: | 9781913193362 |
| Publication date: | 17th September 2020 |
| Author: | Michael J. Malone |
| Publisher: | Orenda Books |
| Format: | Paperback |
| Pagination: | 300 pages |
| Primary Genre | Crime and Mystery |
| Other Genres: | |
| Recommendations: | |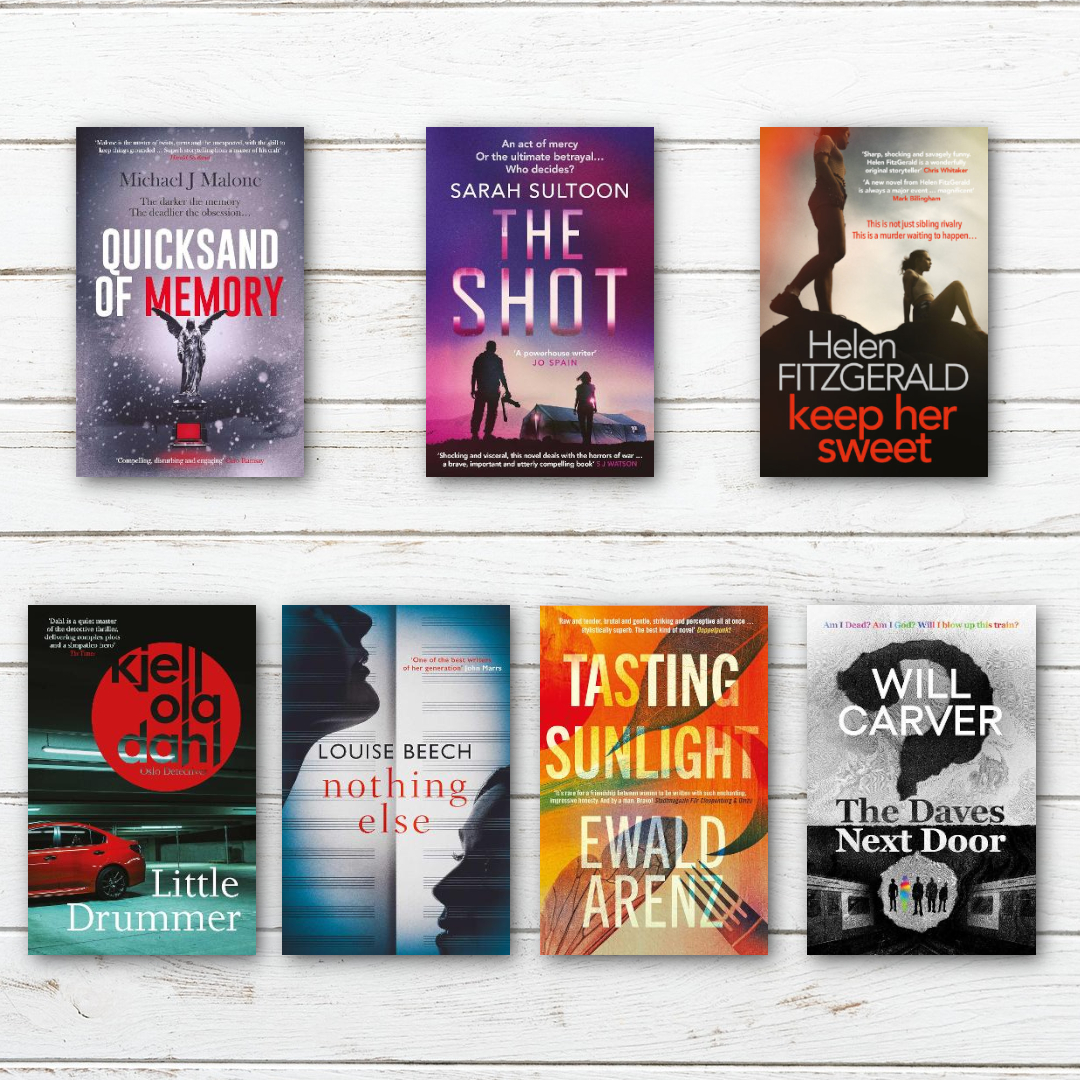 We're teaming up once again with Orenda to offer another brilliant book giveaway! This book bundle will include some of their latest releases from April to July. A perfect opportunity to stock up on some brilliant reads to enjoy this summer. The titles up for grabs are: Quicksand of Memory by Michael J. Malone - Published 14th April The Shot by Sarah Sultoon - Published 28th April Keep Her Sweet by Helen Fitzgerald - Published 26th May Little Drummer by Kjell Ola Dahl - Published 26th May Nothing Else by Louise Beech - Published 23rd June Tasting Sunlight by Ewald Arenz - Published 23rd June The Daves Next Door by Will Carver - Published 21st July This draw is open only for UK residents currently in the UK and is free to enter, multiple entries from the same email address will only be counted once. The draw closes on 31st July 2022. Please ensure that the details you use to enter the competition will be correct at the time the competition ends. The winners will be notified as soon as possible.
What To Read After A Song of Isolation
Michael J. Malone Press Reviews
Malone is the master of twists, turns and the unexpected, with the skill to keep things grounded . . . Superb storytelling from a master of his craft.
--Herald Scotland
Malone is a massive talent . . . get on board now so you can brag you were reading his books long before the rest of the world.
--Luca Veste, author, The Bone Keeper
In his previous work, A Suitable Lie, Michael J. Malone surprised readers with a series of punch-in-the-gut twists and he achieves this again here.
--Scotsman
A tense, immersive thriller that kept me guessing.
--Ian Rankin, author, In a House of Lies
A complex and multi-layered story--perfect for a wintry night.
--Sunday Express
A beautifully written tale, original, engrossing and scary . . . a dark joy.
--Times
Other editions of this book
About Michael J. Malone
Michael Malone is a prize-winning poet and author who was born and brought up in the heart of Burns' country, just a stone's throw from the great man's cottage in Ayr. Well, a stone thrown by a catapult. He has published over 200 poems in literary magazines throughout the UK, including New Writing Scotland, Poetry Scotland and Markings. His career as a poet has also included a (very) brief stint as the Poet-In-Residence for an adult gift shop. Blood Tears, his bestselling debut novel won the Pitlochry Prize (judge: Alex Gray) from the Scottish Association of Writers.Other published work includes: ...
More About Michael J. Malone