LoveReading Expert Review of The Court of Miracles
Suitable for both young adults and adults, this reimagined story containing some of the cast of Les Miserables is a wow of a read and a LoveReading Star Book.
Is there such a word as bookstruck? Because that is what I'm feeling right now, The Court of Miracles is a debut, the start of a trilogy, and a stonkingly good read. I believe both (older) young adults and adults will fall for this and I suggest just throwing yourself in and letting go. Find yourself in a reimagined Paris years after the French Revolution has failed with some of the cast of Les Miserables… this is what might have been. As well as cast members (with notable exceptions), there are little references to Les Mis to discover along the way which made me smile but please don't think of this as being a historical tale as you are opening up a whole new world. I think The Court of Miracles would work without already knowing Eponine, Cosette, Gavroche and friends, as some develop in a completely unexpected way and there are a whole host of new characters to meet. Eponine (Nina) the Black Cat narrates, and after her father sells her beloved sister, she becomes a thief in the criminal underworld of the Court of Miracles. She soon finds herself another sister Cosette (Ettie), but in order to protect, she must betray. Opening up the trilogy in the best possible way The Court of Miracles is an adventurous story stuffed full of revenge, courage, and love. While it felt like a wondrous tale in its own right, there is obviously still much to come. I adored it and this oh so readable novel sits as a Debut of the Month, LoveReading Star Book, and Liz Pick of the Month.
The Court of Miracles Synopsis
Les Miserables meets Six of Crows in this page-turning adventure as a young thief finds herself going head to head with leaders of Paris's criminal underground in the wake of a failed French Revolution.
Liberty
1828 and the citizens of Paris still mourn in the wake of their failed revolution. Among them, in the dark alleys and crumbling cathedrals of the city, the most wretched have gathered into guilds of thieves, assassins - and worse. Together they are known as The Court of Miracles.
Family
Eponine has lost more than most. When her father, Thenardier, sells her sister to the Guild of Flesh she makes a promise to do anything she can to get her sister back, even if that means joining the Court of Miracles, the very people keeping her sister a slave.
Treachery
Eponine becomes perhaps the greatest thief the Court has ever known, finding a place among them and gaining another sister, Cosette. But she has never forgotten the promise she made, and if she's to have any hope of saving one sister, she will have to betray the other.
This beautiful reimagining of Les Miserables tells the stories of your favourite characters and what might have happened if the French Revolution had not come to pass.
Like For Like Featured Books
Kester Grant Press Reviews
'[A] twisty, turny and fiercely told tale of revenge and redemption'
DAILY MAIL
'As Nina's quest ... takes her from the catacombs to the palace, from the company of beggars to revolutionaries to the Dauphin himself, the balance between fairy tale and realism is beautifully maintained. Beguiling, in an Angela Carter-like way'
SFX
'A dark, thrilling tale of what goes on in a fantastical Parisian underworld ... come for the world-building and Les Mis connections, stay for the heroine'
STARBURST
Other editions of this book
About Kester Grant
Kester Grant is a British-Mauritian writer of colour. She was born in London, grew up between the UK, Democratic Republic of Congo, and the tropical island paradise of Mauritius. As a wanton nomad she and her husband are unsure which country they currently reside in but they can generally be found surrounded by their fiendish pack of cats and dogs.
More About Kester Grant
More Books By Kester Grant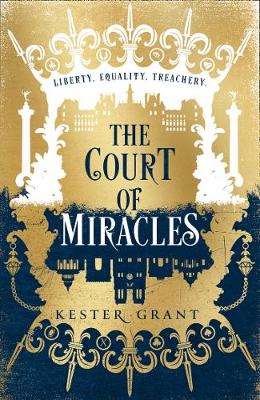 View All Books By Kester Grant