LoveReading Expert Review of The Chicken Soup Murder
A short, seemingly simple, yet complex and rather wonderful novel about a young boy coming to terms with life, death, and everything in-between. Eleven year old Michael believes that a murder has taken place, and he tells his own story. The first sentence sets the scene with dramatic intensity, and left me with the hint of raised eyebrows, the possibility of a smirk. The tale begins the day before the murder, and background information is gradually filled in, allowing the connection to Michael to grow, to be nurtured. Maria Donovan explores sorrow, confusion, anger, friendship and love, all from the viewpoint of an eleven year old, with such thoughtfulness and compassion. I loved getting to know Michael and his companions, he entered my heart, he made me smile, and occasionally wince. 'The Chicken Soup Murder' is a thought provoking, yet gentle heartfelt hug of a tale, and a very lovely read indeed.
Explore our '80+ Books That Deliver a Hug' listicle for more feel-good or uplifting books.
The Chicken Soup Murder Synopsis
Michael's happy early life in a small seaside town – a cosy world of cricket and football, experiences shared with his best friend Janey and her family – is disrupted by the arrival of a bully, and blasted by visitations from Death: the biggest bully of them all. Within Michael's own past are unanswered questions: why does he live with his grandmother? Are his parents really in prison? His magical creative thinking lands him in trouble: how reliable is his story and why is he the only one who thinks that a murder has been committed? What can he, a schoolboy about to turn twelve, do about it? Haunted by the injustice of a killing, he takes on the burden of trying to do the right thing: first helping the widowed mother of his best friend, and then seeking justice for a murdered woman, as he resorts to making trouble in order to get at the truth. As Michael struggles to help himself and the people he cares for to move on, he learns about the acceptance of the facts of natural death – whether unexpected or predictable, caused by illness or accident. He sees what happens to those left behind when a loved one dies and, above all, how to recognise and overcome the stumbling block formed by the deliberate taking of a life to those who are grieving.
About This Edition
| | |
| --- | --- |
| ISBN: | 9781781723982 |
| Publication date: | 25th September 2017 |
| Author: | Maria Donovan |
| Publisher: | Seren an imprint of Poetry Wales Press |
| Format: | Paperback |
| Pagination: | 288 pages |
| Collections: | |
| Primary Genre | Crime and Mystery |
| Other Genres: | |
| Recommendations: | |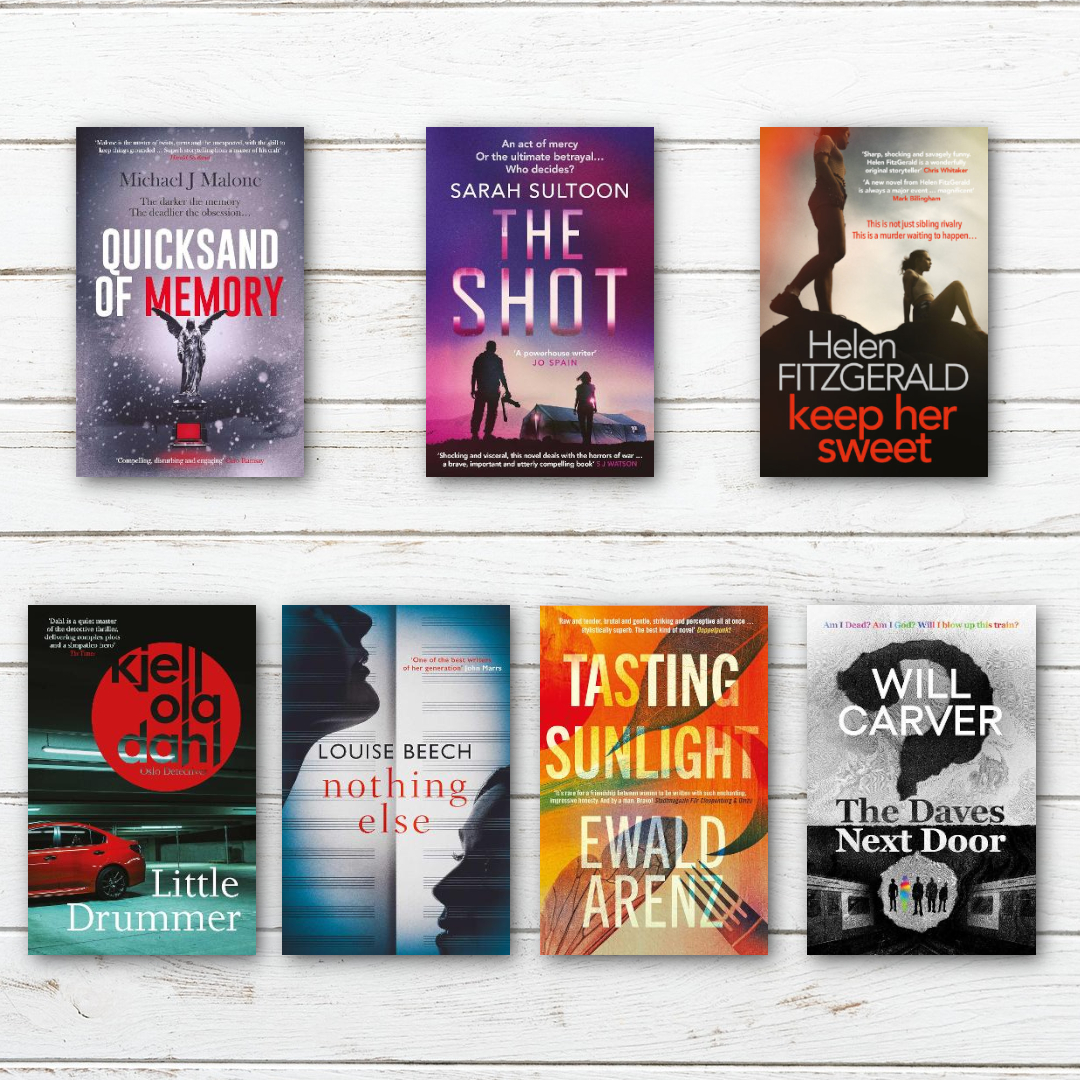 We're teaming up once again with Orenda to offer another brilliant book giveaway! This book bundle will include some of their latest releases from April to July. A perfect opportunity to stock up on some brilliant reads to enjoy this summer. The titles up for grabs are: Quicksand of Memory by Michael J. Malone - Published 14th April The Shot by Sarah Sultoon - Published 28th April Keep Her Sweet by Helen Fitzgerald - Published 26th May Little Drummer by Kjell Ola Dahl - Published 26th May Nothing Else by Louise Beech - Published 23rd June Tasting Sunlight by Ewald Arenz - Published 23rd June The Daves Next Door by Will Carver - Published 21st July This draw is open only for UK residents currently in the UK and is free to enter, multiple entries from the same email address will only be counted once. The draw closes on 31st July 2022. Please ensure that the details you use to enter the competition will be correct at the time the competition ends. The winners will be notified as soon as possible.
What To Read After The Chicken Soup Murder
Maria Donovan Press Reviews
'Handled with great sensitivity, this has great comedy, exciting developments and very moving moments, right through until the nicely worked solution to the mystery.' – Daily Mail
'A thoroughly original, startling, and very good novel indeed.' – Fay Weldon
'A beautifully written debut, with characters to fall in love with.' – Danny Wallace
'Fresh, suspenseful and tantalising.' – Christopher Meredith
'A lovely, warm-hearted novel about love and grief.' – Francesca Rhydderch
Other editions of this book
About Maria Donovan
Maria Donovan is a native of Dorset and has strong connections with Wales and Holland. Past career choices include training as a nurse in the Netherlands, busking with music and fire around Europe and nine years as a lecturer in Creative Writing at the University of Glamorgan. Mainly known for her short fiction, including Pumping Up Napoleon and other stories, Maria has now turned her attention to the novel. The Chicken Soup Murder is her debut and it was a finalist for the Dundee International Book Prize.
More About Maria Donovan
More Books By Maria Donovan
View All Books By Maria Donovan