We take great delight in introducing you to Alexander McCall Smith, author of many books beloved by the LoveReading team. There is something about his writing that eases into your awareness to spread warmth and good-feeling. He is also skilled in delivering marked observations that encourage thoughtful contemplation. We are currently recommending two of his latest novels in the No.1 Ladies' Detective Agency Series, To The Land of Long Lost Friends, and How to Raise an Elephant (which is the 21st in the series). Both are as charming, thoughtful and amusing as you would expect. His latest standalone Tiny Tales containing short stories and amuse-bouche cartoon strips is an absolute delight. Alexander McCall Smith is known for writing more than one book a year, sometimes four or five (goodness!), and here we have asked how he does that, and a little more about his writing and book thoughts. A warm welcome to Alexander:
You are well known for "breaking the rules of publishing" and writing up to five books a year. How do ideas come to you, and do they arrive well before or during the writing process?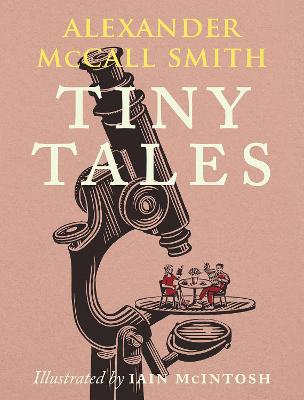 In fact it is SEVEN this year if you include one children's book – which does indeed break all the rules! Let's see if I can remember them all:
• The Talented Mr Varg – A Detective Varg novel
• The Geometry of Holding Hands – An Isabel Dalhousie novel
• Tiny Tales – Short Stories and Graphic Tales
• How to Raise an Elephant – A No.1 Ladies' Detective Agency novel
• Noah Wild and the Floating Zoo – A Children's book
• In a Time of Distance – My first poetry collection
• A Promise of Ankles – A Scotland Street novel.
I am fortunate. I write quickly and can write pretty much anywhere.
Do you have a favourite book cover? (Sorry, rather mean to ask!)
That is a very difficult one to answer. I was very involved with the design of the first books in The No.1 Ladies' Detective Agency series. The books were published by a small publishing-house in these days and in very low numbers. I found the images – some from rather beautiful old stamps – and played around with them on my old computer. They will always hold a special place for me.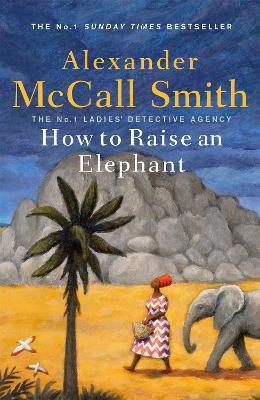 I have worked with the illustrator Iain McIntosh for many years and always like the covers that he comes up with for Scotland Street, for the American editions of many of the No.1 books and their editions of the Isabel Dalhousie novels. He also comes up with the cover illustrations for my School Ship Tobermory children's series.
A few months ago I met an artist at an exhibition in Edinburgh. Her name is Diane Rendle and I was so taken with her work that I recommended her to Little,Brown. Her work is now on the front cover of the latest book in The No.1 Ladies' Detective Agency series, How to Raise an Elephant and I am really delighted with it.
You have the gift of being able to write about small details which together build a beautifully vivid picture. Have you always picked up on the detail of life and why do you think it captures people's attention?
I suppose I'm a naturally curious person. I like nothing more than listening in to conversations in a coffee shop, or on a train. And yes, I do pick up on details. Sometimes I write them down in my notebook, sometimes they are stored in the subconscious mind.
Do you still keep a notebook?
I carry a notebook with me wherever I go. I like the little moleskin notebooks – the tiny ones - which slip into a pocket very easily.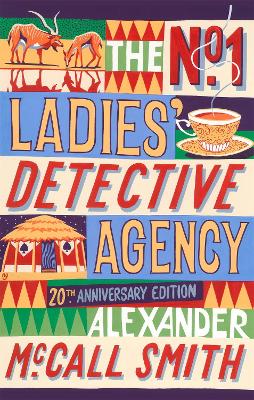 We love your No. 1 Ladies Detective Agency series. When you first started, did you ever think you'd still be writing about Mma Ramotswe 21 books later? Do you still visit Botswana, how has it changed since you first began the series?
I first wrote about Mma Ramotswe in a short story that I wrote for friends. And I so enjoyed our conversation that I carried on and it grew into the first novel. At the end of that first novel she was engaged and the publishers felt it was wrong to leave things like that. So I have the perfect excuse for a second, and a third…
I visit Botswana as often as I can. Usually once a year. I should have been there next month but of course we are all being very careful still and foreign travel is off the cards for me until 2021.
44 Scotland Street is another wonderful series. During your writing year do you write one book at a time in its entirety or have several on the go?
Thank you for that kind comment. I'm very fond of the characters in Scotland Street, especially little Bertie. Scotland Street runs in the pages of the Scotsman newspaper every weekday for three months of the year. It is running right now and I think it is the world's longest running serial novel. I write the episodes more or less as they appear and then they are collected into book form a few months later. Each book has its place in the calendar and usually they don't overlap – but Scotland Street is slightly different because of the serial nature. I tend to write Scotland Street at the same time as I am writing a book in The No.1 Ladies' Detective Agency series. Or the Ulf Varg series.
I would describe your books as gently thought-provoking and uplifting. When you first began to write how difficult was it to persuade your publishers that your novels didn't require more of a hardened edge?
The No.1 Ladies' Detective Agency took off across the world in the year of the September 11 attacks. People needed something uplifting. They needed to escape and I think my books offered them that.
In 2015 you won the Wodehouse prize for comic fiction with the delightful Fatty O'Leary's Dinner Party. Did you deliberately set out to write a comic tale? And the question that everyone wants to know is... what happens to the prize pig after the ceremony?
I have to admit that I don't really know! I hope it went back to live a happy life on a local farm. I certainly didn't receive any sausages. In addition to the pig, which was then named after one of my characters (in this case, 'Fatty'), I also received a very large bottle of champagne – a Jeroboam I think – and a complete collection of P.G. Wodehouse novels.
Another rather unfair question, do you prefer writing for children or adults, short stories or novels, standalone books or series?
I particularly enjoyed writing Tiny Tales this year. I worked with Iain McIntosh on 30 very small graphic tales which appeared in the Financial Times newspaper. They are now interspersed amongst short, short stories in the book. These were great fun to do and I am very pleased with them. But I also enjoy meeting up with my characters every year in the various series – The No.1 series, Isabel Dalhousie and Scotland Street.
And finally, you've been interviewed a fair few times, is there a question that you're surprised you haven't been asked yet?
I do enjoy the innocent questions that all writers are asked at children's events – a favourite is 'how much do you earn?' I'm not sure that there is any one question that has not been asked… but I'm sure someone will surprise me in the very next interview.
If you enjoyed this, check out our other 'Author Talk' blog posts.
If you're looking for more book series recomemendations, click here to check out our 'Fall in Love with a Book Series' Collection.