LoveReading Expert Review of The Bead Collector
This engrossing multi-layered masterwork explores personal and political identities in mid-seventies Lagos.
Witty, profound and illuminating, this will surely see its acclaimed author receive many more accolades. Our setting is Lagos, 1976, where a new military regime has been in power for six months. Amidst a politically tense atmosphere - a countercoup is anticipated – Nigerian greetings-card shop owner Remi meets Frances, an American bead collector. The two women strike up a friendship of sorts, sharing views on the likes of motherhood, politics, their cultural and personal differences. Remi's husband is deeply suspicious of Frances, and suspects she's a spy, a view Remi thinks is absurd until the bloody coup comes, and she worries she was wrong to trust Frances.
This immersive novel serves up many insights into Lagos life and politics, and Remi is a riveting narrator – an intelligent, intriguing woman who carries herself with composure and makes many shrewd observations about the world, from male power ("Perhaps that was why peace was unattainable. The inability of men to define what it meant to win or lose"), to the brutally simplistic approach of British colonialists ("Where were the considerations for intricacies like how our cultures and religions overlapped?"), and American self-preservation ("Everyone knew the United States picked and chose which countries to meddle with"). I came away feeling enlightened, and entertained by Remi's wit.
Head to our 'Black Lit Matters' list to find more must-read novels by black writers.
The Bead Collector Synopsis
Lagos, January 1976, six years after the Nigerian Civil War. A new military regime has been in power for six months, but rumors are spreading that a countercoup is imminent. At an art exhibition in the affluent Ikoyi neighborhood, Remi Lawal, a Nigerian woman who runs her own greeting-card shop, meets Frances Cooke, who introduces herself as an American art dealer, in Nigeria to buy rare beads. They become friends and over the next few weeks confide in each other about their aspirations, loyalties, marriage, motherhood-and Nigeria itself, as hospitable Remi welcomes the enigmatic Frances into her world. Remi's husband, Tunde, naturally suspects Frances-like any American in Lagos-of gathering intelligence for the CIA, yet she is unconvinced. Cynical about the country's unending instability, and alienated by the shallowness of the city's elite, she willingly shares her views with Frances. But the February 13 assassination of General Muhammed prompts Remi to reconsider one particular conversation with her new acquaintance in a different light. Her discouragement overcome by a reawakened sense of patriotism, she begins to doubt that the bead collector is who she claims to be. With her signature subtlety and wit, Sefi Atta examines a brief but profound friendship, and one Nigerian mother's yearning-amid legacies of conflict and uncertainty-to help build her country from home.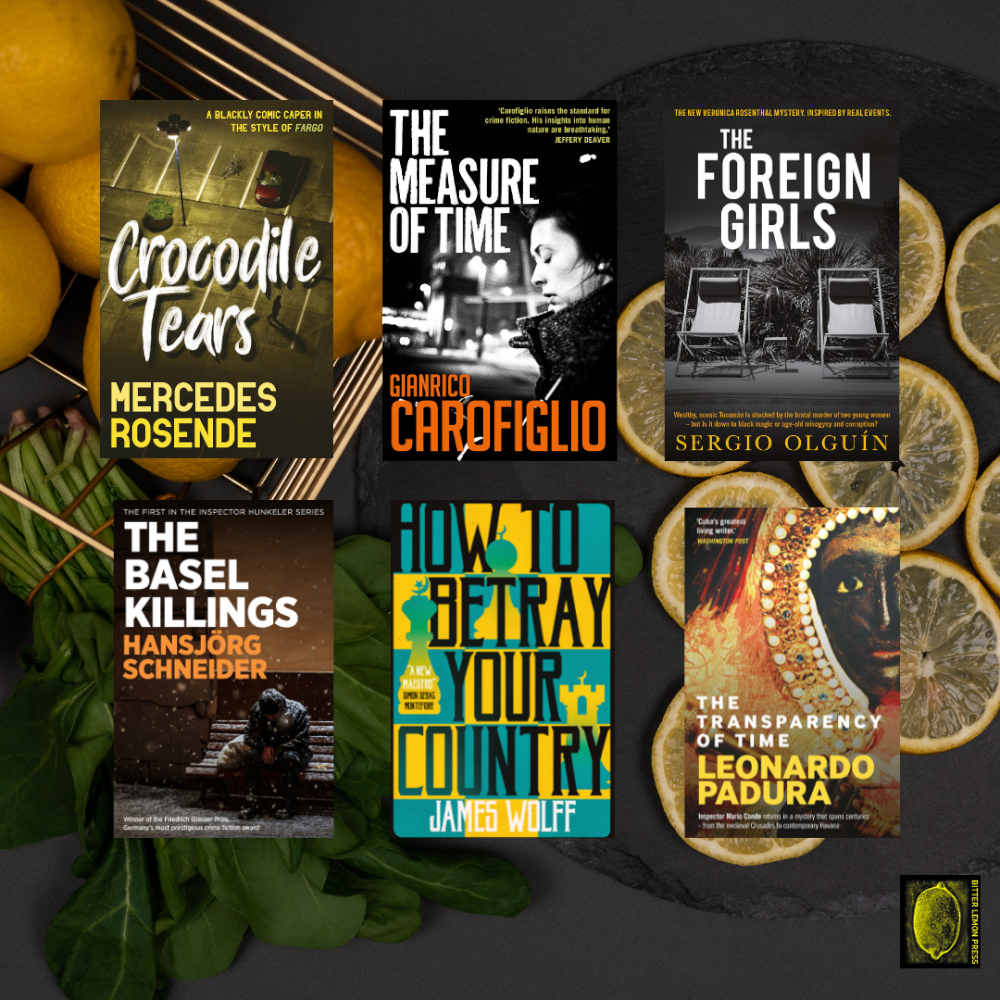 We are teaming up with translated crime fiction aficionados Bitter Lemon Press to offer a brilliant book giveaway! This book bundle will include a copy of all six 2021 releases. The titles up for grabs are: Crocodile Tears by Mercedes Rosende The Measure of Time by Gianrico Carofiglio How To Betray Your Country by James Wolff The Basel Killings by Hansjo?rg Schneider The Transparency of Time by Leonardo Padura The Foreign Girls by Sergio Olguín This draw is open only for UK residents currently in the UK and is free to enter, multiple entries from the same email address will only be counted once. The draw closes on 7th November 2021. Please ensure that the details you use to enter the competition will be correct at the time the competition ends. The winners will be notified as soon as possible.
Like For Like Featured Books
Sefi Atta Press Reviews
A glimpse into the insular world of upper-class Nigeria during the mid-1970s... a fascinating combination of post-civil war Nigeria and good gossip. KIRKUS REVIEWS; With a penetrating appreciation for the universal beliefs and behaviours that have the potential to unite disparate groups, Atta digs deep into the multifaceted layers of Nigerian history and traditions in this keen and nuanced examination of her country's tumultuous past. BOOKLIST; Atta is a seasoned and masterful storyteller. Lola Shoneyin, author of The Secret Lives of Baba Segi's Wives; A Nigerian woman befriends an American woman and their short friendship and peregrinations around the Ikoyi-Victoria axis provide the backdrop for a wickedly delicious expose of Nigeria's political and business elite on the cusp of a bloody coup and monumental change. This is the bonfire of Nigerian vanities in full display. The Bead Collector is an era defining novel told with devastating wit and literary aplomb. Toni Kan, author of The Carnivorous City; The Bead Collector offers a brilliant evocation of Lagos in the tense months before the coup attempt of 1976, through the eyes of Remi Lawal, a wife, mother and budding businesswoman who befriends a potentially suspicious American traveler. Sefi Atta brings to exhilarating life the textures, rhythms and byzantine subtexts of this complex society. It's been a long time since I felt so powerfully immersed in a novel. Claire Messud, author of The Woman Upstairs; In The Bead Collector, through Atta's deliciously irreverent and precise prose, we encounter a nuanced world of deftly crafted characters, a narrative distinct for its social and political complexity and a biting humour. The beauty of the story rests in its deceptively steady pace and the carefully placed details that create a sense of mounting suspense and ultimately a deeply enjoyable reading experience. Yewande Omotoso, author of The Woman Next Door; The Bead Collector is centred around a dialogue between two women, but radiates out through family and society and the political realm in Nigeria to form a vast, rich dialogue, one, ultimately, between tradition and progress. Sefi Atta has crafted yet another stunning novel, a deeply compelling, illuminating story of personal and national identity in a time of great transition.Gayle Brandeis, author of The Book of Dead Birds, winner of the Bellwether Prize for Fiction of Social Engagement
Other editions of this book
About Sefi Atta
Sefi Atta is the author of Everything Good Will Come, Swallow, News from Home, A Bit of Difference and Sefi Atta: Selected Plays. Sefi has received several literary awards, including the 2006 Wole Soyinka Prize for Literature in Africa and the 2009 Noma Award for Publishing in Africa. Her radio plays have been broadcast by the BBC and her stage plays have been performed internationally. She divides her time between the USA, UK and Nigeria.
More About Sefi Atta