Buy from our bookstore and 25% of the cover price will be given to a school of your choice to buy more books.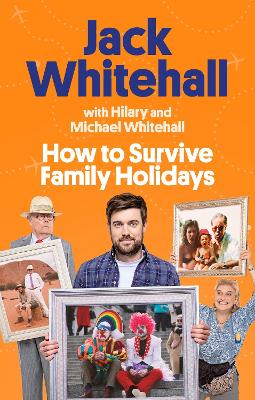 How to Survive Family Holidays
"An hilarious look at the pain and suffering of family travels."
LoveReading Says
LoveReading Says
Award-winning actor, writer and comedian Jack Whitehall is the author of this very funny "How to.." book about the trials of family holidays - a natural follow-on to the five Netflix series Travels with My Father he made with his dad, retired theatrical agent Michael Whitehall. Jack has written most of the book packed with so many one-liners that it could be delivered direct from stage. His parents Hilary and Michael's contributions are written with less pace, as though penning an amusing letter to a friend, but are no less hilarious and appear as testimony against the accusations made by Jack relating to holiday traumas. The chapter list in itself was enough to bring me out in a cold sweat - Packing and Passports, Travel Games and Cultural Etiquette to name but a few. Perhaps inevitably the book is also an exploration of the differences between generations, never more under stress than on a family holiday. Michael comes across as a curmudgeonly traditional Conservative, Jack his critical worldly son and Hilary being occasionally embarrassing but mostly holding the whole thing together. They are certainly a well-travelled family with stories to tell from Cumbria to Cambodia, which invariably seem to involve alcohol at some stage or another. Jack Whitehall writes well and with the skill of a true comedian, able to describe scenes that we can all relate to which speak to our anxieties and make us laugh at ourselves. This book made me recall the pressure that is created by a family holiday - they can be expensive, they can be intense, they can feel claustrophobic, they can include mortifying moments.. but in the end of course the pressure is there because of how important they are to the fabric of a family. This is a great holiday read, unless of course you're there with the kids.
Find This Book In
| | |
| --- | --- |
| Primary Genre | Travel |
| Other Genres: | |
About
Press Reviews
Buy from our bookstore and 25% of the cover price will be given to a school of your choice to buy more books.