LoveReading Expert Review of Anna
I think the synopsis of 'Anna' describes this book perfectly. It is a "chilling" dystopian story. Many times throughout the story I felt chills and shudders of revulsion. Set in a near future where women can be captured, branded chained up and led around like an animal we meet Anna. Captured as she makes her way through the unlands we see her disturbing treatment at the hands of her captor.
This is a dark and gritty story focused on domestic abuse, survival and a road to healing and recovery. It's by no means a comfortable read and at times it reminded me of 'The Handmaid's Tale'. I always think there's something expressly sinister about dystopian fiction in which characters remember "before". There's an initial atmosphere of loss that can be found in 'Anna'; then not only have her loved ones been taken away, but to have her dignity and humanity stripped from her too is heartbreaking and painful at times to witness. As with 'The Handmaid's Tale', what Anna experiences is at times traumatic, and it's not fun for the reader to watch it unfold, but we do. I carried on reading in the hopes that there would be revenge, redemption or freedom of some form at the end.
This is a brutal story about a woman's survival. This is an immersive read about finding hope in a dreary landscape, and that even idylls have dark corners. There are tempo changes and moments of hope, twists, reveals and times of real darkness too. The characters in this book are well-written and complex. The style of narration is interesting, we learn as Anna does and I was compelled to keep reading to discover what happens to her. The first part of the story made me uncomfortable but, although it sounds daft, I didn't want to leave her there. A gritty, intense and powerful read.
Charlotte Walker, A LoveReading Ambassador
Anna Synopsis
Beaten. Branded. Defiant.
Anna is a possession. She is owned by the man named Will, shielded from the world of struggles by his care. He loves her, protects her, and then breaks her. Anna is obedient, dutiful, and compliant. Anna does not know her place in the world.
When she falls pregnant, Anna leaves her name behind, and finds the strength to run. But the past - and Will - catch up with her in an idyllic town with a dark secret, and this time, it's not just Anna who is at risk.
A chilling feminist novel set in a near-future dystopia, Anna explores the conflicts between selfhood and expectations, safety and control, and the sacrifices we make for the sake of protection.
About This Edition
| | |
| --- | --- |
| ISBN: | 9781781089095 |
| Publication date: | 27th May 2021 |
| Author: | Sammy H.K. Smith |
| Publisher: | Solaris an imprint of Rebellion |
| Format: | Hardback |
| Pagination: | 300 pages |
| Primary Genre | Thriller and Suspense |
| Other Genres: | |
| Recommendations: | |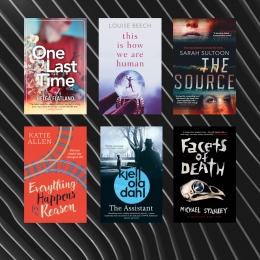 We're teaming up once again with Orenda to offer another brilliant book giveaway! Not only is a bundle of Orenda Books up for grabs, we also have a £15 voucher for the winner to use on Orenda's new look website! This book bundle will include some of their latest releases from April to June. A fantastic opportunity to stock your bookshelves. The titles up for grabs are: The Source be Sarah Sultoon - Published 15th April Facets of Death by Michael Stanley - Published 29th April The Assistant by Kjell Ola Dahl - Published 13th May This is How We Are Human by Louise Beech - Published 10th June Everything Happens for a Reason by Katie Allen - Published 10th June One Last Time by Helga Flatland - Published 24th June This draw is open only for UK residents currently in the UK and is free to enter, multiple entries from the same email address will only be counted once. The draw closes on 30th June 2021. Please ensure that the details you use to enter the competition will be correct at the time the competition ends. The winners will be notified as soon as possible.
Like For Like Featured Books
Sammy H.K. Smith Press Reviews
You'll experience every single emotion. There are moments of joy in the book, moments of love and laughter... the darkness is lit by those moments, and it is as dark and unforgiving as Cormac McCarthy's 'The Road'. -- Fantasy-Faction - Fantasy-Faction
It is brutal and honest and brave beyond measure. It will pull your emotions every which way, so expect to have quite the book hangover when you're finished... -- Shona Kinsella, BFS Reviews -- Shona Kinsella - The British Fantasy Society
A personal story of female resilience. -- Publishers Weekly - Publishers Weekly
The tension lingers right up to the very end of the story and it is not just Anna who the reader ends up fearing for. -- The Fantasy Hive - The Fantasy Hive
Other editions of this book
About Sammy H.K. Smith
Sammy H.K. Smith lives and works in Oxfordshire UK as a police detective. When not working she spends time with her children, husband and pets, renovates her house, and inadvertently kills plants. A keen writer and lover of all things science fiction and fantasy, she's often found balancing a book, a laptop, a child, and a cat whilst watching Netflix.
More About Sammy H.K. Smith