LoveReading Expert Review of When We Fall
Risk, romance and torn loyalties teeter in this tense female-fronted WW2 thriller based on the Katyn massacre atrocity.
Carolyn Kirby's When We Fall tells the gripping, read-in-one-sitting stories of two women who fall for the same man. Sparked by the long-suppressed WW2 Katyn massacre atrocity that saw 22,000 Polish military officers and intelligentsia killed by the Soviet Union, it presents the painful complexities of love and loyalty during terrible times in readably elegant style.
England, 1943 and British pilot Vee is set on being given her Wings when she first encounters charismatic Polish RAF pilot Stefan. There's an immediate frisson between them, and from this first meeting their lives are to be entangled for the rest of their days. Both of them are immensely likeable - Vee for her dogged and down-to-earth determination to succeed in a male dominated field, and Stefan for his amiability and respectfulness.
Meanwhile, in the Polish town of Posen (formerly Poznań), Eva (formerly Ewa before Nazi occupation) has all but given up on her lover returning as she waits tables in her father's guesthouse while working for the resistance. Matters are complicated when she falls for a handsome German officer, and then her lover - Stefan - returns and asks Eva to take a huge risk for him. He's asked similar of Vee in England and so, unbeknown to each other, both women become caught up in a costly mission to disclose the horrors Stefan witnessed while in Russian captivity.
Covering events from spring 1943 to late 1945 (with an unexpected addendum from 1963), this is a highly visual, highly sensory novel with relatable, powerful human dilemmas at its heart.


When We Fall Synopsis
In England, 1943, British pilot Vee Katchatourian is determined to get her flying Wings, in spite of her sex and foreign name. Meanwhile, in Occupied Poland, Ewa Hartman serves German officers in her father's guest house, while secretly gathering intelligence for the resistance. What neither woman knows is that they are in love with the same man... Stefan Bergel is haunted by a choice he made whilst held in Russian captivity. Now, he's one of the only surviving witnesses of an appalling war crime - a crime that risks going unpunished. Compelled to expose the truth, Stefan asks both women to take enormous risks for him. Their actions could completely change the course of the war... but is he asking too much?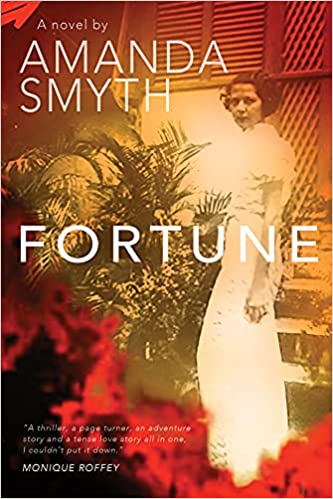 Fortune by Amanda Smyth is ' a story of love and ambition, its focus is on individuals so enmeshed in their desires that they blindly enter the territory of classic Greek tragedy where actions always have consequences.' To celebrate it's publication we're working with Peepal Tree Press to offer 3 signed copies of the book plus some tote bags as a competition prize. This draw is open only for UK residents currently in the UK and is free to enter, multiple entries from the same email address will only be counted once. The draw closes on 1st August 2021. Please ensure that the details you use to enter the competition will be correct at the time the competition ends. The winners will be notified as soon as possible.
What To Read After When We Fall
Carolyn Kirby Press Reviews
'A poignant story of love, betrayal and impossible moral choices' - Nick Rennison, Sunday Times
'A terrific World War II novel, which deals with complicated matters of love and loyalty when lives are at stake and choices are bleak... Tense and tender, it captures the terrifying frailties of truth and trust in brutal time' - Eithne Farry, Daily Mail
'A gripping wartime thriller, driven by two memorable heroines' - Antonia Senior, The Times
'Historical fiction at its finest' - Howard Linskey
'An engaging and elegantly written novel on the grim realities of war, and the moral choices that can result. Highly recommended' - Roger Moorhouse
'In a story where loyalties are called into question, she kept me guessing to the final page' - Anita Frank, author of The Lost Ones
Other editions of this book
About Carolyn Kirby
Carolyn Kirby is the author of The Conviction of Cora Burns which was longlisted for the Historical Writers' Association Debut Crown Award. Before becoming a full-time writer, Carolyn worked in social housing and as a teacher. She has two grown-up daughters and lives with her husband in Oxfordshire
More About Carolyn Kirby