LoveReading Expert Review of The Gilded Ones
An exploration of what it is to be feminist in a deeply patriarchal kingdom
Forna has taken her own experiences of sexism and racism that she experienced as a woman from Sierra Leone living in the US on which to base this novel. This has created a powerful depiction of the oppression and cruelty meted out to women who are different from a society's accepted roles.
Set in the patriarchal fantasy world of Otera, this is based in an ancient kingdom, where a woman's worth is only as good as her proven purity. This purity is proven by the woman being made to bleed – in a brutal ceremony when they reach the age of 16. When Deka bleeds gold this is deemed the colour of impurity, and she is declared a demon. Not only is she thrust out of the home and society she has known since birth, but she is also subjected to unspeakable acts of brutality and violence by the ruling priesthood.
The fact Deka does not die from all the brutality gives one hope she is different and may have some role in the future of Otera. This proves so – Deka is rescued and taken to a training ground for women where she finds a friendship and sisterhood amongst others also found to be impure. As they train the 'impure' girls are paired with soldiers from the Imperial jatu fighting force – and some form deep and lasting friendships with their partners. The characters here are hugely diverse with Black, Asian and Brown main, and minor characters, with a recognition of diverse sexuality too.
The power of this novel is in the strong, horrifying but ultimately hopeful end of this story. There is much violence – in both punitive killing and re-killings of demons by the priests, but also in the violent backstories of some of the girls (including an instance of rape.) The book explores themes of feminist possibility whilst being based in a fantasy world taking inspiration from ancient West African culture.
A powerful read, not for the faint-hearted but very definitely giving hope for the future, showing that there is a place to be whatever you wish to be – homemaker or fighter. This is a strong start to what promises to be a trilogy.
The Gilded Ones Synopsis
The must-read epic fantasy of 2021, as featured on Cosmo, Buzzfeed, BookRiot and Refinery 29.
In this West African-inspired world, girls are outcasts by blood and warriors by choice, perfect for fans of Children of Blood and Bone and Black Panther.
Sixteen-year-old Deka lives in Otera, a deeply patriarchal ancient kingdom, where a woman's worth is tied to her purity, and she must bleed to prove it. But when Deka bleeds gold - the colour of impurity, of a demon - she faces a consequence worse than death. She is saved by a mysterious woman who tells Deka of her true nature: she is an Alaki, a near-immortal with exceptional gifts. The stranger offers her a choice: fight for the Emperor, with others just like her, or be destroyed...
A message from the author, Namina Forna; "I always wanted to write a book that showed girls that they could be heroes, that they could fight for what's right. The world we live in right now is not so different from the world in my book. These are dire times - times that call for heroes. In The Gilded Ones, I hope I've created heroes that can be all of us."
About This Edition
| | |
| --- | --- |
| ISBN: | 9781474959575 |
| Publication date: | 4th February 2021 |
| Author: | Namina Forna |
| Publisher: | Usborne Publishing Ltd |
| Format: | Paperback |
| Pagination: | 416 pages |
| Primary Genre | Children's & YA Fiction |
| Other Genres: | |
| Recommendations: | |
What To Read After The Gilded Ones
Namina Forna Press Reviews
"An enthralling debut. The Gilded Ones redefines sisterhood and is sure to leave readers both inspired and ultimately hopeful." Stephanie Garber, #1 New York Times bestselling author of Caraval
"Haunting, brutal, and oh-so-relevant. This book will suck you into a world where girls bleed gold, magic fills the air, and the real monsters hide behind words instead of claws." Roseanne A. Brown, New York Times bestselling author of A Song of Wraiths and Ruin
"The Gilded Ones is a fierce, unflinching fantasy that marks Forna as a debut to watch." Kiersten White, New York Times bestselling author of And I Darken
"Namina Forna Could Be The Toni Morrison Of YA Fantasy." Refinery 29
"Utterly transporting on a massive scale, this is the new series you've been searching for" Stylist
Other editions of this book
About Namina Forna
Namina Forna was born in Sierra Leone but emigrated with her family to the US in the 1990s, during her homeland's civil war, and has been travelling back and forth ever since. She has worked as a writer and producer for film and TV in LA since graduating from the USC School of Cinematic Arts. Namina was a finalist for NBC / Universal Writers on the Verge, a semi-finalist for the Sundance Screenwriting Lab and top 50 in the prestigious Nicholls Screenwriting Fellowship. Namina loves spicy food and witchy-looking cats, and has been known to wear unicorn onesies to the nearest taco ...
More About Namina Forna
More Books By Namina Forna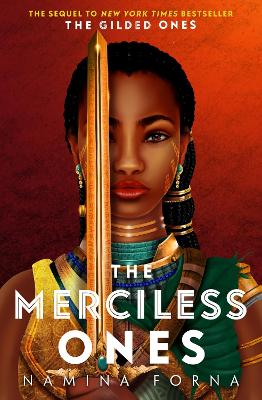 View All Books By Namina Forna