LoveReading Expert Review of Kiss Kiss, Bang Bang
One of Our Books of the Year 2017 | Maxim Jakubowski June 2017 Book of the Month.
Following on from Martin Edwards' splendid, award-winning Golden Age of Murder, about Christie and the heyday of the British cozy school of crime writing, Ripley's exploration of popular literature's history moves on in time and closely examines the boom in British thrillers from Casino Royale to The Eagle Has Landed, a period and genre that had hitherto mostly been glossed over by both academia and critics. Witty and meticulously researched, Ripley's exploration of a much-maligned category demonstrates how British values and the shadow of the Empire coloured the works of so many authors, many of whom so deserve to be revived, following their initial heyday, like Desmond Bagley, Alastair MacLean, Alan Williams, Hammond Innes, Ted Allbeury, Lionel Davidson and scores of others alongside better-known names like Le Carre, Deighton, Jack Higgins, etc... Many of the books and authors evoked were a reflection of their time and Ripley cleverly argues for their posterity in an impeccable exercise in scholarship and entertainment that makes you want to scour the second-hand shelves or EBay every few pages, or hark back to memories of your reading youth should you be of a certain age. Indispensable and destined for awards. ~ Maxim Jakubowski
Kiss Kiss, Bang Bang Synopsis
An entertaining history of British thrillers from Casino Royale to The Eagle Has Landed, in which award-winning crime writer Mike Ripley reveals that, though Britain may have lost an empire, her thrillers helped save the world. With a foreword by Lee Child. When Ian Fleming dismissed his books in a 1956 letter to Raymond Chandler as 'straight pillow fantasies of the bang-bang, kiss-kiss variety' he was being typically immodest. In three short years, his James Bond novels were already spearheading a boom in thriller fiction that would dominate the bestseller lists, not just in Britain, but internationally. The decade following World War II had seen Britain lose an Empire, demoted in terms of global power and status and economically crippled by debt; yet its fictional spies, secret agents, soldiers, sailors and even (occasionally) journalists were now saving the world on a regular basis. From Ian Fleming and Alistair MacLean in the 1950s through Desmond Bagley, Dick Francis, Len Deighton and John Le Carre in the 1960s, to Frederick Forsyth and Jack Higgins in the 1970s. Many have been labelled 'boys' books' written by men who probably never grew up but, as award-winning writer and critic Mike Ripley recounts, the thrillers of this period provided the reader with thrills, adventure and escapism, usually in exotic settings, or as today's leading thriller writer Lee Child puts it in his Foreword: 'the thrill of immersion in a fast and gaudy world.' In Kiss Kiss, Bang Bang, Ripley examines the rise of the thriller from the austere 1950s through the boom time of the Swinging Sixties and early 1970s, examining some 150 British authors (plus a few notable South Africans). Drawing upon conversations with many of the authors mentioned in the book, he shows how British writers, working very much in the shadow of World War II, came to dominate the field of adventure thrillers and the two types of spy story - spy fantasy (as epitomised by Ian Fleming's James Bond) and the more realistic spy fiction created by Deighton, Le Carre and Ted Allbeury, plus the many variations (and imitators) in between.
About This Edition
| | |
| --- | --- |
| ISBN: | 9780008172237 |
| Publication date: | 18th May 2017 |
| Author: | Mike Ripley |
| Publisher: | HarperCollins Publishers Ltd an imprint of HarperCollins Publishers |
| Format: | Hardback |
| Primary Genre | Thriller and Suspense |
| Other Genres: | |
| Recommendations: | |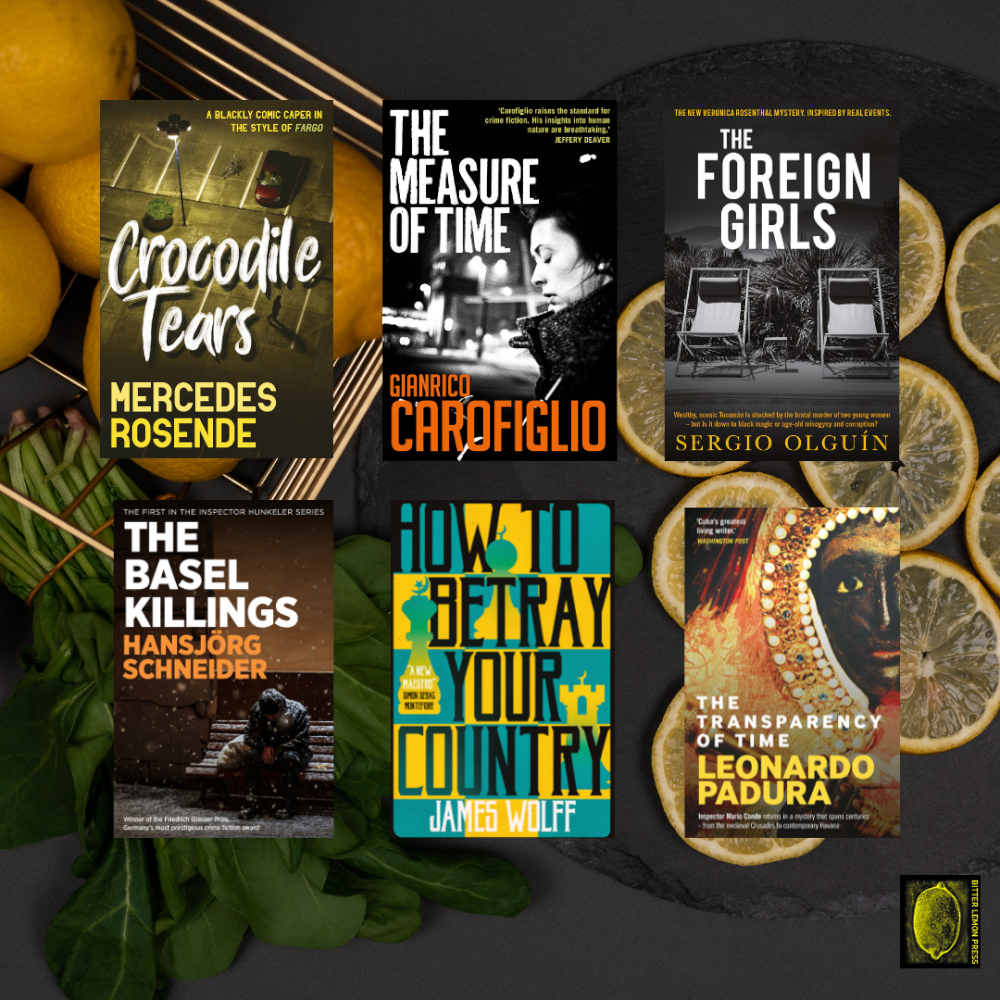 We are teaming up with translated crime fiction aficionados Bitter Lemon Press to offer a brilliant book giveaway! This book bundle will include a copy of all six 2021 releases. The titles up for grabs are: Crocodile Tears by Mercedes Rosende The Measure of Time by Gianrico Carofiglio How To Betray Your Country by James Wolff The Basel Killings by Hansjo?rg Schneider The Transparency of Time by Leonardo Padura The Foreign Girls by Sergio Olguín This draw is open only for UK residents currently in the UK and is free to enter, multiple entries from the same email address will only be counted once. The draw closes on 7th November 2021. Please ensure that the details you use to enter the competition will be correct at the time the competition ends. The winners will be notified as soon as possible.
What To Read After Kiss Kiss, Bang Bang
Mike Ripley Press Reviews
'As gripping and well-researched as any of the thrillers he discusses, Mike Ripley's book also provides a fascinating social history of post-war Britain. A reminder of the relevance of this unfairly maligned genre. Check the room for bugs, settle down, and dive in.'
Ian Rankin

'Ripley produces funny lines as often as most people breathe'
The Times
Other editions of this book
About Mike Ripley
Mike Ripley was born in 1952. As well as being a noted critic and Lecturer in Crime Writing, he is the author of the 'Angel' series of crime novels, for which he has twice been the recipient of a Crime Writers' Association Award. Working with the Margery Allingham Society, he completed the Albert Campion novel left unfinished, Mr Campion's Farewell, and has written further continuation novels in the series.
More About Mike Ripley