LoveReading Expert Review of Arrowood
January 2018 Debut of the Month
London 1895, gloriously brought to life in all its grizzly glory. Arrowood is a weathered Private Investigator with a soft heart and a weakness for a drink. He shares the same skies as the famous, revered detective, Sherlock Holmes and yet he can only dream of sharing the same accolades and financial rewards. The cases Arrowood and his long suffering assistant Barnett work are deadly, sleazier and of poor pay. Still carrying the ghost of a disastrous investigation that left a man violently beaten to death, they take on a seemingly straightforward missing person case. Before long a simple investigation turns into a dangerous step into the world of political violence and dealings with the very same crime boss involved in their earlier case. Anxious to keep a distance yet bound by obligation after the death of a young informant, they are soon deeply involved in something deadly.
Being a fan of Sherlock Holmes it was wonderful to revisit late Victorian London. The atmosphere Finlay creates is authentic and Arrowood's animosity towards Holmes adds an interesting twist. Arrowood is a very different detective. Repulsive at times, yet sad and kind-hearted. I couldn't help but warm to him. His assistant and our narrator Barnett, leads us through the case right to the thrilling climax that had me on the edge of my seat.

Arrowood Synopsis
1895: La ciudad de Londres esta asustada. Un asesino esta al acecho en las calles, los pobres estan hambrientos, los cabecillas de las bandas criminales estan haciendose con el control, las fuerzas policiales no dan abasto.Los ricos acuden a Sherlock Holmes, pero el aclamado detective privado no pisa casi nunca las densamente pobladas calles del sur de Londres, las calles donde los crimenes son mas sordidos y la gente mas pobre.En una oscura esquina de Southwark, las victimas acuden a un hombre que detesta a Holmes, a los adinerados clientes de este y el teatral enfoque forense con el que investiga los crimenes. Ese hombre es Arrowood: psicologo autodidacta, borracho ocasional e investigador privado.Cuando un hombre desaparece misteriosamente y la persona que podria aportarle informacion al respecto es brutalmente apunalada ante sus propios ojos, Arrowood se enfrenta junto a Barnett, su fiel ayudante, a la mision mas dificil que han tenido hasta el momento: capturar al cabecilla de la banda criminal mas peligrosa de Londres...
About This Edition
| | |
| --- | --- |
| ISBN: | 9788491393030 |
| Publication date: | 30th May 2018 |
| Author: | Mick Finlay |
| Publisher: | HarperCollins Iberica S.A. |
| Format: | Ebook |
| Collections: | |
| Primary Genre | Crime and Mystery |
| Other Genres: | |
| Recommendations: | |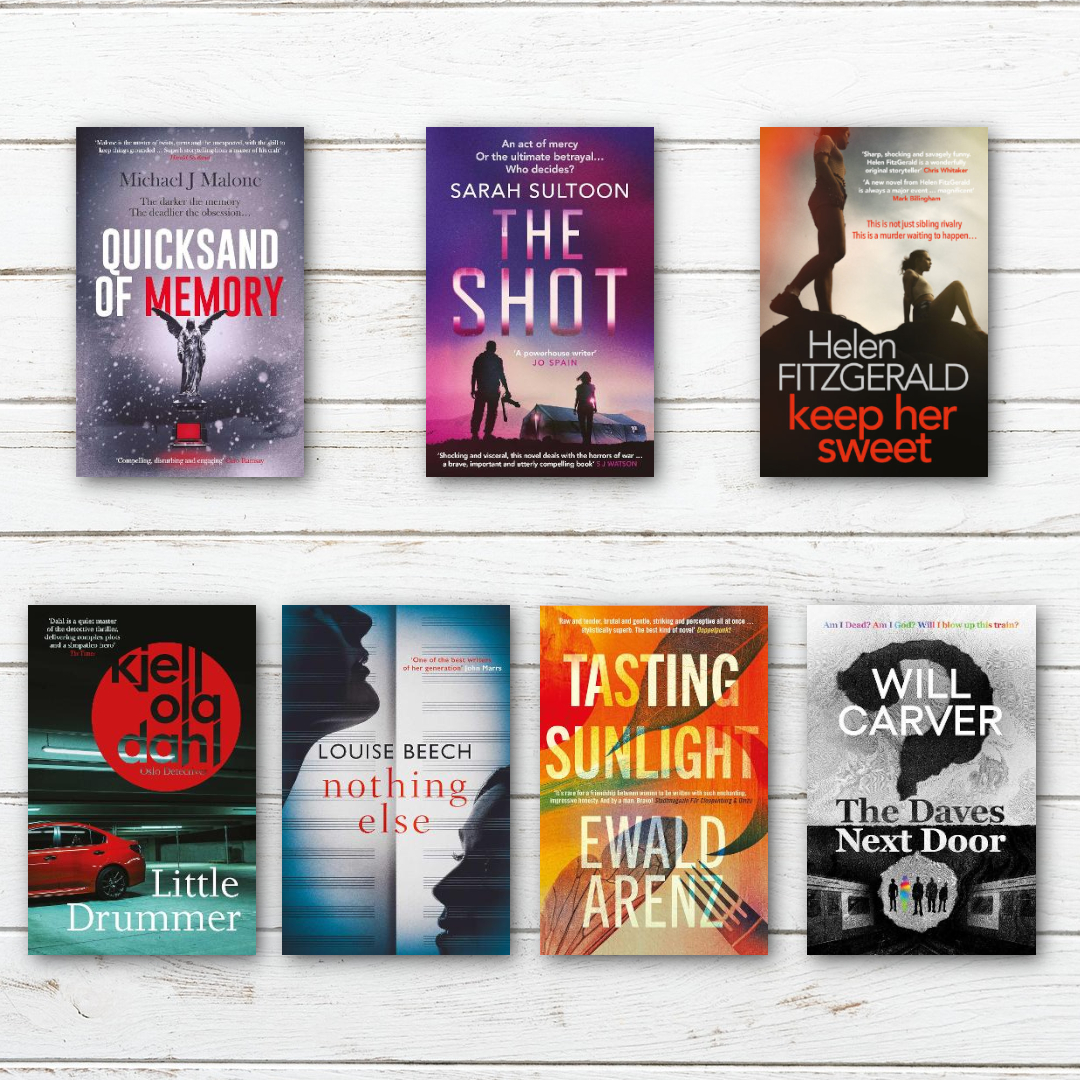 We're teaming up once again with Orenda to offer another brilliant book giveaway! This book bundle will include some of their latest releases from April to July. A perfect opportunity to stock up on some brilliant reads to enjoy this summer. The titles up for grabs are: Quicksand of Memory by Michael J. Malone - Published 14th April The Shot by Sarah Sultoon - Published 28th April Keep Her Sweet by Helen Fitzgerald - Published 26th May Little Drummer by Kjell Ola Dahl - Published 26th May Nothing Else by Louise Beech - Published 23rd June Tasting Sunlight by Ewald Arenz - Published 23rd June The Daves Next Door by Will Carver - Published 21st July This draw is open only for UK residents currently in the UK and is free to enter, multiple entries from the same email address will only be counted once. The draw closes on 31st July 2022. Please ensure that the details you use to enter the competition will be correct at the time the competition ends. The winners will be notified as soon as possible.
What To Read After Arrowood
Arrowood Reader Reviews
In addition to our Lovereading expert opinion some of our Reader Review Panel were also lucky enough to read and review this title. You can click here to read the full reviews.
Lisa Redmond - 'The writing is furious and fast paced...This is a fantastic start to what I hope will be a longer series.'
Phylippa Smithson - 'Set in 1895 London, 'Arrowood' is completely different from the usual thriller – not least the fact the maestro himself Sherlock Holmes, it seems has competition...a truly superb read.'
Angie Rhodes - 'Loving Sherlock Holmes, I was a little apprehensive reading this, but WOW!! no need to fear, it is EXCELLENT, I didn't want it to finish it, It has everything, carriages, mist, fog, grubby pubs, dodgy men, hopeless coppers, and two wonderful characters you will want to meet again!'
Kathy Howell - 'This is a well written book that moves at a good pace with an engaging mystery and likeable characters. When I received this book I opened it to see what it was like...and struggled to put it down!'
Cathy Petersen - 'A good idea that makes for a pleasant, easy read but for me lacked that extra element to make it a really great crime novel.'
Rachael Anderson - 'A light historical crime novel, which is almost a pastiche of the Sherlock Holmes stories.'
Jacki Moorcroft - 'Superb story of London in 1895. Not your upper-class but the poorer street people, vividly brought to life by Mick Finlay in this tale of a missing person which turns out to be so much more.'
Keith Currie - 'Arrowood's determination, Barnett's decency and drive, the cast of London characters, the presentation of living conditions of the time, the lively dialogue all contribute to an amusing and very entertaining read.'
Alfred Nobile - 'This is a tale I would recommend to anyone who wants to smell old London and likes a book with character and evokes the times which it is set in.'
Alan Gee - 'a good story, involving murder, London gangsters, Irish terrorists and a cache of stolen British Army rifles'
Caye Gould - 'A struggle at times to get into the story for any period of reading time.'
Emily Curnow - 'The novel twists and turns throughout until a satisfactory conclusion is realised...Very much enjoyed.'
Emily - 'This novel contained everything a 'Sherlock Holmes' inspired story should; a dark criminal underworld and grimy London alleyways, not to mention a cantankerous private detective and his loyal sidekick.'
J Hutchinson - 'This is far more than just a Victorian murder mystery and I would love to read more of their cases.'
Mick Finlay Press Reviews
'A book with enough warmth, charm, humour, and intrigue to signal the start of an excellent new series.' - Vaseem Khan, author of The Unexpected Inheritance of Inspector Chopra
Other editions of this book
About Mick Finlay
Mick Finlay was born in Glasgow but left as a young boy, living in Canada and then England. Before becoming an academic, he ran a market stall on Portobello Road, and has worked as a tent-hand in a travelling circus, a butcher's boy, a hotel porter, and in various jobs in the NHS and social services. He teaches in a Psychology Department, and has published research on political violence and persuasion, verbal and non-verbal communication, and disability. He now lives in Brighton with his family.
More About Mick Finlay