LoveReading Expert Review of Masters of Rome : Vespasian V
This is the fifth in Fabbri's excellent series charting the life of Vespasian, an ordinary Roman soldier who rose through the ranks of the army and society to ultimately become emperor. The series is half swords and sandals adventure and half serious history with Fabbri very closely following what is known to have happened and taking a few liberties every now and again. Set partly in Rome and partly in Britain as Vespasian spearheads its conquest, in this book the liberties come in the form of the druids' plot to capture Vespasian's brother and sacrifice them both to their gods. But these only serve to make it more enjoyable and as Vespasian is torn between duty to his family and country, and is caught more and more in the political intrigues of Rome, the tensions mount.
A 'Piece of Passion' from the publisher...

'Robert Fabbri writes with such energy and passion about a fascinating period of history. Rome's Lost Son is laced with wonderful, vivid historical detail, gripping battle scenes and fascinating insights into the cat-and-mouse game of Imperial politics. Full of unexpected facts, Robert's page-turning novels reveal a side to Ancient Rome not often explored in fiction. Most of all though, one feels his passion for history stitched into every line. His love of storytelling simply burns off the page.' - Sara O'Keefe, Corvus Editorial Director
The Vespasian series:
1. Tribune of Rome
2. Rome's Executioner
3. False God of Rome
4. Rome's Fallen Eagle
5. Masters of Rome
6. Rome's Lost Son
7. The Furies of Rome
Masters of Rome : Vespasian V Synopsis
"Britannia, 45 AD: Vespasian's brother, Sabinus, is captured by druids. The druids want to offer a potent sacrifice to their gods - not just one Roman Legate, but two. They know that Vespasian will come after his brother and they plan to sacrifice the siblings on Midsummer's Day.
But to whom will they be making this sacrifice? What were the gods of this land before the Celts came? Only the druids still hold the secret and it is one of pure malevolence. Vespasian must strive to save his brother whilst completing the conquest of the south-west of the haunted isle, before he is drawn inexorably back to Rome and the heart of Imperial politics. Claudius' three freedmen remain at the focus of power.
As Messalina's time as Empress comes to a bloody end, the three freedmen each back a different mistress. But who will be victorious? And at what price for Vespasian?"
About This Edition
| | |
| --- | --- |
| ISBN: | 9780857899651 |
| Publication date: | 5th February 2015 |
| Author: | Robert Fabbri |
| Publisher: | Atlantic Books |
| Format: | Paperback |
| Pagination: | 432 pages |
| Primary Genre | Action Adventure |
| Other Genres: | |
| Recommendations: | |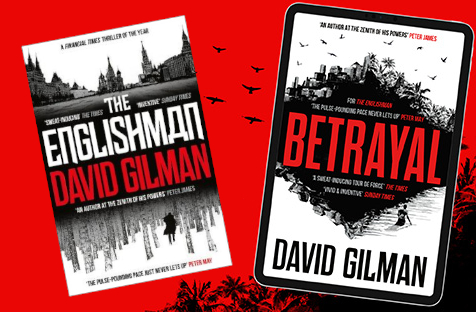 The latest "vividly intense spy thriller" from David Gilman is out now! Betrayal sees the return of Former Foreign Legion operative Dan Raglan, and to celebrate, we're working with Head of Zeus to offer three lucky winners the chance to win both Betrayal and the first book in the series, The Englishman. "If you get your reading kicks diving into an espionage thriller full of heart-pounding action running alongside a wickedly intricate plot, then hello, THIS is your book." Liz Robinson, Expert Reviewer This draw is open only for UK residents currently in the UK and is free to enter, multiple entries from the same email address will only be counted once. The draw closes on 3rd February 2022. Please ensure that the details you use to enter the competition will be correct at the time the competition ends. The winners will be notified as soon as possible.
What To Read After Masters of Rome : Vespasian V
Masters of Rome : Vespasian V Reader Reviews
In addition to our Lovereading expert opinion some of our Lovereading Reader Review Panel were also lucky enough to read and review the first title in the series, Tribune of Rome. You can read their reviews here.
Magdalena Vidgen - 'Historical fiction at its best.'

Angela Rhodes - 'This is History brought to life. Excellent books for anyone who likes one they can get their teeth into.'

Susan Walsh - 'Thoroughly enjoyable read! Brings a great tale to life. Couldn't put it down.'

Oliver Keating - 'I hope the story of Vespasian is the start of many because this author has the ability to get you right there on his shoulder in the thick of the battle.'
Pam Kennedy - 'Wow what a book!...His writing flows, he grips you from the first word. I feel as though I have had a stay in ancient Rome.'
Jo-anne Atkinson - 'This is a high quality sword and sandals epic...I have to admit that I've never been drawn to historical fiction of this era. This book is one that could change my mind.'
Sarah Musk - 'An exciting, skilfully written book about Vespasian who became one of the most famous of the Roman emperors. A book for lovers of the Romans and their turbulent world.'
Daisy Otway - 'A real page turner! Interesting and exciting with fluent writing skills and enabling a thorough use of the imagination. I really enjoyed this book and can't wait to read more!'
Les Warriner - 'The descriptions of Roman society, the value of loyalty and life are totally enthralling, as are the depiction of everyday life from slaves to nobility.'
The Good Book Guide Review
Britannia, ad45; Vespasian's brother, Sabinus, is captured by druids to lure Vespasian, whom they know will come after his brother. They plan to offer the siblings on Midsummer's Day, as a potent sacrifice to their dark and malevolent gods. But Vespasian has other things to do as well as rescue his brother, and must complete the conquest of the south west before returning to Rome and the epicentre of Imperial politics, where the scheming and extremely dangerous Messalina's time as Empress (the third wife of Claudius) is coming to an end. Claudius' freedmen secretaries have difficult choices to make, and how they go about this and what the consequences for Vespasian will be are told in the most gripping fashion. The author's life-long passion for ancient history shows.
Other editions of this book
About Robert Fabbri
Robert Fabbri read Drama and Theatre at London University and has worked in film and TV for 25 years. He is an assistant director and has worked on productions such as Hornblower, Hellraiser, Patriot Games and Billy Elliot. His life-long passion for ancient history inspired him to write the Vespasian series. He lives in London and Berlin. Author photo © James Potter
More About Robert Fabbri