LoveReading Expert Review of The Historian
Reviewed on Richard & Judy on 9th August 2006.

This is very special, a history mystery-cum-love story that delves into the vampire myth. Ranging across continents and ages, incidents and emotions, it catches you by surprise and leaves you breathless. If you are prepared to accept one or two unusual facts, then it all becomes frighteningly feasible. Well written and sumptuous, it is a perfect gem. You've got to read it as it is one of the best books of the month.
Comparison: Lev Grossman, Adrian Mathew.
Similar this month: None but try Michael Cordy or John Connolly.
The Historian Synopsis
Late one night, exploring her father's library, a young woman finds an ancient book and a cache of yellowing letters addressed ominously to 'My dear and unfortunate successor'. Her discovery plunges her into a world she never dreamed of - a labyrinth where the secrets of her father's past and her mother's mysterious fate connect to an evil hidden in the depths of history.

In those few quiet moments, she unwittingly assumes a quest she will discover is her birthright - a hunt for the truth about Vlad the Impaler, the medieval ruler whose barbarous reign formed the basis of the Dracula myth. Deciphering obscure signs and hidden texts, reading codes worked into the fabric of medieval monastic traditions, and evading terrifying adversaries, one woman comes ever closer to the secret of her own past and a confrontation with the very definition of evil.

Elizabeth Kostova's debut novel is an adventure of monumental proportions - a captivating tale that blends fact and fantasy, history and the present with an assurance that is almost unbearably suspenseful - and utterly unforgettable.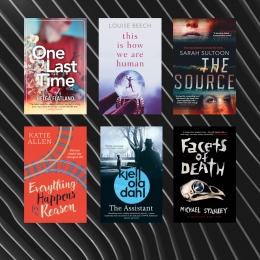 We're teaming up once again with Orenda to offer another brilliant book giveaway! Not only is a bundle of Orenda Books up for grabs, we also have a £15 voucher for the winner to use on Orenda's new look website! This book bundle will include some of their latest releases from April to June. A fantastic opportunity to stock your bookshelves. The titles up for grabs are: The Source be Sarah Sultoon - Published 15th April Facets of Death by Michael Stanley - Published 29th April The Assistant by Kjell Ola Dahl - Published 13th May This is How We Are Human by Louise Beech - Published 10th June Everything Happens for a Reason by Katie Allen - Published 10th June One Last Time by Helga Flatland - Published 24th June This draw is open only for UK residents currently in the UK and is free to enter, multiple entries from the same email address will only be counted once. The draw closes on 30th June 2021. Please ensure that the details you use to enter the competition will be correct at the time the competition ends. The winners will be notified as soon as possible.
Like For Like Featured Books
Elizabeth Kostova Press Reviews
'A spirited update of Bram Stoker's classic, with a vastly ingenious plot in which Dracula has developed a mysterious penchant for librarians ... Kostova is a whiz at storytelling and narrative pace' Observer

'Told with a compelling intensity which will keep the reader hooked until the last Undead tomb door swings shut' Sunday Telegraph

'Filled with fascinating details of archaic vampire lore, the splendours of the Ottoman Empire and the beauty of Romania' TLS
Other editions of this book
About Elizabeth Kostova
Elizabeth Kostova is the New York Times bestselling author of The Historian, which sold over three million copies, and The Swan Thieves. She graduated from Yale and holds an MFA from the University of Michigan, where she won the Hopwood Award for the Novel-in-Progress. Kostova won the 2006 Book Sense Award for Best Adult Fiction and the 2005 Quill Award for Debut Author of the Year for The Historian.Kostova's fascination with Bulgaria began when, traveling to the country for research just after college, the Berlin Wall fell the week she arrived. She fell in love with the man who ...
More About Elizabeth Kostova